Join us in Springfield, Missouri, this year to commemorate Juneteenth. Unite and celebrate delicious cuisine, awe-inspiring live performances, vibrant concerts and our thriving black-owned businesses in Southwest Missouri. For more information on events happening in Springfield, see our full events calendar by clicking here.
What Is Juneteenth?
Juneteenth is a federal holiday commemorating the emancipation of enslaved people in the United States. The holiday was first celebrated in Texas, where on June 19, 1865, slaves in the United States were declared free under the terms of the 1862 Emancipation Proclamation.
Upcoming Events
June 3-18, 2023
In honor of Juneteenth, take a cultural tour of the African American community. Pick up an "I Too Am America" passport at any Springfield-Greene County Library branch or local Barnes & Noble. Explore an African American timeline history and learn about the historical contributions made in Springfield while African Americans strived toward freedom.
June 10, 2023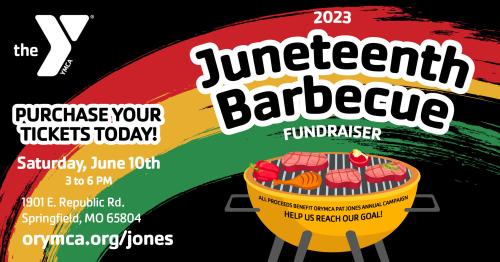 3–6 p.m.: Join the Pat Jones YMCA for a Juneteenth Barbecue. Bring blankets and chairs, and enjoy live music, door prizes and all your favorite traditional barbecue dishes. Plates are $15 a person and all proceeds benefit the Ozarks Regional YMCA Pat Jones annual campaign. 
June 16, 2023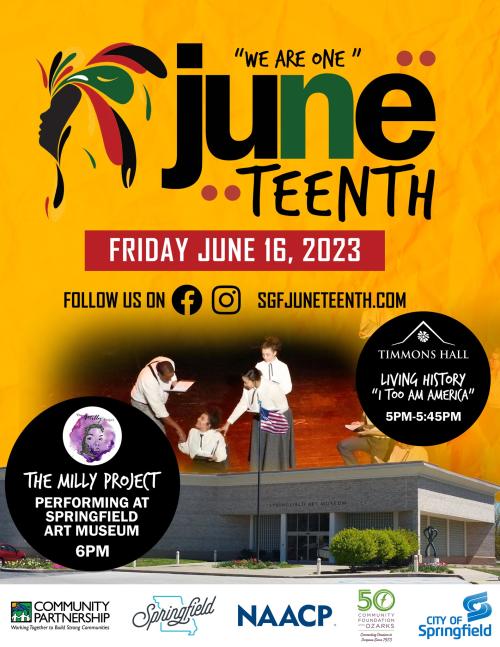 6 p.m.: To kick off the weekend, watch "The Milly Project" performed live at the Springfield Art Museum. "The Milly Project" is a true account of an enslaved woman in Springfield becoming a freed woman.
June 17, 2023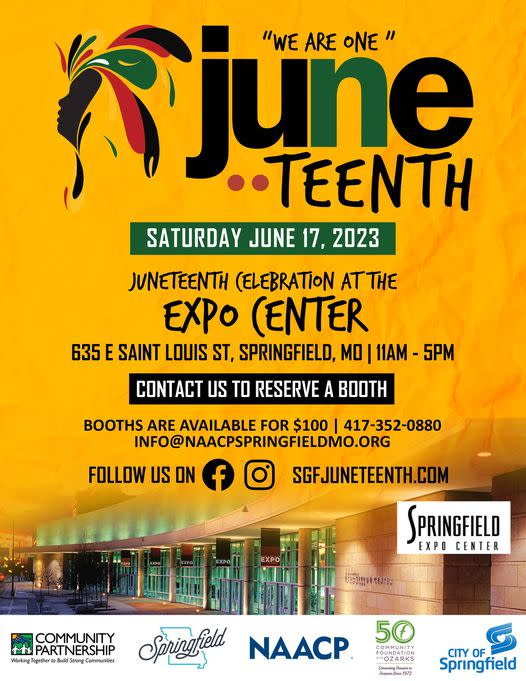 6–10 a.m.: Run in the Juneteenth 5K Freedom Run at Jordan Valley Park. Afterward, head to Jordan Valley Ice Park for the Juneteenth Farmers' Market for food, games and entertainment. 
11 a.m.–5 p.m.: Head to the Springfield Expo Center for a full-day celebration. Tour different vendor booths, dine on some delicious food and listen to performances by The ABS BAND and Sade Shine.
12–1:30 p.m.: Celebrate Juneteenth at the first-ever Juneteenth Freedom Parade at Jordan Valley Park. Bands, dance troops, businesses and families are all welcome to attend and participate. Sign up to enter the parade by visiting https://linktr.ee/uccempowers.
June 18, 2023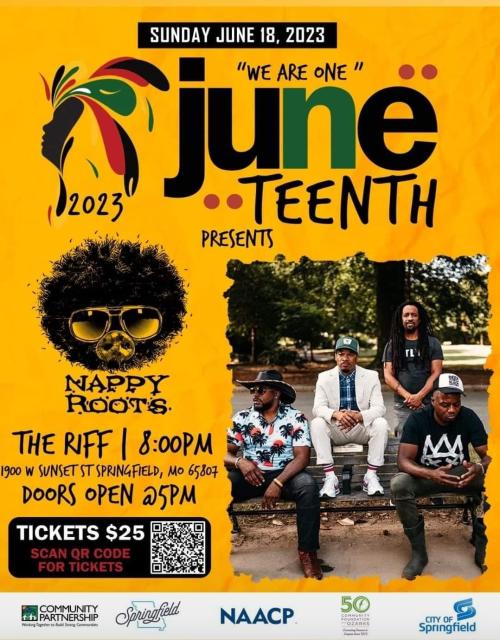 5 p.m.: Listen to performances by The Melody Room, Brecka Henderson and the Nappy Roots at The Riff. Doors open at 5 p.m. and the headliner will begin at 8 p.m. Tickets are $25.
June 19, 2023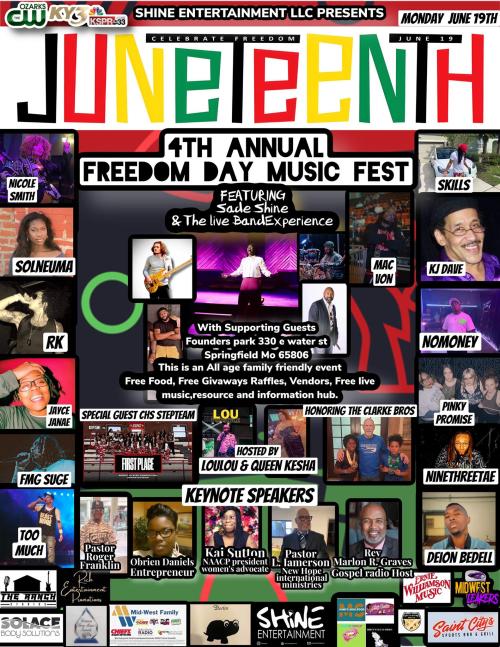 2–6 p.m.: The 4th Annual Freedom Day Music Fest will be held at Founders Park. Listen to live music from artists such as Sade Shine & The Live Band Experience, Nicole Smith, Mac Von, KJ Dave, RK, Jayce Janae and others. 
Learn more about the Juneteenth Weekend Celebration events at www.sgfjuneteenth.com 
Did we miss an event? Email myohn@springfieldmo.org with your suggestion and we may add it to the list.