Check out all the events happening in the Springfield, Missouri, area in September 2022.
Blue Man Group
Blue Man Group returns to Juanita K. Hammons Hall in Springfield for a limited engagement on their new North American tour. Featuring pulsing, original music, custom-made instruments, surprise audience interaction and hilarious absurdity, join the Blue Men in a joyful experience that unites audiences of all ages.
When: Sept. 6-8, 2022
Where: 525 S. John Q Hammons Pkwy, Springfield
Seymour Apple Festival
Come to the Seymour Apple Festival this year and celebrate its 50th anniversary. Enjoy 100+ vendors, live entertainment, 5K run, parade, Johnny Appleseed contest and much more. The best part? Admission is free!
When: Sept. 8-10, 2022
Where: 123 West Market St., Seymour
Japanese Fall Festival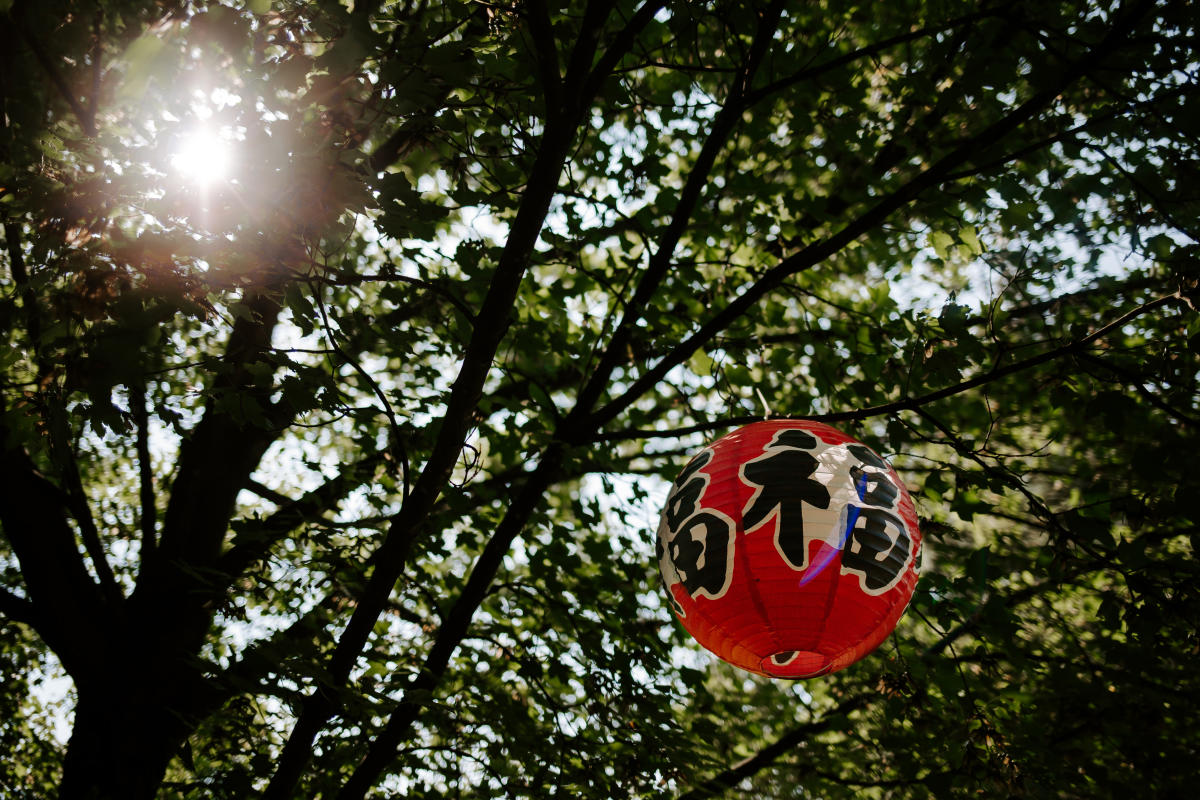 Attend the Japanese Fall Festival at the Mizumoto Japanese Stroll Garden to celebrate Springfield's sister city relationship with Isesaki, Japan. In addition to numerous vendor and artisan booths featuring wares authentic to Japanese culture, guests will enjoy the Nihon bunka taiken tent (Japanese culture experience tent), the omiyage and dagashi tent (souvenirs and snacks tent), concessions, live music and a candlelight walk.
When: Sept. 9-11, 2022
Where: 2400 S. Scenic Ave., Springfield
"Something Rotten!"
"Something Rotten!" is set in the 1590s where the black plague has ceded power to the Puritans and the biggest celebrity in England is a playwright named William Shakespeare. Brothers Nick and Nigel Bottom are trying to keep their acting company afloat as they set out to write the world's very first musical, but amidst the scandalous excitement of opening night, the Bottom brothers realize that reaching the top means being true to thine own self.
When: Sept. 9-26, 2022
Where: 311 E. Walnut St., Springfield
Dungeons Of Doom and Hotel Of Terror Haunted Houses
Dungeons of Doom & Hotel of Terror are Springfield's longest-running scare-houses. Open since October 1978, this horror-filled adventure takes guests through multiple rooms where danger and dismay lurk around every corner. Though all ages are welcome, come prepared for the fright of a lifetime; you never know what you will find waiting for you.
When: Sept. 9-Oct. 31, 2022
Where: 701 W. Wall St., Springfield
The Ozark Mountain Daredevils With The Springfield Symphony Orchestra
See an exciting collaboration between the Ozark Mountain Daredevils and the Springfield Symphony Orchestra in celebration of Juanita K. Hammons Hall's 30th anniversary. The Ozark Mountain Daredevils will be joined on the Hammons Hall stage by 50 Springfield Symphony Orchestra members for a unique concert experience.
When: Sept. 10-11, 2022
Where: 525 S. John Q Hammons Pkwy, Springfield
MIDXMIDWST
Watch muralists transform downtown with live painting displays at MIDXMIDWST, the first mural art and culture festival in Springfield. Immerse yourself in live music, arts and crafts vendors, light shows and an exclusive after party.
When: Sept. 10-11, 2022
Where: Downtown, Springfield
Oktoberfest In The Ozarks
This year's Oktoberfest at Mother's Brewing is focused on an all-day celebration for the whole family: a bounce house to keep the kids bopping', stein-hoisting contests, bocce ball and corn hole tournaments, yodeling competitions, Bavarian schuhplatter dance lessons, pretzels, food trucks, oompah music, beer choir drinking songs and more.
When: Sept. 10, 17, 24, 2022
Where: 215 S. Grant Ave., Springfield
Field Of Screams Haunted Trail & Forest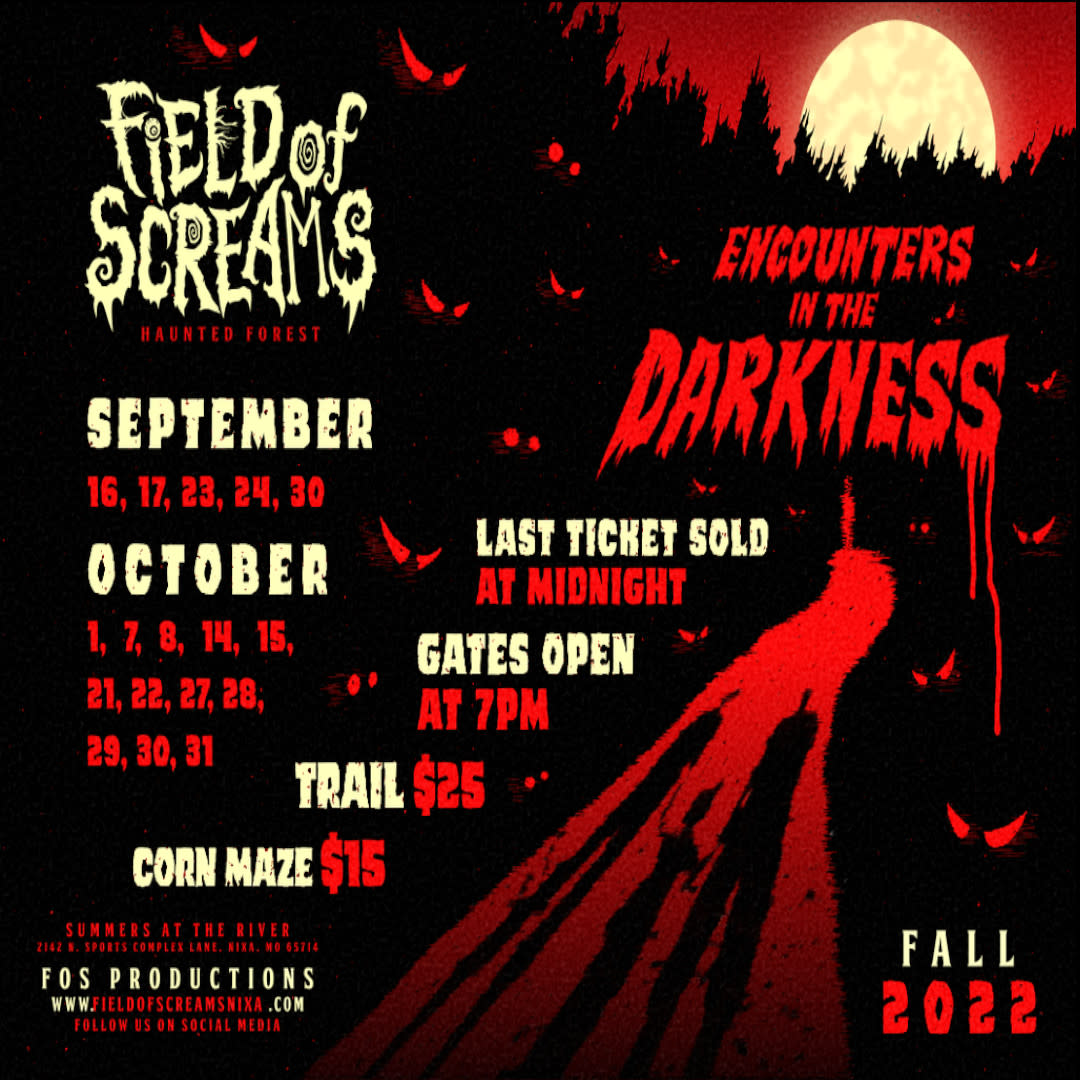 In Nixa, Missouri, head to the Field of Screams Haunted Trail & Forest for a haunting good time. Come face to face with your fears, both past and present by taking a 3/4 mile stroll through their haunted trail, cornfield and haunted forest. Tickets are $25 a person. and run from
When: Sept. 16-Oct. 31, 2022
Where: 2142 North Sports Complex Lane, Nixa
Haunted History Walking/Bus Tours
You can start your exploration of the eerie with the Haunted History Walking/Bus tours by the History Museum on the Square in Springfield. Get to know the city's history and some of the spooky stories connected to it.
Haunted History Walking Tour – Non-Members $20, Members $15 per person.
Haunted History Bus Tour – Non-Members $25, Members $20 per person.
When: Sept. 16-Oct. 29, 2022
Where: 154 Park Central Square, Springfield
8th Annual Food Truck Festival

Food trucks and foodies will gather this September in Springfield for the 8th Annual Missouri Food Truck Festival. This one day event will feature the best gourmet food trucks, carts and trailers from around the state of Missouri and beyond. Featuring the brightest and most inspired street chefs bringing everything from burgers, cajun, BBQ, pizza, tacos, Italian, Asian, Jamaican, and sweet treats.
When: 11 a.m.-7 p.m., Sept. 17, 2022
Where: 3001 N. Grant Ave., Springfield
Cider Days
Head to Springfield's Historic Walnut Street to celebrate the fall season at Cider Days. The two-day festival features live performances, delicious food, arts and crafts, and of course, apple cider.
When: Sept. 17-18, 2022
Where: Walnut Street Historic District in Springfield
Cedar Fest
Grab your blanket and throw on your favorite flannel for Cedar Fest at Big Cedar Lodge. Enjoy fall activities such as fall tram tours, pumpkin patch visits, pumpkin carving, fall foliage tours, pottery painting, tie-dye, face painting and more throughout September and October.
When: Sept. 18-Oct. 31, 2022
Where: 190 Top of the Rock Road, Ridgedale
Crafts & Harvest Festival at Silver Dollar City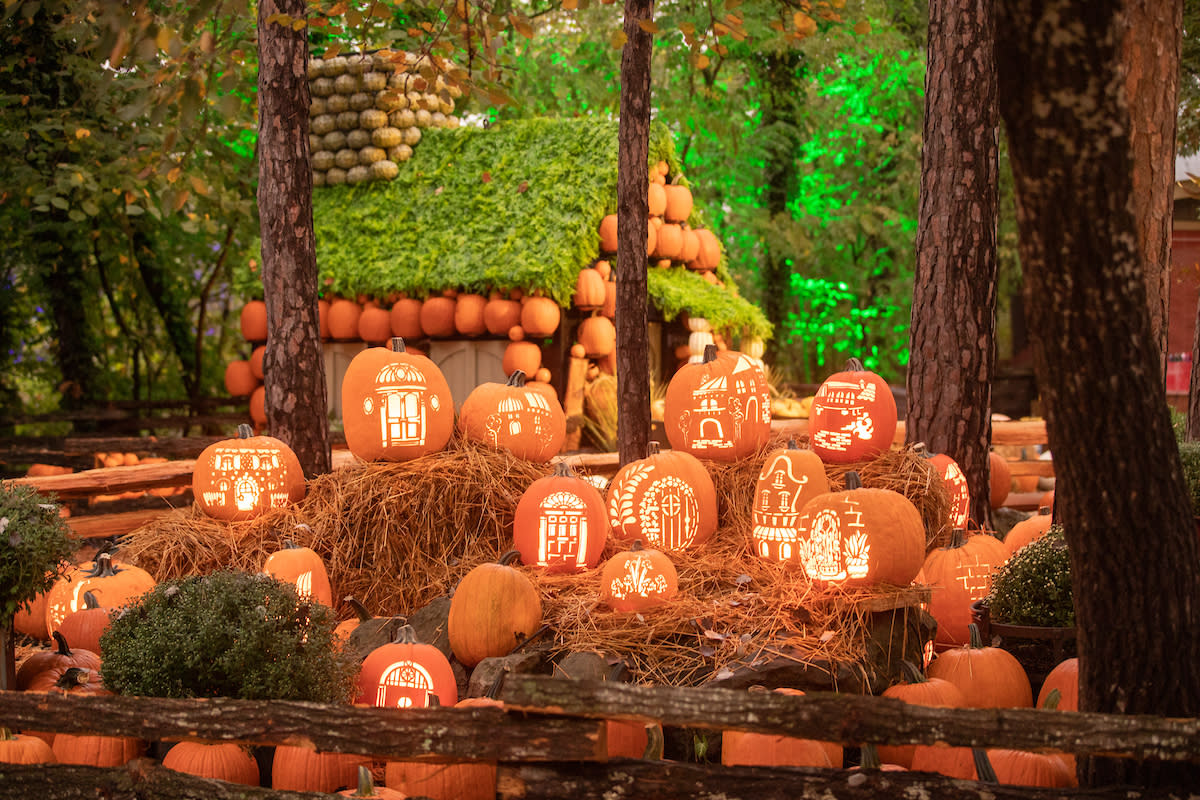 Photo courtesy of Silver Dollar City
Experience Silver Dollar City's Harvest Festival featuring Craft Days filled with new artisans each week and Pumpkins In The City by night with thousands of illuminated pumpkins with non-frightful fun for the entire family.
When: Sept. 21-Oct. 29, 2022
Where: 399 Silver Dollar City Pkwy, Branson
Thomas Rhett
Thomas Rhett is taking his "Bring The Bar To You" tour to Great Southern Bank Arena. Enjoy additional acts by Parker McCollum and Conner Smith.
When: Sept. 23, 2022
Where: 685 S. John Q Hammons Pkwy., Springfield
Wilder Days
An annual celebration commemorating Laura Ingalls Wilder, America's favorite pioneer girl, and her cherished Little House books, the Laura Ingalls Wilder Museum will host the 7th Annual Fiddle Contest on Wilder Day.
When: Sept. 23-24, 2022
Where: 3060 State Hwy A, Mansfield
SGF CultureFest
Featuring local musicians, dancers, and artisans to showcase incredible talents, CultureFest plans to celebrate rich ethnic diversity and heritage, collaborate with global-minded Springfield residents and cultivate a welcoming city for people around the world.
When: 10 a.m.-4 p.m., Sept. 24, 2022