Media Kit
Destination Travel Network & Springfield, MO CVB

Advertising opportunities on SpringfieldMO.org
Creative Information:
Responsive website design allows advertisements to display on all devices.
All placements are templated and designed to match the visual aesthetic of SpringfieldMO.org
Images should be single photographs without any overlaid elements, including logos. No collages or "photoshopping," please.
All character count specs include individual spaces, punctuation marks, and letters. We recommend using a character count tool such as http://www.charactercountonline.com/ to track copy length.
"Lines" listed for "headline" copy on most of the placements are recommended lengths when viewing the placement on desktop (about 1400px wide). Mobile Footer "lines" for the copy are the recommended lengths when viewing on the iPhone 6/7/8 Plus device mode. Character limits for these are estimates and will vary based on the characters used.
Character limits for "body" copy are strict limits set by the CMS. Any words that go beyond this limit will be excised by the CMS and an ellipsis will be added to the end.
Run of Site Banner
Photo (597w x 388h pixels)
Headline (60 characters) - 2 lines
Body (242 characters)
Clickthrough URL
Get your kicks on Route 66 by visiting these points of interest along the historic Mother Road in Springfield.
Read More
Spotlight Text Link
Photo (609w x 396h pixels)
Headline (42 characters) - 2 lines
Body (84 characters)
Clickthrough URL
Featured Listing
Pulls content from your existing listing detail page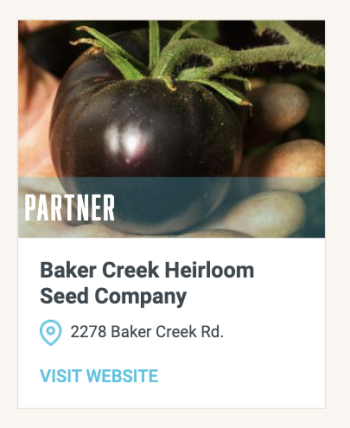 Mobile Footer
Photo (190w x 143h pixels)
Headline (18 characters) - 1 line
Body (62 characters) - 2 lines
Clickthrough URL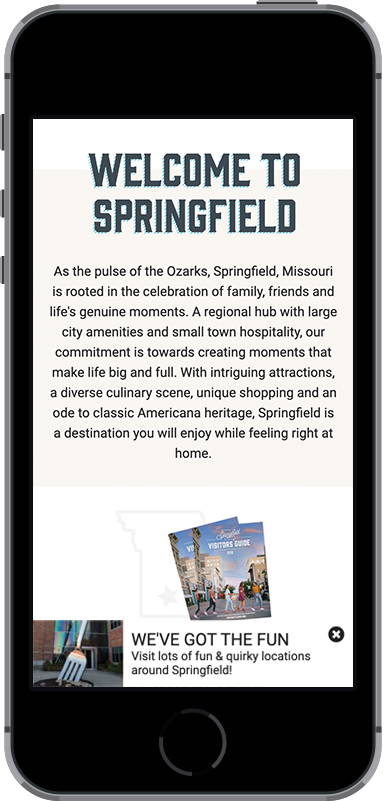 Premium Page Sponsor
Photo (850w x 769h pixels)
Headline (36 characters) - 2 lines
Body (300 characters)
Clickthrough URL
With historic and modern theatres and venues, enjoy the culmination of the artistic community with festivals, concerts, plays, musicals, and more!