COVID-19 Updates
Read the latest updates regarding COVID-19.
Masking Ordinance
When will the face-covering ordinance expire?
This ordinance is in effect until further notice beginning April 9. As of April 16, we are in the yellow zone.
Three indicators will be evaluated as the City of Springfield works towards the end of the Road to Recovery: 1) new cases per day, 2) hospitalizations and COVID-19 isolation, 3) percent of residents 16 years and older vaccinated. To move out to the next phase, the minimum expectation will be that two of the three indicators are met for 23 out of the last 28 days. Additionally, the third indicator must be showing strong progress towards being met. Visit springfieldmo.gov for more information on when the phases will change.
Do I need to wear a face-covering outdoors?
New guidance from U.S. health officials says fully vaccinated adults don't need to wear masks outdoors unless they are mingling with strangers. Unvaccinated people can go without masks in certain situations as well. It is still recommended that fully vaccinated adults wear masks outdoors in large group gathers such as festivals and concerts.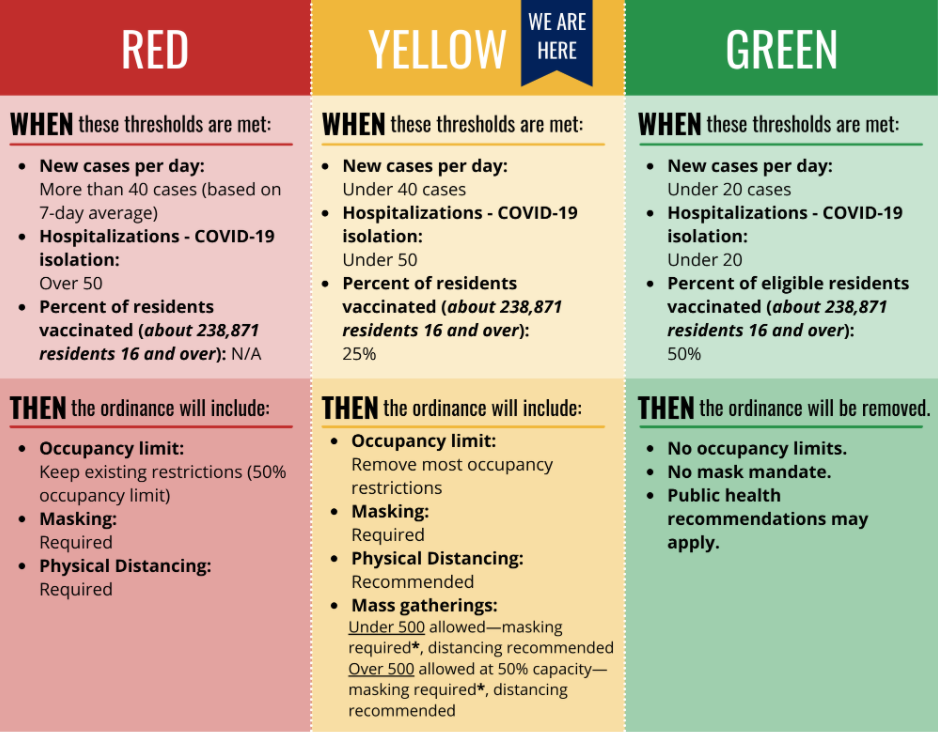 How can I travel safely?
Vaccine: The vaccine is a safe and effective way to protect yourself from COVID-19. Click here for more information, including frequently asked questions and where to access the vaccine.
Prevention: Follow the 3Ws to slow the spread of COVID-19: Watch your distance, Wear a mask, and Wash your hands.
Community restrictions: On July 16, the City of Springfield entered Phase 3A of its Road to Recovery Order. Greene County is following the state's Show Me Strong Recovery Order. Details can be found here:
Travel Guidance: If you choose to travel domestically or internationally, we strongly encourage you to take increased measures to protect yourself and those around you. Before you travel, make sure to check state or local travel restrictions and do some research to learn whether COVID-19 is prominent in that area. Large group events, such as conferences, public events, concerts, theme parks and public transportation are discouraged as this may increase risk of transmission. 
Symptoms: Symptoms to watch for are fever or chills, cough, shortness of breath or difficulty breathing, fatigue, muscle or body aches, headache, new loss of taste or smell, sore throat, congestion or runny nose, nausea or vomiting and diarrhea. 
Exposure: If you have been in close contact to a known positive case of COVID-19, you will need to self-quarantine. Self-quarantine means staying at home and away from others for 10 days from your last known contact with a positive individual. This quarantine period can be shortened to 7 days if the individual does not have symptoms, is tested after day 5 of quarantine, and receives a negative test result. More details about quarantine available at health.springfieldmo.gov/quarantine
A close contact is defined as someone who comes within six feet of a COVID-19 positive individual for at least 15 cumulative minutes. A close contact also includes someone who has physically come in contact with a person who has tested positive, regardless of the amount of time. 
Testing: If you are experiencing symptoms of COVID-19 and need to be tested, you should contact your healthcare provider via virtual care or phone. Visit health.springfieldmo.gov/testing for more information and other testing options.
What defines a face covering?
Face Covering means a device that covers the nose and mouth. A mask or face shield meets this requirement.
Does everyone have to wear a mask?
Under this ordinance, everyone over the age of 11 that is in the Springfield city limits will be required to wear a mask in the part of a public accommodation open to the public. There are exemptions for people who have a health condition that prevents wearing a mask. Exemptions are also made for people who are hearing impaired and people communicating with individuals who are hearing impaired. For more situations in which you should and should not wear a face mask, please refer to the questions below.
What are some examples of when to wear a face mask? Please note these are just a few examples and not a comprehensive list.
When shopping at the grocery store or other retail establishment.
When sitting in the stands close to others while watching a sporting event.
When walking around spaces in public accommodations open to the public.
When standing in line at the store or other event.
When should I not wear a face mask?
There are several exempted activities listed in this ordinance. Those include:
While outdoors when able to maintain a distance of at least 6 feet from others.
While exercising outdoors or when exercising indoors and able to maintain a 6 foot distance.
While at a swimming pool.
When at home with only members of your household.
When in your car/vehicle.
When actively eating or drinking, or while seated and adequately spaced from others at a food establishment.
When getting a service that requires the temporary removal of a mask, such as during a dental exam, facial, makeup application, etc.
When the removal of the mask is necessary to confirm identity.
When at your place of work in non-public areas, for example, in your office.
Members of a wedding party during a wedding ceremony or while photographs of the wedding and reception are taken.
Springfield's travel industry and business community are committed to ensuring a safe and clean environment for visitors. With that in mind, the city's public places are opening, expanding services and accommodating more people in phases. You can find information about the current phase at https://bit.ly/SGFPhases. 
At this time, most businesses and attractions are open and operating under protocols that ensure the health and safety of the public and employees. For information about those protocols and things you may need to know prior to your visit, go to www.SpringfieldMO.org/covid-19 where information is updated frequently.
The Convention & Visitors Bureau staff also is here to help make your trip to Springfield fun, memorable and safe. Please call 800-678-8767 or visit SpringfieldMO.org for more information. 
Businesses are deep cleaning, employees are wearing face masks and everyone is doing what's needed to ensure the health and safety of the public, including adhering to social distancing standards if 6 feet recommended by the Centers for Disease Control.
Restaurants, Entertainment Venues, Bars, Nightclubs, Breweries and Wineries
Restaurants must limit the number of customers as required by the Springfield-Greene County Health Department. Self-service buffets and counter seating are prohibited. We recommend you call ahead of your visit to get an idea of capacity limits, the menu and updated hours. Entertainment venues can open using the occupancy limits and guidelines from the CDC.
Hotels and Group Gatherings
Hotels in Springfield are making the appropriate changes to keep guests and employees as safe as possible. Those who wish to swim in pools can as long as the 50 percent limit is in place. 
For groups, occupancy allowances are determined by measuring the space where the activity is to occur divided by 30 and multiply that by 50 percent. The solution to that formula will let you know how many people can be in that space at one time. Example: 2,500 total square feet / 30 X .50 = 41 people.