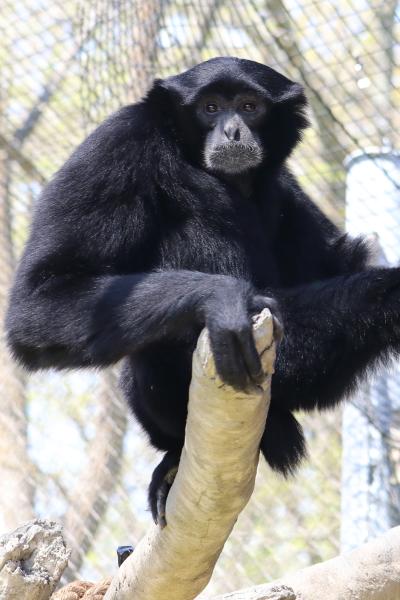 Springfield, Missouri - In honor of endangered apes, Dickerson Park Zoo in Springfield, Missouri, is launching "DPZ Voice: Can You Sing Like a Siamang?" The contest is open for original songs performed by duets only.
Contestants can email a 60-second or shorter audio track only (videos will be accepted in the semi-finals) to dpzvoice@dickersonparkzoo.org. In the email, include the names of the singers and songwriter(s). Submissions are due by June 1. Semi-finalists will be selected from emailed audio submissions and announced the first week of June.
Semi-finalists will post a video to the "DPZ Voice" event page on the Dickerson Park Zoo Facebook page. Finalists will be announced on June 21. They will be invited to perform live at noon July 2 in the Dickerson Park Zoo amphitheater in front of a panel of local celebrity judges. The winning duet will be announced at the end of the finale concert and will receive a prize package and bragging rights.
Zoo spokeswoman Joey Powell said the idea woke her up at 3 a.m. after hearing the zoo's siamangs, Makali and Sebastian, sing their duet.
"When you hear Kali and Sebastian, it stops you in your tracks," Powell said. "The whole concept of them singing an original duet is fascinating and led to creating our own 'DPZ Voice' contest. This is just a unique way to showcase not only the amazing siamang apes, but also the talented singers and songwriters in the Ozarks."
A siamang couple creates a duet song, unique to them and their loud vocalizations may be heard several miles away. Siamangs have a large throat sac, which visibly fills with air and amplifies their song. They are the largest species of the gibbon family and are endangered. 
More information and contest rules can be found on the Dickerson Park Zoo Facebook event page.
Dickerson Park Zoo is one of many popular attractions in Springfield. To learn more about the zoo, visit www.dickersonparkzoo.org. Information about Springfield is available on the city's Convention & Visitors Bureau website at www.SpringfieldMO.org. 
---
Contacts:
Joey Powell, Dickerson Park Zoo,  417-833-1570 (office) or 417-860-3303 (cell) or jpowell@dickersonparkzoo.org
Susan Wade, 417-881-5300, ext. 101; 800-678-8767, ext.101; 417-830-0645 (cell); swade@springfieldmo.org 
Images, audio and video are available here. If you have problems downloading these assets, contact Susan Wade at swade@springfieldmo.org.