Santa will be flying over the Ozarks this holiday season but he won't be in a reindeer-powered sleigh.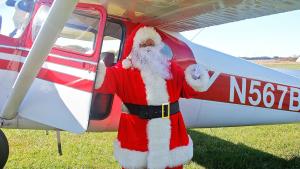 Beginning Nov. 15, people can catch a ride with Santa in a 1956 Cessna 180 at The Hangar Kafe, a restaurant on an airstrip about 40 miles west of Springfield. The rides are on weekends, weather permitting, and registration is preferred. 
Cost is $50 per person and includes a ride and photo with Santa. The plane can take two or three passengers along with Santa, who is piloting the plane.
The Hanger Kafe, 3103 Lawrence 1070 in Miller, is known for its home-style cooking and for being a vantage point to watch planes and skydivers. Hot air balloon rides and plane rides are also on the menu. 
The restaurant that's housed in a hangar is decorated with aeronautical themes, including model planes and balloons hanging from the ceiling.
Learn more about The Hangar Kafe at https://www.facebook.com/Hangar-Kafe-172233816266197/ and book your ride with Santa by calling 417-452-2277.
The Hangar Kafe is among hundreds of businesses in southwest Missouri that partner with the Springfield Convention & Visitors Bureau, a nonprofit destination marketing organization. Learn more about things to see and do in the Springfield area at www.SpringfieldMO.org or call 800-678-8767. 
This is one of many unique opportunities to see Santa in the Springfield area. Others include Scuba Claus at Wonders of Wildlife National Museum & Aquarium, Polar Express at Branson Scenic Railway, and others. Details coming soon!
Media Contacts
Rachel Acra, The Hangar Kafe, 417-452-2277
Susan Wade, Convention & Visitors Bureau, 417-881-5300, ext. 101; 800-678-8767, ext.101; 417-830-0645 (cell); swade@springfieldmo.org