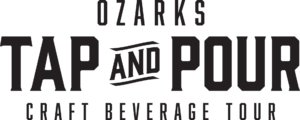 Beginning this weekend, people who like craft beverages will have even more reason to enjoy their favorites in the Springfield-Branson area.
The Ozarks Tap and Pour Craft Beverage Tour booklets will be available during Summer Fest set for 5-9 p.m. Saturday at White River Brewing Co. and 14 other breweries, wineries and distilleries until supplies run out. The free booklets are available beginning Monday at the Route 66 Springfield Visitor Center, open 8 a.m.-5 p.m. Monday-Friday at 815 E. St. Louis St.
Patrons who obtain a stamp in their booklet from at least 10 participating businesses are eligible to receive a collector pint glass while supplies last or through May 31, 2019. The redemption can be done in person at the visitor center or by mail. Participants must be 21 or older.
Participating businesses in Springfield are:
White River Brewing Co., 505 W. Commercial St.

Mother's Brewing Co., 215 S. Grant Ave.

Lost Signal Brewing Co., 610 W. College St.

Springfield Brewing Co., 305 S. Market Ave.

Missouri Spirits, 507 W. Walnut St.

Tie & Timber Beer Co., 1451 E. Cherry St.

Show-Me Brewing, 1925 E. Bennett St.

4 By 4 Brewing Co., 2811 E. Galloway St., Suite A
Participants outside Springfield are:
Back Home Brewing Co., 1502 S. 3rd St., Ozark

Bear Creek Wine Co., 1320 Keithley Rd., Walnut Shade

Crown Valley Distillery, 1420 W. 76 Country Blvd., Suite 100, Branson

St. James Winery, 405 State Highway 165, Branson

Curling Vine Winery, 601 State Highway 165, Branson

Lindwedel Winery, 3158 State Highway 265, Branson

Missouri Ridge Distillery, 7000 State Highway 248, Branson
The Ozarks Tap and Pour Craft Beverage Tour is a program developed by the Springfield Convention & Visitors Bureau, a nonprofit marketing organization dedicated to improving the local economy through growth in tourism.
Learn more about the CVB and Springfield at www.SpringfieldMO.org or call 417-881-5300 or 800-678-8767.