Show-Stopping Caves Near Springfield, Missouri
When porous limestone and dolomite come together, they make the Cave State. With more than 7,000 caves in Missouri, there's probably a cave close to where you are right now. Discover the depths of this natural phenomenon and its ancient connection to the Ozarks in this cave guide.
CRYSTAL CAVE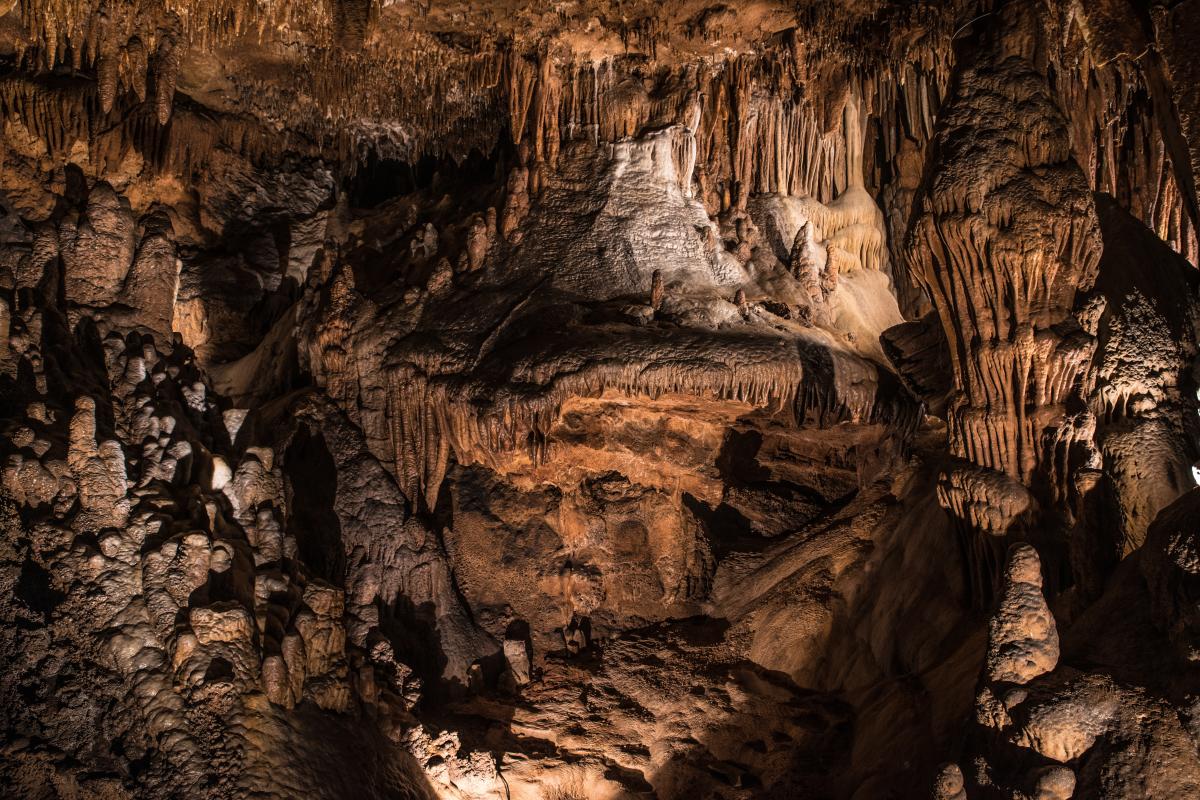 Crystal Cave
Step through the old iron gates of the original Springfield jail and enter the naturally preserved historic cave, Crystal Cave. First opened to the public in 1893, Crystal Cave is an underworld of experiences. A tour guide navigates small groups through a maze of underground tunnels and nooks, including the spot where a mushroom garden sprouted in the early 1900s. Heads up: This tour includes stairs, tight spaces and some crawling at times.
Linger in the Ghost Room, where 13 stalagmites stand over 2 feet tall, untouched. Take in the Concert Hall, a space over 100 feet long that features a sea of soda straw stalactites hanging from above. Witness the evidence of a shifting Earth in the Cathedral Chamber, where guests can see remnants of the planet's movement more than 5,000 years ago. You can also hear the music stalactites produce in the Chimes Room. Most impressively, you'll get an in-depth tour of what makes the Ozarks a rich place for caves to grow and thrive.
Address: 7126 N. Crystal Cave Lane, Springfield
SMALLIN CIVIL WAR CAVE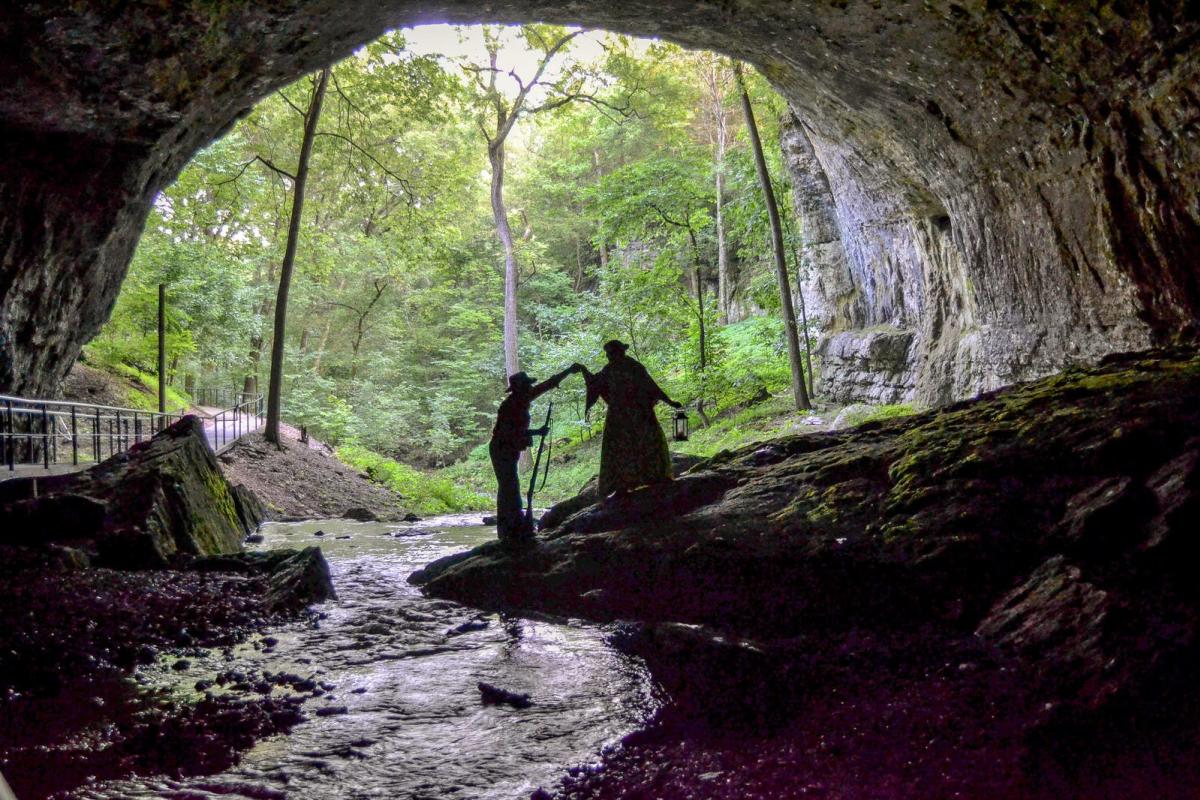 Smallin Cave
Go back in time at Smallin Civil War Cave, where you can head out on an illuminating tour of history and natural wonder. Jonathan Tipton Smallin was 17 years old when he volunteered for service in the Union Army in Missouri's M Company of the 16th Cavalry. During his time in the Civil War, he became a friend of Wild Bill Hickok, who served as a Union spy and hid out in Christian County's largest cave. The true nature of the cave's use in the war is still muddied, but the folklore makes Smallin Cave worth exploring.
One-hour tours have no stairs, but they have plenty of history. See remnants of the Osage tribe, which used the cave for hundreds of years. View the waterfalls that gently cascade into a clear pool. For an even more memorable experience, join the lantern tour each fall (late September to early November) to view the cave as it was seen by soldiers more than 150 years ago.
Walk out of the past and into its above– ground playground, featuring a museum gift shop, crawl fort and fossil mining.
Address: 3575 N. Smallin Road, Ozark
FANTASTIC CAVERNS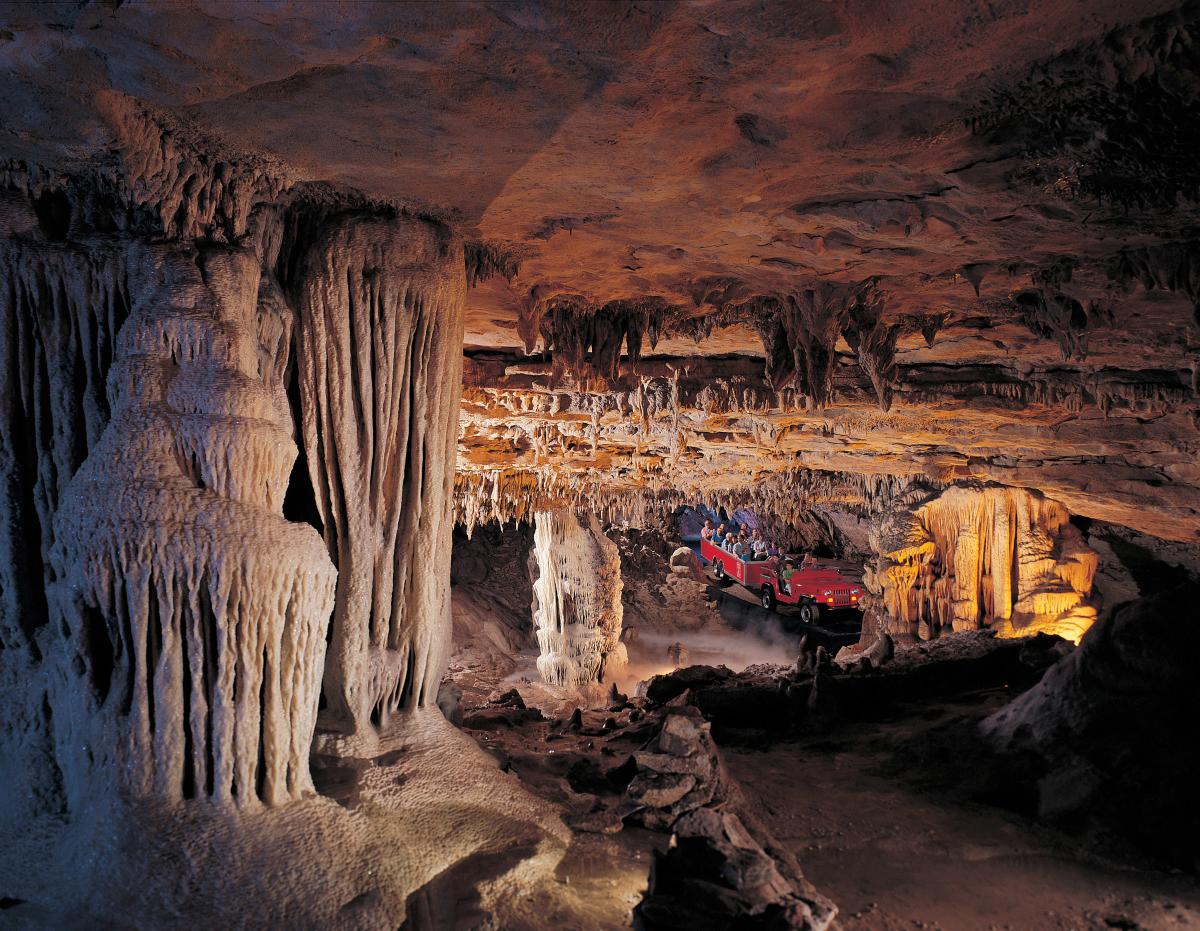 Fantastic Caverns
You've seen the billboards, but you've got to see the stalagmites. Fantastic Caverns is a family-friendly, ride-through cave experience that takes you into the breathtaking, wild nature of Missouri's caves. An ancient underground river once carved the path that's now traveled by Jeep-drawn trams leading guests on a 55-minute tour of the caverns.
Guests get an up-close look at rock formations, dangling soda straws coated and shining with minerals and gleam- ing cave pearls in clear water along the way. Tours are led by experts who answer questions and help guests explore the Cave State's wonders and history.
Fantastic Caverns was first discovered by John Knox who was looking for his dog in 1862, a tumultuous time in the region. Knox kept the cave's potential hidden until after the Civil War. In 1867, Knox invited the community to view the space, and members of the Springfield Women's Athletic Club were the first to brave the journey underground. The 12 women are considered the first cave explorers of Fantastic Caverns, and guests can still see their names on the cave wall today.
Address: 4872 N. Farm Road 125, Springfield
TALKING ROCKS CAVERN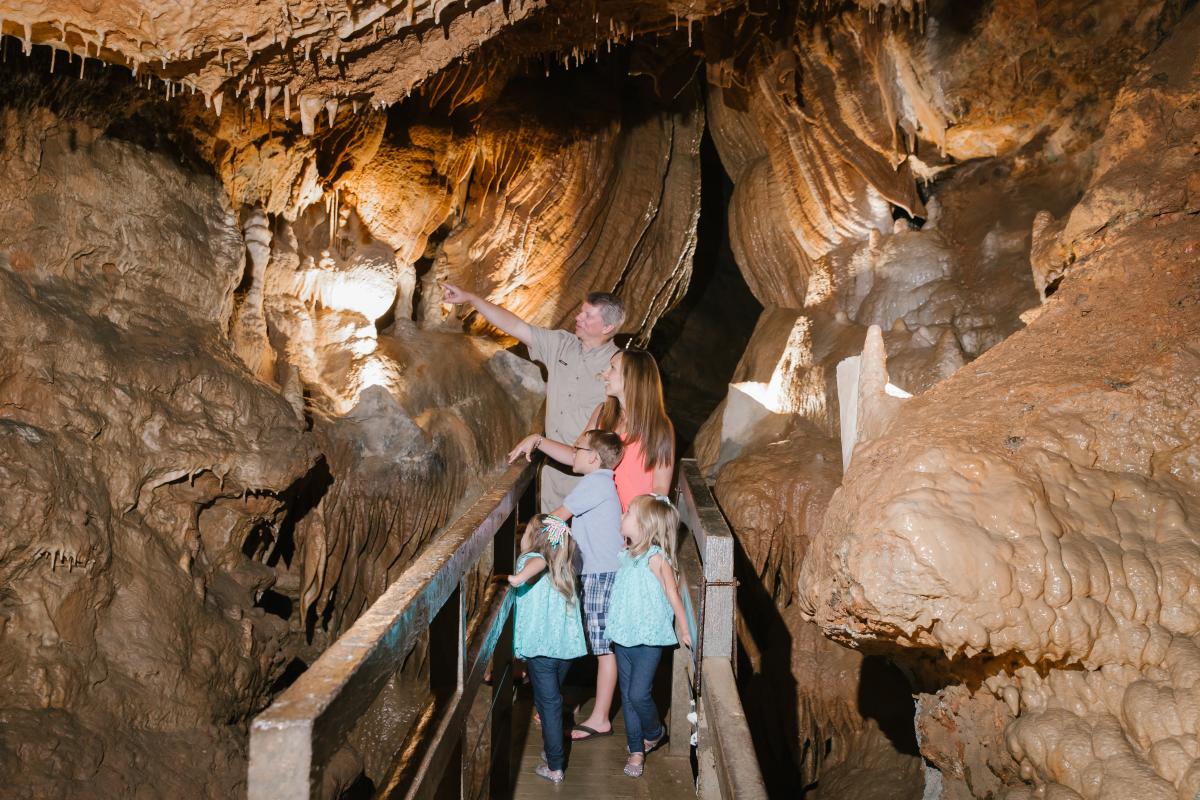 Talking Rocks Cavern
Above or below ground, Talking Rocks Cavern provides endless opportunities for exploration. Located 45 minutes south of Springfield, Talking Rocks provides an in-depth guided tour of the belly of a cave. Guests get an up-close look at growing, shifting, shining cave formations inches from the tour's path, which winds in and out of chandelier stalactites and porous walls.
Above ground, families can mine for gemstones. Purchase a bag of mining rough and sift through the sand and dirt with screened boxes, all the while learning how to recognize semi-precious gems and minerals. Plus, every gem guests find, they can take home—a souvenir they'll love for ages.
Then, continue the adventure with "edutainment" activities at Talking Rocks. Hike the nature trail surrounding the cavern's entrance. Climb up the lookout tower for a pristine view of the Ozark Mountains, or enjoy a round at Cave Country Mini-Golf.
Address: 423 Fairy Cave Lane, Branson West