FAMILY FUN,
MEET SPRINGFIELD, MO
THIS MISSOURI GEM SHOULD BE YOUR NEXT FAMILY VACATION
By Jana Corrie
THIS MISSOURI GEM SHOULD BE YOUR NEXT FAMILY VACATION
By Jana Corrie
Jana is a family and travel blogger based in Kansas City. She shares all things motherhood, travel and adventures on her Instagram and blog Adventures in Mom Life. Jana's family has enjoyed Springfield's family-fun on numerous occasions and was thrilled to share her family's favorites to inspire your next adventure.
Springfield, Missouri, has given our family so much joy and beautiful memories after a wonderful family getaway! We were in awe of everything Springfield has to offer for kids and families and are so excited to share our favorites for the perfect family vacation. Our adventures began with an easy three-hour drive from our home in Kansas City and a lengthy list of family-friendly attractions and restaurants that we were dying to check out.
Read on to discover our favorites!
The Oasis Hotel and Convention Center
The Oasis Hotel felt like an oasis — the vibrant and stunning outdoor pool mural would have been reason enough to stay here. It is a must-see and must photograph! This family-friendly hotel is in the northeast part of Springfield and made for an easy drive to all our outings. The hotel has undergone significant renovations, the rooms were clean and comfortable, and the large pools (indoor and outdoor!) were a huge highlight!
The kids swam for hours and nearby, there was a small "sprayground" for little ones that we saw several toddlers enjoy. We loved the convenience of the grab-and-go breakfast and appreciated the modern tropical decor and lush atrium. We were also impressed that while the hotel was hosting a large baseball tournament, it never felt crowded during our stay. What can I say? We'll be back!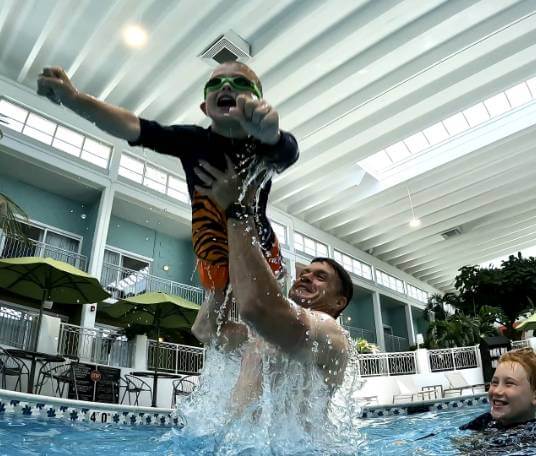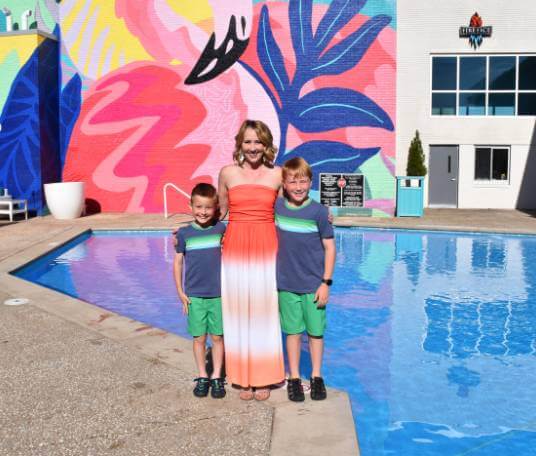 St. George's Donuts
Go Nuts for St. George's Donuts
Incredible restaurants and dining experiences were highlights of our visit to Springfield. The kids wanted to make sure I tell you about St. George's Donuts, a locally-owned bakery featuring delicious donuts made from scratch. The kids were wide-eyed, and the locals suggested we come early because the donuts are so good that they frequently sell out.
Get a Taste of Greatness at the Civil Kitchen
After a busy day of adventures, we enjoyed fantastic food and drinks at Civil Kitchen. My blueberry mojito was incredible, and my son (who is obsessed with chicken and waffles) raved about his meal. We devoured an array of appetizers, including giant onion rings and the most delicious bruschetta and crab beignets I have ever eaten. We topped it off with a brownie and ice cream dessert, yum! The outdoor seating was incredible, with options in the sun or shade that made for fun people-watching in downtown Springfield.
Sip Back and Relax at Springfield Brewing Company
Our family shared a perfect patio evening at Springfield Brewing Company. The beautiful brick building exudes character, and we enjoyed craft brews, caprese dip, BrewCo beer pretzels, and the unique and robust seasonal harvest salad with roasted peaches! My husband and I love trying local beers in a setting that allows our kids to have a delicious meal that also keeps them happy. Springfield Brewing Company is in downtown Springfield and is the ideal stop for lunch, dinner, or drinks.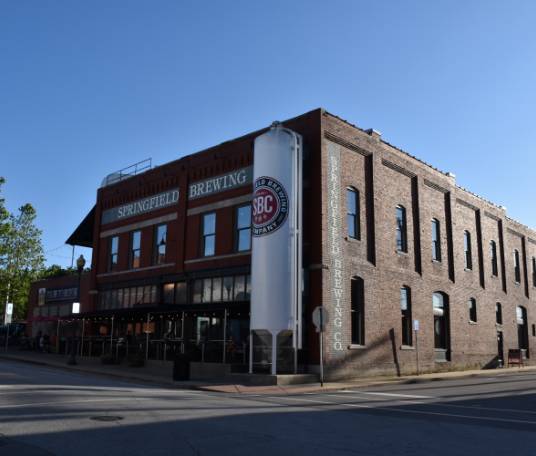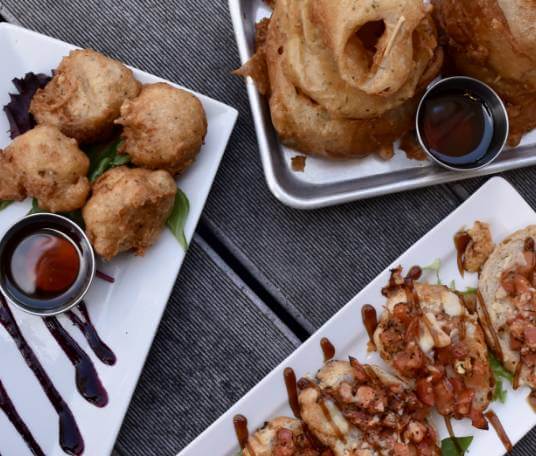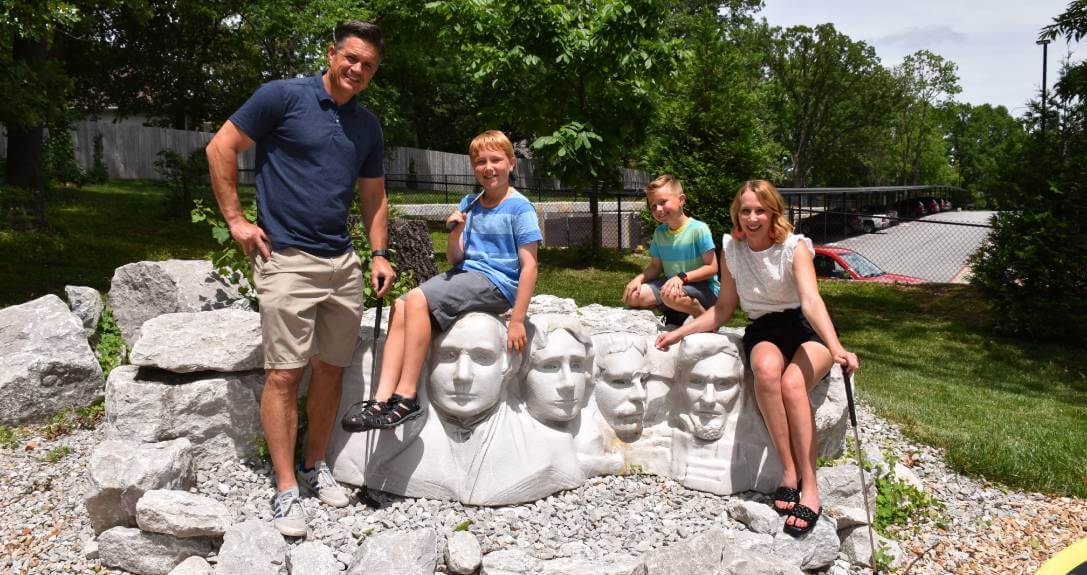 So, what will YOUR Springfield adventure look like?
You can pick and choose from our favorites to build your dream itinerary from just a few days to a full week of adventures. Springfield has so much to offer for family fun in a warm and welcoming community, with the Midwest charm we all love. Special thanks to the Springfield Convention and Visitors Bureau for hosting the trip that allowed us to make incredible family memories that will last a lifetime!
PLAN YOUR FAMILY GETAWAY TO SPRINGFIELD, MO