Bass Pro Shops® Outdoor World®: The Grandaddy of All Outdoor Stores
Written by Susan Wade on November 15, 2019.
Bass Pro Shops® Outdoor World® is a massive, outdoor-themed experience that includes nearly 500,000 square feet of shopping, seven intricate aquariums, waterfalls and even a swamp with turtles and alligators.
The original Bass Pro Shops Outdoor World in Springfield is affectionately known as The Grandaddy of All Outdoor Stores®. This massive outdoor-themed experience is the number one tourist destination in Missouri attracting 4 million families, sportsmen and outdoor enthusiasts every year. Boasting nearly 500,000 square feet of immersive shopping fun, the Grandaddy offers visitors one of the largest assortments of outdoor gear, apparel and gifts under one roof.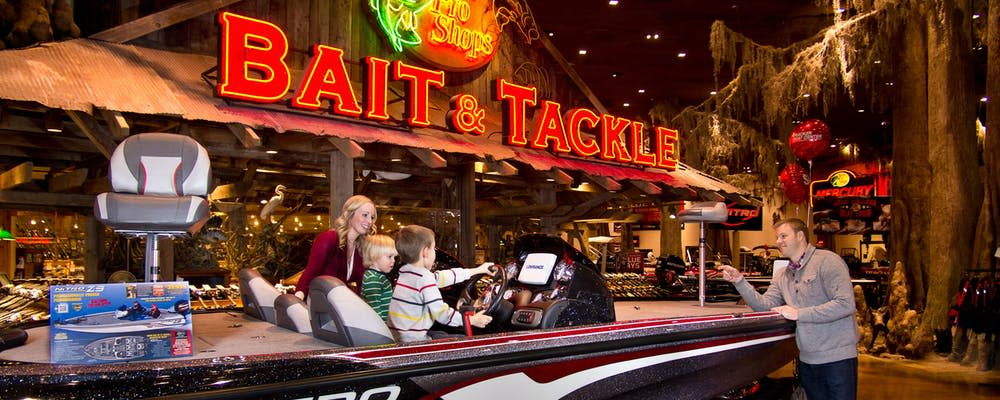 Playing at Bass Pro
Explore the store's aquariums, complete with educational sessions on Missouri's native fish, and marvel at the alligators and turtles traversing the in-store swamp. Friendly experts are available to help you find everything an outdoor lover could want, with an extensive selection of gear, apparel and gifts related to fishing, hunting, camping, boating, hiking and more. Archery and shooting ranges make it easy to determine the perfect product for you. Next, visit the knife shop for a sharpening session or explore the lifelike wildlife mounts around the cascading indoor waterfalls. If all this excitement makes visitors hungry or thirsty, coffee, fudge and a full-service restaurant are not hard to find.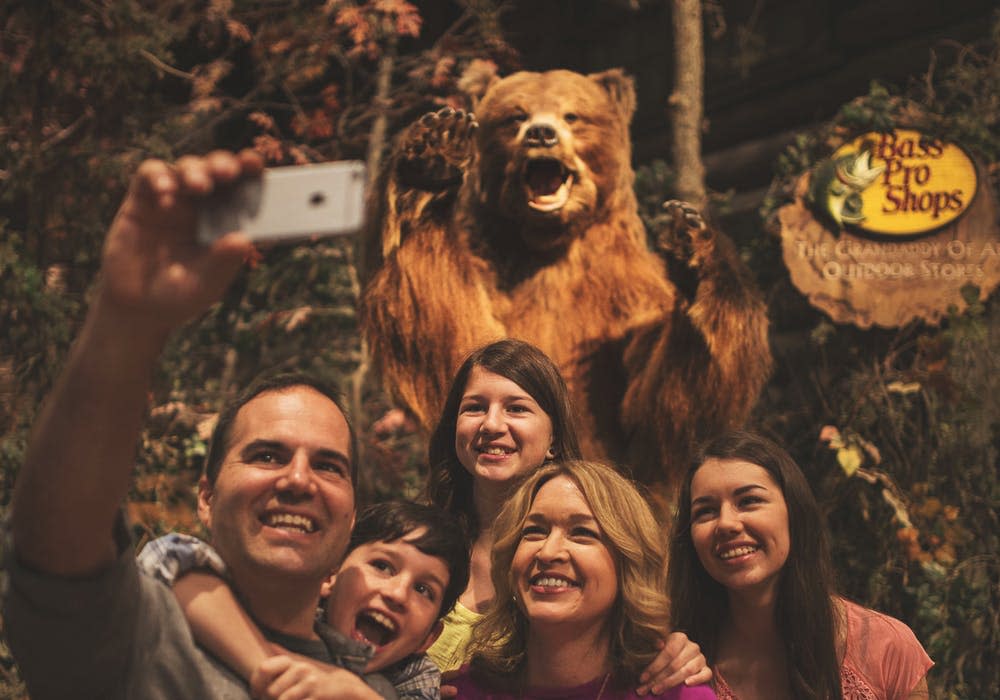 Selfies with the bear at Bass Pro Shops.
Don't miss the daily fish feeding shows at 10 a.m. and 3 p.m. in Uncle Buck's Auditorium. Watch as divers feed the fish and present an educational seminar on native Missouri fish.
Even with all that, "Grandaddy" is just one component of the store. An abundance of family-friendly wildlife, attractions and amenities makes this experience a "must-see" when visiting the Ozarks. Additional attractions and experiences include:
Captivating full-service restaurant inspired by American author and saltwater fishing legend Ernest Hemingway – avid sportsman and pioneer of big game fishing.
National Archery Hall of Fame
A free experience that seeks to preserve the sport's history and tradition in the United States, the hall showcases more than 1,500 artifacts, including a handmade bow created by Native American Apache leader Geronimo.
National Rifle Association Sporting Arms Museum
A free exhibit dedicated to chronicling the development and evolution of hunting arms in America from colonial times to present-day and home to the premier collection of sporting arms in the world featuring legendary items like Teddy Roosevelt's hunting rifle.
World-class, enchanting fish and wildlife attraction features 35,000 live fish, reptiles, mammals and birds, and 1.5 million gallons of water.
John A. and Genny Morris Conservation Education Center
This 50,000-square-foot space houses the Wonders of the Ozarks Learning Facility School. The WOLF School is a comprehensive learning experience that serves as a national model for outdoor education.
White River Conference Center
Elaborate banquet space with a signature wilderness atmosphere ideal for special events of all sizes.