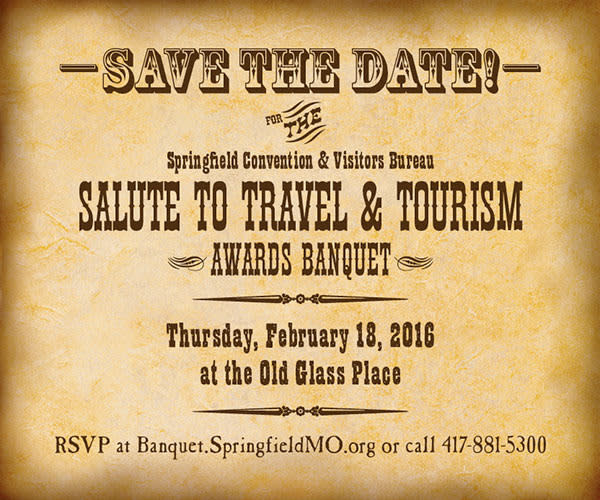 Join the Convention & Visitors Bureau in honoring businesses and individuals making a difference in the local tourism business. The Salute to Travel & Tourism Awards Banquet is set to begin with a reception at 6 p.m. Feb. 18 followed by dinner and the awards ceremony at 7 p.m. at The Old Glass Place.
Individual tickets for this prestigious event are $50 each and a table of eight is $375. Tickets can be purchased at  http://banquet.springfieldmo.org or call 417-881-5300.
Awards will be presented in five categories, including the Pinnacle Award for individuals who have been active in the travel industry for many years and have made substantial contributions to the betterment of the Springfield area's travel industry. That award will be announced Feb. 18.
Other awards will be presented to the following:
The Hospitality Award goes to Ramada Plaza Hotel & Oasis Convention Center. This award is presented to an attraction, lodging facility or restaurant which demonstrates outstanding hospitality to the traveling public and exhibits a team spirit in promoting growth of Springfield area travel and tourism.
The Diplomat Award will go to U.S. Rep. Roy Blunt. This award is presented to a government official, organization or employee who has provided significant support to the Springfield area travel industry.
The Spotlight Award is presented to an individual, business or organization not usually considered part of the travel and tourism industry for noteworthy contributions in advancing travel and tourism in the Springfield area. The award will go to David Eslick, a founding member of the Birthplace of Route 66 Festival.
The Ambassador Award will go to Kirk Hansen, public relations director at Fantastic Caverns. This award is presented to individuals or organizations who generated significant economic impact for the area by working to encourage tourism or secure a major convention or event in Springfield.