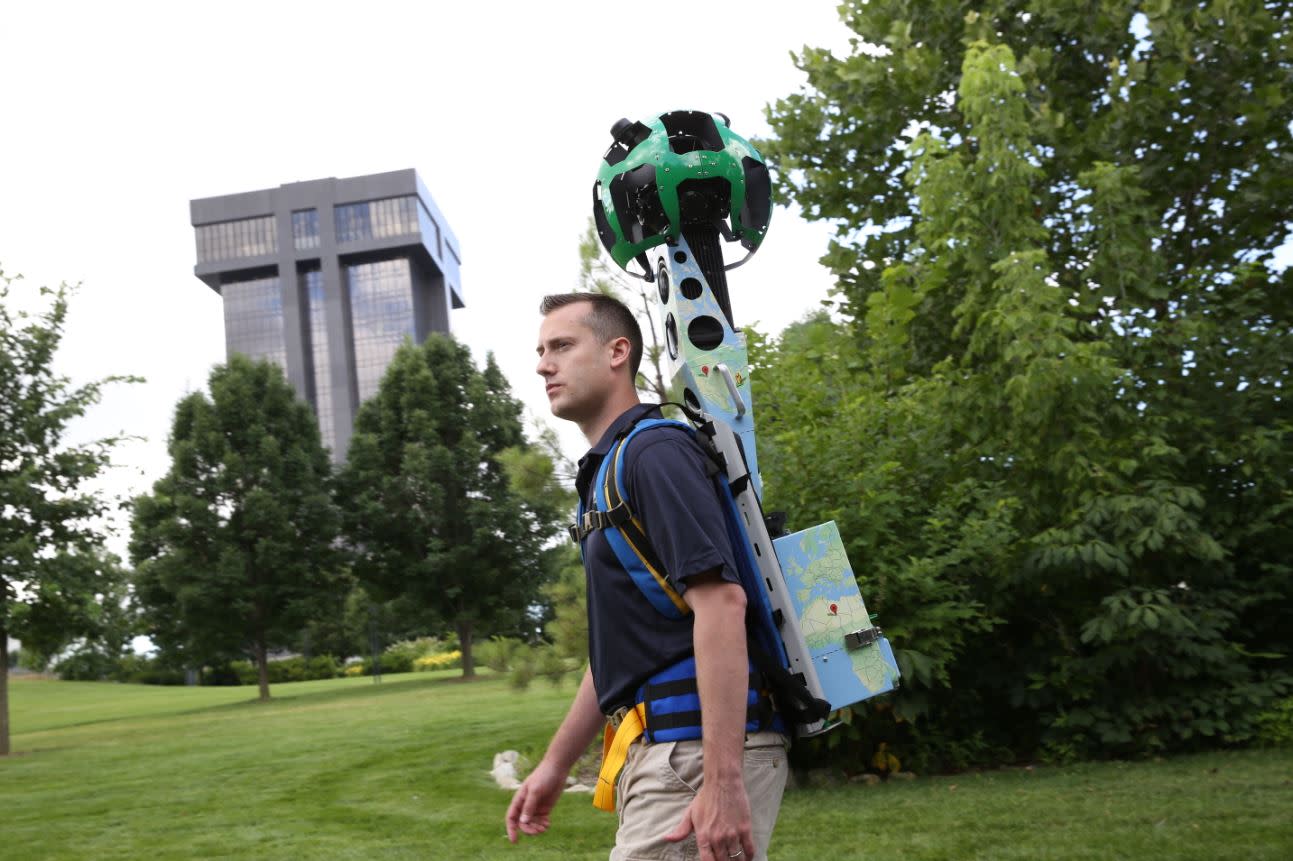 People soon can get a virtual experience of Springfield without leaving their chairs thanks to technology loaned by Google to the Convention & Visitors Bureau.
The CVB was accepted earlier this year for the Google Maps Street View Trekker Project, making it among the first destinations participating in the program and the first Missouri destination to participate.
Soon after the bureau was notified it would be part of the pilot project, a backpack equipped with GPS technology, a computer and cameras that record 360-degree images - and a trainer - arrived in Springfield in July.
Since then, CVB staffers Sean Dixon, Walter Watts and Steve Ross have "trekked" an estimated 30 miles at about a dozen locations with the 40-pound piece of kelly green equipment strapped on their backs and towering over their heads.
"This is another way to tell Springfield's story and show Springfield's assets in a way we haven't been able to do before," said Dixon, interactive media manager at the CVB.
The pilot project's goal is to enhance Google Maps with panoramic images of places that can't be accessed by the well-known Google Street View Car. So far, imagery from the Hawaii Visitors & Convention Bureau, VISIT Florida and The Wilderness Society are on Google Maps with more to follow, said Susan Cadrecha, communications senior associate at Google Maps.
"Our goal at Google Maps is to make the most accurate, useful and comprehensive map of the world," Cadrecha said. "That means getting Street View of far-off, remote destinations as well as imagery from around the corner. So we are just as excited to work with Springfield as we are with many of our international partners and locations."
The Trekker equipment on loan in Springfield will be returned to Google this week and the images from the city added to Google Maps in the coming months. At the request of Google, the list of Springfield locations is not being revealed until they are posted.
The project potentially exposes millions of Google Maps users to Springfield's amazing assets in a unique, virtual way. The CVB hopes that access will encourage people who are not familiar with Springfield to visit the city. Along with appearing on Google Maps, links will show up in Google Search results. The CVB also plans to embed the imagery on its website.
The CVB is a nonprofit marketing organization dedicated to promoting the local economy through growth in travel and tourism. For more information about the CVB, call 417-881-5300, 800-678-8767 or visit www.SpringfieldAdventures.com.