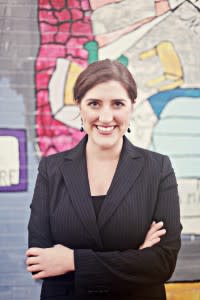 Leah Hamilton will leave her position as the Executive Director of the Springfield Regional Arts Council in mid-July for a new role with Drury University.
Hamilton, who has worked at the SRAC for seven years, including the past four as Executive Director, will be Drury's new Director of Arts Administration beginning in August 2013. She will replace Kay Osborne, who is retiring.
Under Hamilton's leadership, the SRAC has stabilized its funding, expanded its programming and facilities at The Creamery Arts Center, co-chaired the Arts & Culture plan element of the City of Springfield's Field Guide 2030 strategic plan, increased the SRAC's membership, developed a stronger working partnership between the SRAC and Springfield-Greene County Parks, and instituted new programs for corporate development and professional training for SRAC'S artist members. She also was honored this spring with the Springfield Convention & Visitors Bureau's Spotlight Award for helping to secure 60 percent of the hotel/motel tax revenue that the American National Fish & Wildlife Museum voluntarily relinquished to be used for cultural capital projects.
A Springfield native and Kickapoo High School graduate, Hamilton received her bachelor's degree from the University of Kansas and a postgraduate diploma in music from the Royal Scottish Academy of Music and Drama. She is an accomplished singer who performs with the Kansas City-based Octarium choral music group and has appeared in a number of Springfield productions for Springfield Regional Opera Lyric Theatre, Springfield Little Theatre, Springfield Contemporary Theatre, and the Springfield Symphony.
"My time at the SRAC has been immensely rewarding and I am grateful for the opportunities that I have had as a young leader in this community as well as the many mentors who have supported my efforts," Hamilton said.
The Drury Arts Administration program offers students an interdisciplinary education focused around themes important to the arts; it is jointly administered with the Art & Art History, Music, Theatre, and English departments. Hamilton has been serving as an adjunct lecturer at Drury since 2012. Through her contacts with Drury and SRAC, arts administration students have gained internship opportunities with the SRAC and other community arts programs, giving them the real-world experience necessary to move forward professionally.  "We are thrilled to welcome Leah to Drury in this more permanent position," commented Charles Taylor, vice president for Academic Affairs.   "Her combination of academic and professional experience, as well as her immense credibility in Springfield and the Ozarks, will serve our students well as they integrate liberal and professional learning and will serve Drury well as we strengthen our fundamental commitment to serving the Ozarks."
"While we will sorely miss working with Leah on a day-to-day basis, the Arts Council looks forward to the potential of collaborating with Drury's Arts Administration program to expand professional development opportunities for young talent through her new position," SRAC Board President Pam RuBert said. "In the big picture, formative collaborations such as this will greatly strengthen the arts in Springfield and throughout our 27-county search area."
The process for selecting Hamilton's successor will be announced in the coming weeks.
The Springfield Regional Arts Council was formed in 1978 as an organization to serve and represent community arts organizations; its mission is to transform lives and enrich our community through the arts.