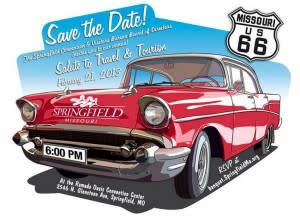 Planning is underway for the 2013 Salute to Travel & Tourism awards banquet and annual meeting for the Convention & Visitors Bureau. The Route 66-themed event begins with a reception at 6 p.m. Feb. 21 at the Ramada Oasis Convention Center.
Awards are presented in five categories:
Pinnacle Award – for individuals who have been active in the travel industry for many years and have made substantial contributions to the betterment of the Springfield area's travel industry. This award remains secret until the night of the banquet.
Hospitality Award – presented to an attraction, lodging facility or restaurant which demonstrates outstanding hospitality to the traveling public and exhibits a team spirit in promoting growth of Springfield area travel and tourism. This year the award goes to University Plaza Hotel & Convention Center.
Diplomat Award – presented to a government official, organization or employee who has provided significant support to the Springfield area travel industry. The award will be presented to Missouri Representatives Sara Lampe and Lincoln Hough.
Spotlight Award – presented to an individual, business or organization not usually considered part of the travel and tourism industry for noteworthy contributions in advancing travel and tourism in the Springfield area. The award goes to Leah Hamilton, director of the Springfield Regional Arts Council.
Ambassador Award – presented to individuals or organizations who generated significant economic impact for the area by working to encourage tourism or secure a major convention or event in Springfield. The award will be presented to the Missouri Dairy Forum.
To view a list of previous award recipients, go to http://bit.ly/RrDDfZ.
The Convention & Visitors Bureau wishes to thank the following banquet sponsors:
Kingery Printing
Baum's Promotional Products
Hammons Hotels
Springfield-Branson National Airport
Elliott Lodging
Ramada Oasis Convention Center
Bass Print Solutions
7C's Winery
OOVVDA Winery
Gerry Averett Photography
Gary Ellison Productions
Tickets are $50 per person or $475 per table of 10. They can be purchased at http://bit.ly/TnIKSQ.