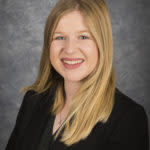 Madison Russell
Madison Russell has joined the staff of the Springfield, Missouri, Convention & Visitors Bureau as content coordinator.
Russell, a 2019 graduate of Missouri State University, is responsible for managing the CVB's social media accounts, blogging and assisting with public relations activities.
The CVB is a nonprofit marketing organization dedicated to improving the local economy through growth in travel and tourism. Learn more at www.SpringfieldMO.org or call 417-881-5300 or 800-678-8767.