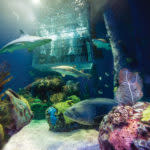 Celebrate "Shark Week" with a chance to win a mini-vacation that includes diving with sharks in the only place it can be done in the midwest.
The Out to Sea Shark Dive at Johnny Morris' Wonders of Wildlife National Museum & Aquarium in Springfield, Missouri, is the centerpiece of the vacation. Guests will go underwater inside a metal cage and come face-to-face with sharks and other sea life in a huge aquarium. State-of-the-art air helmets allow divers to submerge without diver certification.
Also included in the prize are:
One night at Angler's Lodge, a lodge-themed hotel. Not eligible for holidays or holiday weekends.
A $50 gift card to Hemingway's Blue Water Cafe, a restaurant inside Bass Pro Shops Outdoor World;
A $100 Bass Pro gift card that can be redeemed at the store in Springfield, the first and largest Bass Pro in the world; and
Admission for two to Wonders of Wildlife, an award-winning aquarium featuring thousands of live animals and educational displays.
Springfield, the third-largest city in Missouri, is home to these and many other world-class attractions that bring millions of visitors to the southwest part of the state each year.
For more information about things to see and do in the Springfield area, visit www.SpringfieldMo.org or call the Convention & Visitors Bureau at 800-678-8767.
Enter the sweepstakes at https://www.springfieldmo.org/sharkdive. Two winners will be drawn on Aug. 5. Terms and conditions apply.
About the Out to Sea Shark Dive
The Out to Sea Shark Dive cage accommodates up to four guests and one safety diver.
All participants must be at least 10 years or older.
Children ages 10-14 must be accompanied by a parent/guardian during the safety briefing and the parent/guardian must remain in the shark dive area while their child is in the water.
Children ages 15-17 must have a parent/guardian signature to participate.
Participants must be able to navigate stairs, ramps and ladders unassisted.
This experience may not be suitable for participants with pre-existing health conditions, including but not limited to: history of heart attacks, strokes, heart disease, angina, heart or blood vessel surgery, epilepsy, blackouts, fainting, convulsions, lung disease, cold, bronchitis or sinus related issues, problems equalizing ears with airplane or mountain travel, sinus or ear surgery, asthma, blood disorders, high blood pressure, history of diabetes affecting your ability to participate in strenuous activity or if you are currently under the influence of drugs or alcohol.
Pregnant guests may not participate.
About Wonders of Wildlife National Museum & Aquarium
Johnny Morris' Wonders of Wildlife National Museum and Aquarium consists of an all-new 1.5-million-gallon Aquarium Adventure showcasing 35,000 live fish, mammals, reptiles, amphibians, and birds, and immersive Wildlife Galleries that bring visitors eye-to-eye with the greatest collection of record-setting game animals ever assembled. Created by noted conservationist and Bass Pro Shops founder/CEO Johnny Morris, the 350,000-square-foot experience celebrates those who hunt, fish, and act as stewards of the land and water. Located next to Bass Pro Shops National Headquarters in Springfield, Missouri the campus is a centerpiece of America's Conservation Capital in Missouri's Ozark Mountains. Wonders of Wildlife was voted "Best New Attraction in America" and "America's Best Aquarium" by the readers of "USA TODAY."
About Bass Pro Shops
Bass Pro Shops is North America's premier outdoor and conservation company. Founded in 1972 when avid young angler Johnny Morris began selling tackle out of his father's liquor store in Springfield, Missouri, today the company provides customers with unmatched offerings spanning premier destination retail, outdoor equipment manufacturing, world-class resort destinations and more. In 2017 Bass Pro Shops acquired Cabela's to create a "best-of-the-best" experience with superior products, dynamic locations and outstanding customer service. Bass Pro Shops also operates White River Marine Group, offering an unsurpassed collection of industry-leading boat brands, and Big Cedar Lodge, America's Premier Wilderness Resort. Under the visionary conservation leadership of Johnny Morris, Bass Pro Shops is a national leader in protecting habitat and introducing families to the outdoors and has been named by Forbes as "one of America's Best Employers."
About Angler's Lodge
Angler's Lodge is conveniently located across the street from the original Bass Pro Shops Outdoor World, Johnny Morris' Wonders of Wildlife National Museum and Aquarium, White River Conference Center and more. The guest rooms are outfitted in rustic décor, creating an inviting overnight stay. Beyond the accommodations, guests can enjoy a variety of amenities including complimentary breakfast, indoor pool and fitness center.
About the Springfield Convention & Visitors Bureau
The Convention & Visitors Bureau is a nonprofit marketing agency dedicated to improving the local economy through growth in travel and tourism to southwest Missouri.
About "Shark Week"
"Shark Week" is a summer TV event on the Discovery Channel filled with all things sharks. Shark Week 2019 kicks off July 28 with eight days of shark-centric specials. Discovery is not participating in this promotion.