The Springfield Convention & Visitors Bureau proudly announces that Madison Yohn, Content Coordinator at the CVB, was selected as one of Destinations International's 2023 30 Under 30 recipients.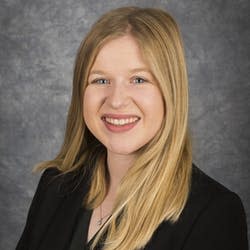 The Destinations International award recognizes upcoming tourism professionals who are excelling in their current roles through promoting local tourism. Yohn manages the CVB's social media accounts, including @lovespringfield on Instagram and TikTok, the I Love Springfield, MO! Facebook page and the blog on SpringfieldMO.org.
"We are incredibly proud of Madison, and this recognition is well deserved," said Mark Hecquet, president and chief executive officer of the CVB. "Through creativity and ingenuity, Madison has pushed forward our social media efforts resulting in tremendous growth and success."  
Yohn has a bachelor's degree in journalism and is a graduate of Missouri State University. She has worked for the CVB for nearly four years. She recently received a 40 Under 40 Award from the "Springfield Business Journal" and the Rising Star Award from the Missouri Division of Tourism.
Yohn will be recognized at the Destinations International Annual Convention July 18-20 in Dallas, Texas.
To view the video Yohn submitted with her nomination, click here: https://www.youtube.com/watch?v=GsGy8CSyJxs.
To learn more about  the 30 Under 30 program and each honoree, click here. https://destinationsinternational.org/general-information/30-under-30.
About the Springfield Convention & Visitors Bureau
The Springfield Convention & Visitors Bureau is the official destination marketing organization for the Springfield area, including Greene, Christian and Polk counties in southwest Missouri. Through compelling marketing initiatives targeting regional and national markets, the CVB helps create a prosperous local economy through growth in tourism, conventions, and sports. Learn more at SpringfieldMO.org. 
About Destinations International
Destinations International is the world's largest resource for official destination organizations, convention and visitors bureaus and tourism boards. Destinations International is about serving destination marketing professionals first and foremost. Together with more than 6,500 members and partners from over 650 destinations in 23 countries, Destinations International represents a powerful forward-thinking, collaborative association that exchanges bold ideas, connects innovative people and elevates tourism to its highest potential. For more information, visit www.destinationsinternational.org.