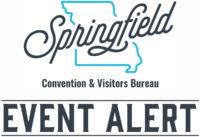 This Event Alert is provided by the Springfield Convention & Visitors Bureau to encourage the community to welcome large groups to the area. We also encourage the use of special promotions, banners and a welcome on your marquee.
Assemblies of God Children's Ministry Conference
Date: April 11-13

Attendees: 2,000

Room Nights: 1,730
CVB partners who want to see more groups coming to the city can access a convention calendar on Connect SGF. Once logged in, click "reports," then select the calendar you want to view. If you need help logging in, contact Tonia Castaneda at tcastaneda@springfieldmo.org or call 417-881-5300, ext. 121.