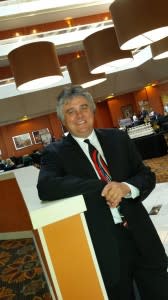 Congratulations to Brian Inman, general manager at the DoubleTree Hotel Springfield for being named DoubleTree General Manager of the Year!
Out of 307 DoubleTree hotels in the Americas, Inman was chosen for the award that is presented to the GM that best represents the DoubleTree by Hilton Brand Promise in their hotel, with their management company, and in the community.
Inman started working in the hotel industry when he was 8 years old at the Long Horn Hotel and Steakhouse his family owned. Back then, he was a busboy in the restaurant and wore a little black bowtie while cleaning tables. He worked at his family hotel until age 19 when he started as a bellman at a Sheraton hotel. Forty years later he is still in the hotel industry.
He has a passion for hospitality and leads his team by example. Inman can regularly be seen helping guests with luggage, greeting them by name, and visiting with them.
His staff, however, didn't nominate him for the award because of how Inman excels with management of the hotel. It was submitted because of how he takes care of the employees like he would his own family, his volunteer work in Springfield and because of his big heart.
Check out the entire Brian Inman Nomination to learn things you didn't know about Brian!