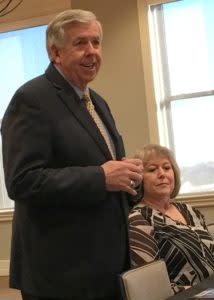 Lt. Gov. Mike Parson spoke with a group of tourism industry representatives in Springfield March 3.
Lt. Gov. Mike Parson met with more than 20 local tourism representatives to discuss his priorities for the tourism industry and learn about their vision and concerns March 3 in Springfield.
Before fielding questions and comments, Parson told the group gathered at Hotel Vandivort that funding for tourism promotion is important because the industry is a top employer in the state, and he will strive to get as much funding as possible for the Missouri Division of Tourism.
Noting that agriculture is the top industry in Missouri followed by tourism, Parson also said he wants the state to increase promotion of agritourism and encourage retirees to vacation and even relocate to Missouri.
Among the issues brought forth by the attendees was a bill that would create REAL ID in Missouri that is currently making its way through the legislature. Parson said the bill needs to pass - and he expects it will - because air travel will be more difficult for Missourians without a REAL ID or some other form of federal identification after Jan. 22, 2018. Access to federal facilities, such as military bases, began requiring federal identification in 2016.
The REAL ID Act, passed by Congress in 2005, establishes minimum security standards for license issuance and prohibits federal agencies from accepting state-issued driver's licenses and identification cards from states not meeting certain standards.
Parson also indicated he would support legislation allowing establishment in Missouri of Tourism Business Improvement Districts such as that being considered by city leaders as a funding source for a convention complex in Springfield.
Similar to a Community Improvement District, a TBID allows tourism-related businesses, such as hotels, to establish an assessment on their guests to raise money for tourism-related promotion or projects.
"I'm fine with that," Parson said. "I think it's a good idea."
Parson said he wants to be a voice for tourism and learn more about how his office can help promote the industry.
"One of my main jobs is to promote Missouri," said Parson, who, as the state's lieutenant governor automatically has a seat on the Missouri Tourism Commission.