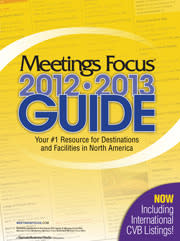 The 2013-14 edition of Meetings Focus Guide is requesting updated information for free listings in the guide and on its website. The Springfield portion of the site currently features only five hotels and none of the city's stand-alone meeting facilities.
The guide will be:
Polybagged and mailed with the August 2013 issue of Meetings Focus magazine.
Circulated to more than 55,000* planners each year.
Distributed at national and regional trade shows, including ASAE, MPI, HSMAI's MEET, PCMA, IMEX and more.
Check out your listing on MeetingsFocus.com, and if you have updates or corrections, download the listing form and fax your completed form to (319) 364-8094 or e-mail it to updates@meetingsfocus.com by Monday, January 18, 2013.