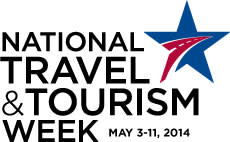 The Springfield Convention & Visitors Bureau is joining destinations throughout the nation for U.S. Travel Rally Day on May 6 with a reception for people interested in the local tourism industry.
The free mixer is from 4:30 to 7 p.m. in the main terminal at Springfield-Branson National Airport. Hors d'oeuvres, beverages and live entertainment will be provided.
U.S. Travel Rally Day is part of National Travel & Tourism Week, May 3-11, a tradition first celebrated in 1984 after a Congressional joint resolution passed in 1983. Throughout the nation, destinations have a variety of activities planned to highlight the importance of travel to the economy.
For a list of destinations participating in U.S. Travel Rally Day, visit www.ustravel.org/marketing/national-travel-and-tourism-week/us-travel-rally-day-participating-cities.
To RSVP for the event in Springfield, send email to cvb@springfieldmo.org or call 417-881-5300, Ext. 100.
The CVB is a nonprofit organization dedicated to boosting the local economy by promoting travel and tourism to Springfield. For more information, contact the CVB at 417-881-5300 or 800-678-8767.