Convention Attraction Task Force Narrows Companies to Three
A committee has narrowed the choices of companies to perform a competitive assessment study to three. The companies will make presentations to the committee in the coming weeks and a recommendation is expected by the end of November. The Convention & Visitors Bureau, Springfield City Council and John Q. Hammons Hotels & Resorts will make the final decision.
In all, seven of 13 companies responded to the request for proposals for a competitive assessment study that will:
Compare Springfield with other cities that have convention and expo-type events. It will identify facilities and other amenities Springfield needs in order to remain competitive in attracting such events.
Determine the best use for the lot adjacent to the Expo Center.
Recommend strategies to improve revenues at the Expo Center.
The City, CVB and Hammons agreed to conduct the study after a second delay in construction of a hotel adjacent to the Expo Center. Part of the agreement includes that the city will delay repurchasing from Hammons the lot next to the Expo Center. Hammons purchased the land from the city in 2008 with an agreement to begin building a hotel within 60 days of closing. That deadline was extended to April 1, 2010. When construction had not begun by the second deadline, the City began proceedings to repurchase the land for $1 as stipulated in the agreement.
Once the competitive assessment study is completed, the city will reexamine the property agreement with Hammons and determine a course of action.
Staff Changes Occur at the CVB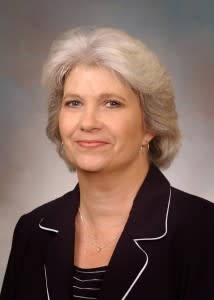 Welcome aboard to Melissa Evans and Colleen Hargis and farewell to Patty Becraft!
Melissa joins the CVB as convention sales manager. She replaces June Lammers who left the bureau in August.
Colleen is the new CVB office manager. She replaces Patty, director of administration and operations, who is leaving the bureau at the end of October.
Patty has worked for the bureau for the past 22 years and will be sorely missed by the CVB staff. During her tenure at the bureau, she developed the CVB's first website, was involved in opening the city's first official Tourist Information Center, was instrumental in starting the bureau's volunteer program and installed the bureau's first computer network. Patty has seen the bureau grow from six full-time and one part-time staff member to 17 full-time and 3 part-time employees. Nearly 100 people serve the bureau as volunteers.
Patty will be working in real estate and operating her website design and technology company in Seymour.
CVB Board Action in October
In October, the Springfield Convention & Visitors Bureau Board of Directors:
Heard and approved a report from the Springfield Regional Arts Council.
Heard a report on computer hardware and operating system upgrades for bureau staff.
Heard a report from the City of Springfield.
Heard a report on the competitive assessment study and approved a motion to pay for a portion of the cost for the study.
CVB Notes:
Rejuvenate: Melissa Evans, convention sales manager, represented Springfield at Rejuvenate, a religious meeting planners' event, in Louisville in October.
Convention Services: The CVB provided convention services for 12 groups in September totaling more than 3,415 delegates and 3,415 room nights. For information about convention services, contact Carrie Chavez, convention services coordinator, at 881-5300, Ext. 108, or cchavez@springfieldmo.org.
Visitors Guide: Sales have ended for the 2011 Visitors Guide. If you missed your opportunity to be in the book, there are still many other ways to tell visitors about your business, including the Passport to Family Fun coupon book, website, kiosks, etc. Contact Melissa Divincen, partner development manager, at 881-5300, Ext. 105, or mdivincen@springfieldmo.org for information.
Meeting Planners Guide: The CVB is finalizing a new Meeting Planners Guide that will be distributed on a flash drive. The flash drive replaces the printed binders the bureau produced in the past. It also allows the bureau to send updates to users as needed so the information is more up-to-date than in the past.
New Marketing Partners: Smallin Civil War Cave in Ozark and Todd Oliver & Friends in Branson have joined the CVB's Marketing Partnership Program. The program allows tourism-related businesses outside Springfield city limits to participate in CVB marketing programs. For information, contact Melissa Divincen at 881-5300, Ext. 105, or mdivincen@springfieldmo.org.
Photos Needed: The CVB is developing a new website and needs updated photos from attractions, hotels, restaurants, etc. Ideally, the photos should showcase people enjoying a visit to the city. Signed permission forms from the people depicted in the images also are needed. Send images to Sean Dixon, interactive media manager, at sdixon@springifeldmo.org. Call Sean at 881-5300, Ext. 114, if you have questions.
E-promo: Click here to subscribe to the CVB's e-promos. The e-promo contains information about fun things to see and do in Springfield and is e-mailed monthly to potential visitors. Send news releases that could be used in the e-promo or on the bureau's blog at www.ILoveSpringfieldMo.com to Susan Wade, public relations manager, at swade@springfieldmo.org.
Conversion Study: The CVB is preparing to conduct its annual conversion study to determine effectiveness of advertisements promoting Springfield as a travel destination.
Network with Us: Follow @SpringfieldCVB on Twitter and check out our page on Facebook!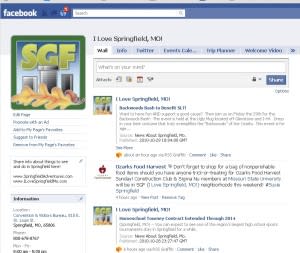 Upcoming Conventions and Events
| Date | Event | Attendance |
| --- | --- | --- |
| Nov. 5-7 | Midwest Affiliate of College and University Residence Halls Conference | 500 |
| Dec. 9-10 | Missouri Tourism Commission | 60 |
Groups Booked Recently by the CVB
| Date | Event | Attendance |
| --- | --- | --- |
| Oct. 2010 | Missouri State High School Activities Association | 600 |
| May 2011 | U.S. Forest Service | 450 |
| Mar. 2012 | National Christian Homeschool Basketball Championships | 8,100 |
| Mar. 2013 | National Christian Homeschool Basketball Championships | 8,100 |
| Mar. 2014 | National Christian Homeschool Basketball Championships | 8,100 |
November Meetings
Nov. 17, 11:45 a.m., Springfield Hotel & Lodging Association at the Clarion Hotel
Nov. 18, 8 a.m., CVB Board of Directors at the CVB Offices
The Greater Springfield Area Sports Commission will not meet in November. The next meeting is Dec.  15 in Uncle Buck's at Bass Pro.
A big THANK YOU to volunteers who worked 976 hours for the CVB in September.
Springfield Travel Statistics
| | Sep. 2010 | YTD 2010 | YTD 2009 |
| --- | --- | --- | --- |
| Information Centers Visits | 4,435 | 34,623 | 43,327 |
| Tourist Inquiries | 1,285 | 72,644 | 59,632 |
| Website Visitor Sessions | 33,464 | 463,690 | *See Below |
| Total Contacts | 39,184 | 570,957 | *See Below |
| Airline Passengers | 67,423 | 602,194 | 614,272 |
*The CVB is using a new analytics program to track website traffic. Because of differences in how the new program works compared to the old program, statistical comparisons with previous years are not possible.
Springfield Hotel Statistics
| | Aug. 2010 | YTD 2010 | YTD 2009 |
| --- | --- | --- | --- |
| Room Supply | 187,829 | 1,479,309 | 1,482,393 |
| Room Demand | 107,799 | 757,634 | 764,267 |
| Percent of Occupancy | 57.4% | 51.2% | 51.6% |
| Average Daily Rate | $65.26 | $65.87 | $67.06 |
| Revenue Per Available Room | $37.45 | $33.74 | $34.57 |
| Room Sales | $7,034,627 | $49,909,023 | $51,248,580 |