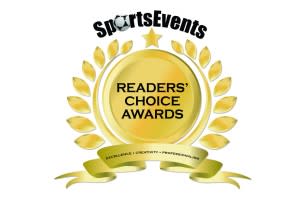 SportsEvents Media Group announced its 2012 class of Readers' Choice Award winners and the Springfield Convention & Visitors Bureau and Sports Commission were among them. Other organizations in Missouri that received awards are the Branson/Lakes Area CVB, City of Independence Department of Tourism and Greater Saint Charles CVB.
Tracy Kimberlin, president of the Springfield CVB, the management organization for the Sports Commission, said it is an honor to be among the award recipients.
"We do our best to provide excellent service to sports event planners and the Readers' Choice Award tells us we're doing a good job," Kimberlin said.
Lance Kettering, executive director of the Sports Commission, said he was pleased to be nominated and receive the award.
"It was an honor to be nominated by our peers for the award and even a greater honor to receive the award from SportsEvents Magazine," Kettering said. "We strive to serve our sports community with outstanding service and appreciate the recognition provided by the Sports Events Magazine with the 2012 Readers' Choice Award."
Sports event professionals were asked to name the sports commission, convention and visitors bureaus, or sports events venues that they believe display exemplary creativity and professionalism toward the groups they host. Nominations were received from readers throughout the year, and the top picks were selected based on the results from an online system that registered more than 3,000 votes.
"Due to the power of social media and online voting capabilities, we received an overwhelming response from readers this year, which allowed SportsEvents to honor more than 100 destinations and venues—and the marketing organizations that represent them—with a 2012 Readers' Choice Award," said Kristen McIntosh, SportsEvents editor. "These award winners have proven they are willing to go above and beyond the normal service levels expected by providing both the physical attributes and commitment to hospitality and service that today's discriminating sports event planners demand. It is an honor to announce their selection by sports event planners as some of the best in the United States."
A complete list of award winners is available at www.sportseventsmagazine.com/2012-readers-choice-awards. Winners will be listed in the January 2012 issue of SportsEvents magazine.
For more information about the Springfield CVB, Sports Commission and sports events in Springfield, call 881-5300 and visit www.SpringfieldMoSports.org and www.SpringfieldMo.org. The CVB and Sports Commission are nonprofit marketing organizations dedicated to generating economic growth in Springfield through the travel and tourism industry.