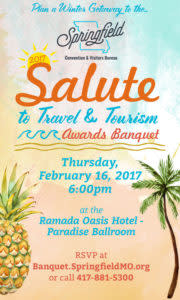 The Convention & Visitors Bureau today announced the recipients of four of its Salute to Travel & Tourism awards and will announce its Pinnacle Award honoree at a banquet Feb. 16.
The Hospitality Award will be presented to Hotel Vandivort. This award is presented to an attraction, lodging facility or restaurant which demonstrates outstanding hospitality to the traveling public and exhibits a team spirit in promoting growth of Springfield area travel and tourism.

The Diplomat Award will go to Dan Lennon, director of the Missouri Division of Tourism. This award is presented to a government official, organization or employee who has provided significant support to the Springfield area travel industry.

The Spotlight Award will go to the Price Cutter Charity Championship. This award is presented to an individual, business or organization not usually considered part of the travel and tourism industry for noteworthy contributions in advancing travel and tourism in the Springfield area.

The Ambassador Award will go to the Missouri chapter of Future Business Leaders of America. This award is presented to individuals or organizations who generated significant economic impact for the area by working to encourage tourism or secure a major convention or event in Springfield.

The Pinnacle Award for individuals who have been active in the travel industry for many years and have made substantial contributions to the betterment of the Springfield area's travel industry will be announced at the banquet.
Along with the awards ceremony, the CVB - a nonprofit organization dedicated to boosting the local economy through growth in the travel and tourism industry - will present information about its activities in the past year and plans for marketing the city as a travel destination in 2017.
Tickets for the event are on sale and can be purchased at www.springfieldmo.org/banquet. Cost is $50 per person or $475 for a table of 10.
To view a list of previous award recipients, go to http://bit.ly/RrDDfZ.