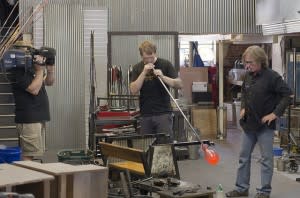 After spending three days filming in Branson, a Canadian TV crew arrives in Springfield Friday for more filming.
"The Motorhead Traveler" is producing a travel feature about Springfield that will include a motorized activity, cooking and creating a piece of art.
For the motorized activity, host Kevin Cullen will participate in a variety of activities beginning with firefighter training and a motorcycle ride with members of the local chapter of Red Knights, an international association for firefighters who enjoy motorcycle riding. Pit Bull Powersports is loaning a Spyder to Cullen for the ride.
Cullen also will drive a Jeep through Fantastic Caverns and participate in a demonstration by Real Encounter, a Springfield-based Christian motorcycle stunt group currently competing on "America's Got Talent." The demonstration takes place at 3:30 p.m. Friday at Second Baptist Church, 3111 E. Battlefield Road, and the public is invited to attend.
Cooking cashew chicken at Fire & Ice, making a piece of glass art at Springfield Hot Glass Studio and experiencing Branson Zipline are other activities planned between Friday and Tuesday.
Click here to view photos from their visit to Springfield.
The Convention & Visitors Bureaus in Springfield and Branson teamed up on hosting the show. Two episodes, one about each city, are planned.