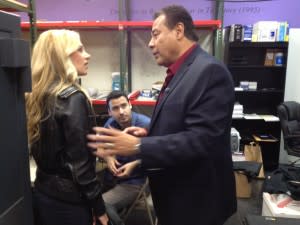 An ABC television crew filmed hidden camera scenarios for "What Would You Do?," a show that sets up moral and ethical dilemmas to see how people react.
Along with shooting scenarios at Eagle Pawn & Jewelry and Springfield Brewing Company, the crew filmed a variety of scenic locations and local sites May 8-13 to air with the segment.
An air date has not been set for the Springfield episode of the nationally televised program viewed by about 5 million people in the 2011-12 season.
Scenarios shot in Springfield included an agent with wanted posters telling store patrons at Eagle Pawn to call him if they see the woman pictured. After he leaves, the woman arrives and tries to pawn jewelry. At Springfield Brewing Company, a scenario in which a waitress is rude to customers because of their accents was planned. Multiple versions of each scenario and others were filmed during all-day shoots on May 11 and 12.