A new name was added to the list of Tourism Hall of Fame members, and eight other awards for outstanding service were presented at the 2011 Governor's Conference on Tourism in October in Jefferson City. Among them was our very own, Springfield CVB president Tracy Kimberlin.
At the annual event, members of the tourism industry, related associations, travel vendors, and elected officials joined the Missouri Division of Tourism for a conference focusing on educational seminars, utilizing Internet social networking sites, advertising techniques and strategies, and current trends related to attracting visitors to the Show-Me State.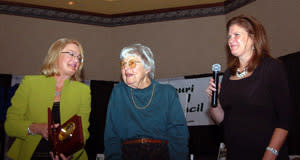 Pat Jones was honored as the 2011 inductee into the Tourism Hall of Fame, MDT's highest tribute. This honor goes to individuals whose long-term dedication (minimum of 10 years) positively affected Missouri's tourism industry. She was recognized for her philanthropic contributions and support of tourism and state parks. Without the generosity of Pat Jones, along with her late husband, Edward (Ted) Jones, Missouri's world-renowned Katy Trail State Park would not exist. Through her continued support of the Katy Trail and state parks, Pat Jones has created a legacy everyone will enjoy far into the future.
In 1986, Pat and Ted Jones donated $2.2 million to acquire the railroad right-of-way that is now the 237-mile long Katy Trail State Park; America's longest rails-to-trails project. Pat continues to support the Katy Trail by contributing funds for maintenance, settling land-owner disputes, advertising and other projects.
Recently, Pat Jones made a generous donation to facilitate the addition of an eight-foot wide attachment (out of the traffic lanes) onto the side of the Missouri River Bridge, in Jefferson City. Thanks to the "Pat Jones Pedestrian/Bicycle Lane," it is easier and safer for bicyclists and pedestrians to reach Jefferson City from the Katy Trail, thus making the capital city a major trailhead.
In addition to the Hall of Fame, MDT presented eight service awards, in seven categories, to industry members who enhanced the tourism industry by performing above-and-beyond to increase tourism's impact within the Show-Me State.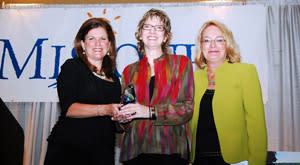 Jo Mueller, director of the Spiva Center for the Arts, in Joplin, was recognized at the Award Banquet, as this year'sSpotlight Award winner. The Spotlight Award recognizes significant contributions by an individual or entity not normally considered part of the tourism industry. During Mueller's time at the helm, the Spiva Center has been transformed from a local arts center into a destination site for arts enthusiasts and travelers from across America. Currently, she is working on new developments which will double the size of the Center, making the Spiva Center for the Arts a stronger attraction in the continued growth of tourism in southwest Missouri.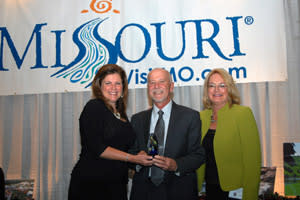 The Senator Emory Melton Legislative Award recognizes a legislator or tourism member who worked closely with the legislative process in support of tourism issues. For 2011, that distinction went to Tracy Kimberlin, President and CEO of the Springfield Missouri Convention & Visitors Bureau. During the legislative session, Tracy–who is not a lobbyist–works equally with legislators from both sides of the aisle, to raise awareness of the value an investment in the tourism industry brings.
The 2011 conference saw two recipients of the Ambassador Award, presented to an individualwho supports Missouri's tourism efforts by cooperating with MDT's advertising and publicity projects for the state's attractions, and supports other efforts designed to help travelers enjoy the Show-Me State.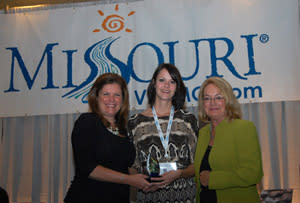 The first 2011 winner was Megan Rapp, Group Sales Manager for the Hannibal Convention & Visitors Bureau (CVB). Rapp works closely with MDT's 'group and international market liaison,' establishing itineraries for not only Hannibal and the surrounding area, but for the state as well. Additionally, she maintains a close relationship with Missouri's Welcome Centers; oversees CVB members' listings on Missouri's official tourism website, VisitMO.com; speaks at civic organizations on topics outlining the importance of tourism to their communities; and involves herself in a myriad of other activities.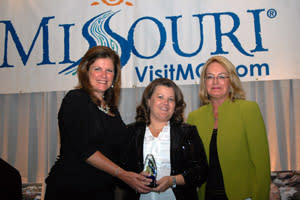 The second Ambassador Award went to Renee Eichelberger, of the St. Louis Convention & Visitors Commission. Renee realizes that before you can sell an individual attraction or location, you must first sell the entire state as a destination. She serves on the board of several travel-related associations; is a past board member of the National Travel Association; is a current board member of the Missouri Travel Council (MTC); serves on the Missouri Showcase Committee; and is chair of Missouri Bank Travel—MTC's successful program which is focused on attracting Bank Travel Club outings to Missouri.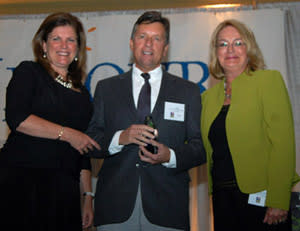 Tourism's Innovator Award goes to "the mouse that roared." It pays tribute to a small tourism entity that achievesoutstanding results with little (or no) budget; a "can-do" destination and attraction that has increased visitation, tourist expenditures and tax revenues for their community. The Bagnell Dam Strip Association garnered the 2011 Innovator Award for their "Hot Summer Nights" events, which greatly increased tourism to the area and revitalized interest in the historic Bagnell Dam Strip. Hot Summer Nights, held the second Friday of each month, May-September, attracted visitors from throughout the Midwest to take pleasure in displays of all makes, models and years of cars, truck and motorcycles; and to enjoy music, nationally known entertainers, food, games, shopping and family fun on the famed "Strip."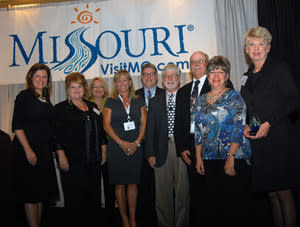 For 2011, the Pathfinder Award recipient was the Old Trails Regional Tourism Partnership, of West Central Missouri. This distinction goes to a marketer (an individual or organization) who aims for niche markets utilizing multiple mediums, such as print, broadcast, direct mail and public relations programs. These trailblazers show the rest of the industry where to find target markets and how to reach them. The Old Trails Regional Tourism Partnership received the award for its efforts in promoting the Old Trails Region as a unique tourism attraction and economic development hub. The Old Trails Region covers more than 100 linear-miles of businesses, farmland, events, attractions and entertainment through the center of Missouri, including portions of nine counties along both sides of the Missouri River. The Partnership's campaign to promote the region includes websites, brochures, TV promotions, Facebook, a film festival, food and wine events, designations of National Scenic Byways, and agricultural conferences.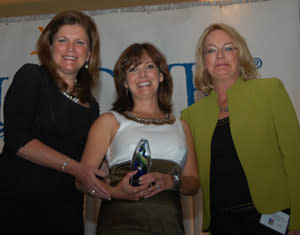 573 Magazine was presented with the Navigator Media Award for spreading the word about Missouri travel andtourism. This award recognizes a broadcast, print and electronic media–person or organization–that supports and promotes Missouri tourism, using stories and images that inform and entice. In addition to their flagship publication–573 Magazine–this organization has a continuing presence on the Internet with their digital version, in radio and television, on Facebook, and through their email newsletter. Additionally, they are involved in festivals and other events in the southeast region of Missouri. The magazine itself (573 is the telephone area code for the region they cover) is the largest print media in the entire 573 area code, with retail coverage from St. Louis to Branson to Jefferson City to Cape Girardeau. All of this activity has one objective in mind: build tourism in and to Missouri.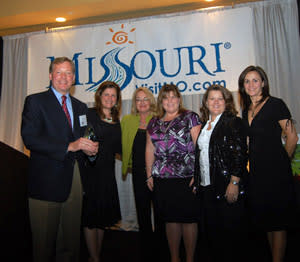 The Marketing Campaign Award recognizes outstanding achievement in an effective, integrated, multi-facetted marketing campaign that led to increased visitation, expenditures and sales tax revenues. For 2011, this award went to the St. Louis Convention & Visitors Commission (CVC) for their highly successful "The Meeting Guru" campaign. The CVC created a character who, ostensibly, was debuting his new book; "The Quintessential Guide to Successful Events." Meeting planners and attendees were driven to the Meeting Guru's website through mass-transit ads, in-person appearances, e-blasts, posters and other advertising media. Once there, they could hear him give tips on planning the perfect event—which, coincidentally, had everything to do with holding it in St. Louis. This campaign heightened awareness of St. Louis as a meeting and convention destination, as well as created excitement about nearby world-class attractions.
The staff of the Missouri Division of Tourism; the members of the Missouri Tourism Commission; and the entire tourism industry in Missouri, offer hearty congratulations and accolades to all of the award recipients, especially Pat Jones, the Hall of Fame inductee. Collectively, these were truly "jobs well done."