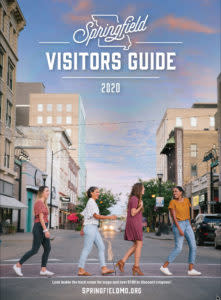 The 2020 Visitors Guide arrived at the CVB Dec. 3 and is available for distribution.
The guide provides a variety of information about the city's amenities for visitors, including hotels, restaurants, attractions and more.
Many thanks to the businesses and individuals who provided information for stories, placed advertisements and helped in other ways to produce the guide.
The guide is distributed via mail to people who request it, at information centers in Springfield and around the state, at individual businesses and at group events taking place in the city.
It's not too early to think about your 2021 marketing! If you want to advertise in next year's guide, contact Jane Rips at jrips@springfieldmo.org or Celine Roberts at croberts@springfieldmo.org or call 417-881-5300.