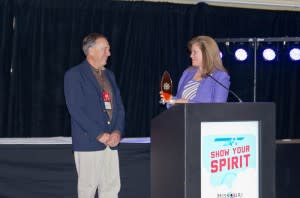 One of Missouri's most successful and well-known entrepreneurs was among eight award recipients recently recognized for contributions to the state's tourism industry.
During an awards gala at the 46th Missouri Governor's Conference on Tourism, the Missouri Tourism Commission and Missouri Division of Tourism inducted John L. "Johnny" Morris, the founder of Bass Pro Shops, into the Missouri Tourism Hall of Fame.
The Hall of Fame award is tourism's highest honor. It is given annually to someone who has supported and made outstanding contributions to Missouri's tourism industry for at least 10 years, while leaving a lasting, positive impression on the state's economy.
Morris, a Springfield native, was acknowledged not only for his commitment to conservation and the outdoors, but also for founding one of Missouri's top tourism draws – Bass Pro Shops Outdoor World in Springfield – along with other attractions such as Wonders of Wildlife and Dogwood Canyon Nature Park.
Morris also was recognized for his work at Top of the Rock and Buffalo Ridge Springs golf courses, featured earlier this year during the first ever Big Cedar Lodge Legends of Golf tournament. That event, featuring players from the PGA's Champions Tour, drew the likes of Jack Nicklaus and Gary Player. The event was broadcast worldwide on the Golf Channel, brought in travelers from around the country and pumped millions of dollars into Missouri's economy.
Tracy Kimberlin, president of the Springfield Convention & Visitors Bureau said the honor was well deserved.
"In my view, few if any have done more for the travel industry in the state than Johnny Morris," Kimberlin said.
Others honored at the gala Oct. 8 at the Renaissance Airport Hotel in St. Louis were:
The Missouri Governor's Conference on Tourism features educational workshops and noted guest speakers who address a variety of topics related to the tourism industry. More than 200 people attended the event in St. Louis.