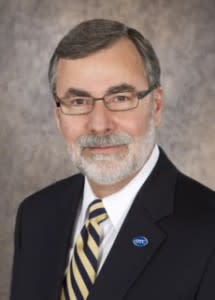 The Springfield Convention & Visitors Bureau presented its annual Salute to Travel & Tourism awards Thursday, Feb. 20.
Howard Fisk, owner of Fisk Limousines, received the Pinnacle Award, which goes to individuals who have been active in the travel industry for many years and have made substantial contributions to the betterment of the Springfield area's travel industry.
Since 1976, Fisk has handled the transportation needs of visitors and groups that come to Springfield along with serving as an ambassador for the city as he told his clients about Springfield's amenities.
He also has served on the boards of several organizations that are tourism-related, including the CVB, Springfield-Branson National Airport, the Chamber of Commerce, Springfield Ballet, Hammons Hall for the Performing Arts and many others.
The CVB presented four other awards during its banquet and annual meeting.
Mother's Brewing Co. received the Hospitality Award, which goes to an attraction, lodging facility or restaurant that demonstrates outstanding hospitality to the traveling public and exhibits a team spirit in promoting growth of Springfield area travel and tourism.
Ted Hillmer, superintendent at Wilson's Creek National Battlefield, received the Diplomat Award, which is presented to a government official, organization or employee who has provided significant support to the Springfield area travel industry.
Five Pound Apparel received the Spotlight Award, which is presented to an individual, business or organization not usually considered part of the travel and tourism industry for noteworthy contributions in advancing travel and tourism in the Springfield area.
Tim Flatt, executive director of National Christian Homeschool Championships received the Ambassador Award, which is presented to individuals or organizations who generated significant economic impact for the area by working to encourage tourism or secure a major convention or event in Springfield.
Congratulations to all!