From the spectacular view at the brand new Vantage Rooftop Lounge and Conservatory to your new favorite watering hole, Springfield is a hub for great nightlife.
Springfield is no stranger to a vibrant nightlife packed full of live music from local and national musicians, enticing craft cocktails, side-splitting stand-up comedians and extraordinary upscale experiences. From the spectacular view at the brand new Vantage Rooftop Lounge and Conservatory to your new favorite watering hole, Springfield is a hub for great nightlife.
High-End Nightlife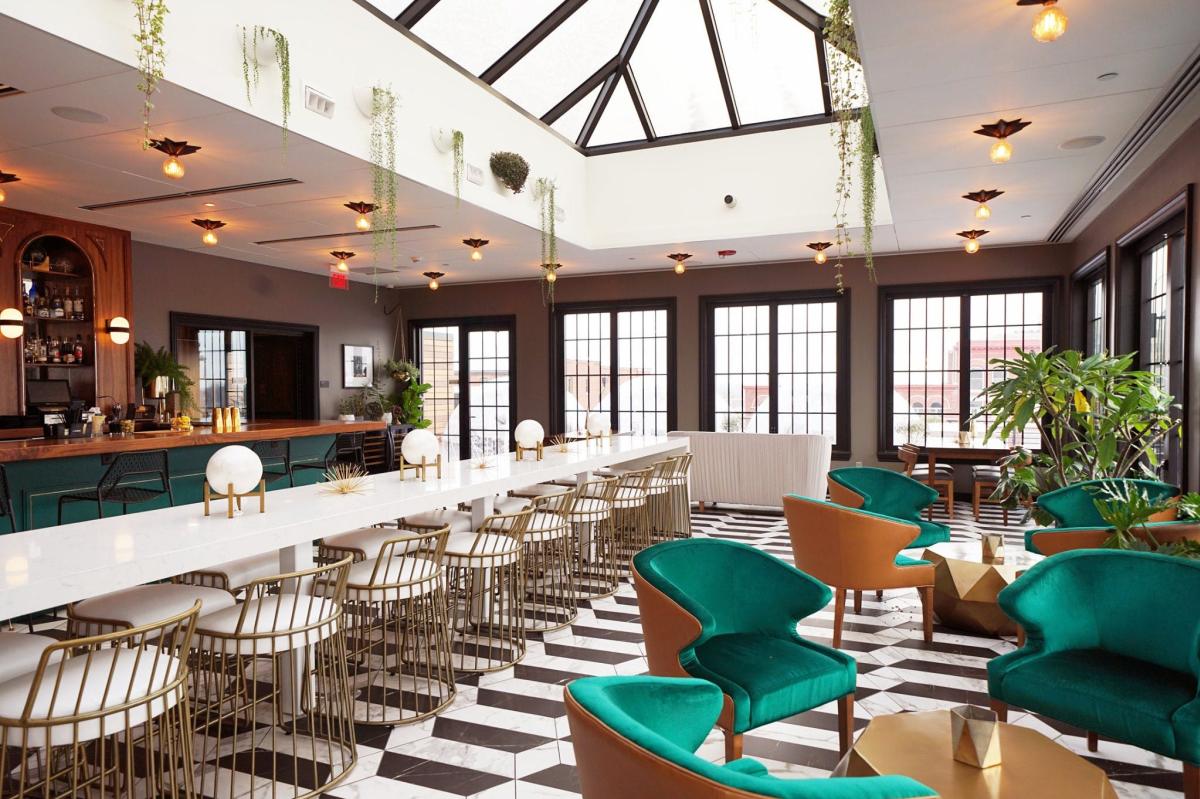 Photo courtesy of Vantage Rooftop Lounge
The newest addition to the scene is Vantage, a rooftop bar offering a spectacular view of downtown from atop V2, the expansion of Hotel Vandivort. With beautiful European Art Deco style and live greenery inside and a mix of soft seating outside, including private cabanas, the Vantage is sure to become a favorite for locals and travelers alike.
Fire & Ice Restaurant & Bar houses Springfield's only ice bar. If you don't know what that is, step into this dynamic hotspot for fantastic fare and perfectly-poured drinks. Inside the Oasis Hotel & Convention Center, Fire & Ice is perfect for a night out. Clean lines intersect curved walls and brilliant mosaic features creating a lavish experience for all to enjoy.
Live Music Venues
The Outland Complex is home to a multitude of local and national performances such as Pokey LaFarge, Andy Frasco & the U.N. and The Urge. The Complex in downtown Springfield is a three-venues-in-one must-see. Home to a plethora of music genres, The Complex has been a Springfield entertainment staple for nearly 30 years, including a fashion show or two.
The Riff, one of Springfield's newest music venues, opened in early 2018. The venue's sound system and light shows are mesmerizing. Supporting local talent is a forte of The Riff and the best of the best have performed there. Come prepared to dance the night away in this venue in southwest Springfield.
Springfield Brewing Company's: The Cellar, is quite simple – collaborate with the local arts community and allow "the space" to organically evolve into "their space." Listen to local band and musicians from the Ozark community five times a week while dining on delicious appetizers and small plates.
Taverns & Bars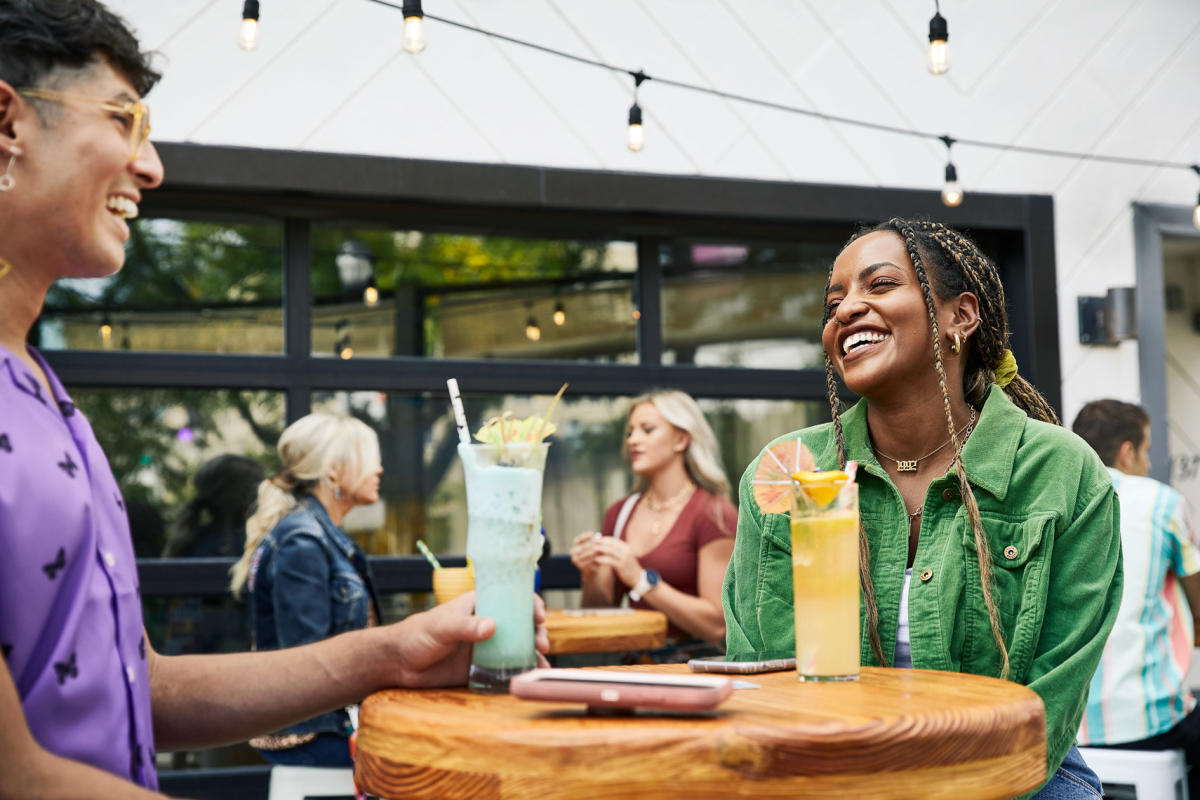 Golden Girl Rum Club in downtown Springfield
Lindberg's Tavern, Springfield's oldest bar, opened in 1870 on Commercial Street. We'd say the rest is history, but Lindberg's Tavern is nowhere near done paying homage to its more than 130-year-old building's timeless traditions. Still one of the city's essential stops for exemplary food, beverages, live music and an authentically historic atmosphere, you'll leave craving your next visit to Lindberg's on Historic C-Street.
J.O.B. Public House was established in 2010 and the building it calls home has been around for more than 100 years. Built between 1905 and 1909, the public house sits on historic Walnut Street in downtown Springfield. Known as Springfield's largest "by-the-drink" whiskey selection, J.O.B. is the place to sit back, relax and partake in your favorite artisan drink and late-night bites.
Skinny Slim's Public House, established in 2010, is not your average bar. Known for the international beer selection and great sports watch parties, Skinny Slim's is a local favorite. Soccer club scarves of all kinds hang from the rafters, bets are made across the community table and serious bragging rights are won. Come find a new or old friend at Skinny Slim's.
For tropical vibes, hang out downtown on the square at Golden Girls Rum Club. With easy access to the outdoor patio, you can catch a glimpse of all the downtown sights from your seat.
A brand new bar located in Downtown, Inner Circle's patio is more than just tables and chairs. With the bar located outside, there are dozens of outdoor games to play including giant Connect 4, corn hole and more. Every few evenings you can find them hosting events.
Listen To Music
Friends Karaoke Pub is the place to belt out your favorite tunes in a welcoming environment full of fun and, of course, friends. Open seven days a week, there is always an opportunity to shine like a star at this Springfield favorite. Singing isn't all that's offered. Entertain yourself with a game of pool or sink your teeth into something from an extensive menu.
Have fun listening to skilled pianists and singers battle it out to the greatest hits we all know and love at Ernie Biggs Dueling Piano Bar. You can sing, you can dance and you might just end up on stage with these dueling legends. The Chicago-style piano bar is in downtown Springfield and has been entertaining patrons since 2003.
College Clubs & Bars
Tropical Liqueurs is known for their boozy slushies perfect all year round. Sip inside or head to their rooftop patio for a downtown Springfield view.
Club Rodeo is a country-themed night-club made to get your feet moving. Hit the dance floor for line dancing and a good time. On their Friday college nights, there's free cover until 10:30 pm with a valid college ID and happy hour drinks from 7-9 pm.
Dance the night away through smoke and neon at Zan The Club, a multi-level nightclub built for a good time. For great deals, Thursdays are college nights, Fridays are free cover, and Saturdays are for the ladies.
Vintage Dance Lounge is a perfect blend of music, people and entertainment located in the heart of downtown Springfield. Whether it is house, hip-hop, or a mix of top 40 selections from the '70s '80s, and today, Vintage provides a nostalgic environment for music and dance lovers.
For a cozy nightlife atmosphere, Boogie is among one of the favorite college spots in the city. Watch retro music videos on the walls while sipping on a locally famous boogie bowl.
Midnight Rodeo is all about letting loose and having fun with your friends. This honky-tonk bar has live music, country dancing, and six pool tables. Test your bull-riding skills with the bar's mechanical bull.
Springfield's nightlife showcases more than what meets the eye, so next time you go looking for the perfect evening be sure to fit these remarkable establishments into your itinerary.