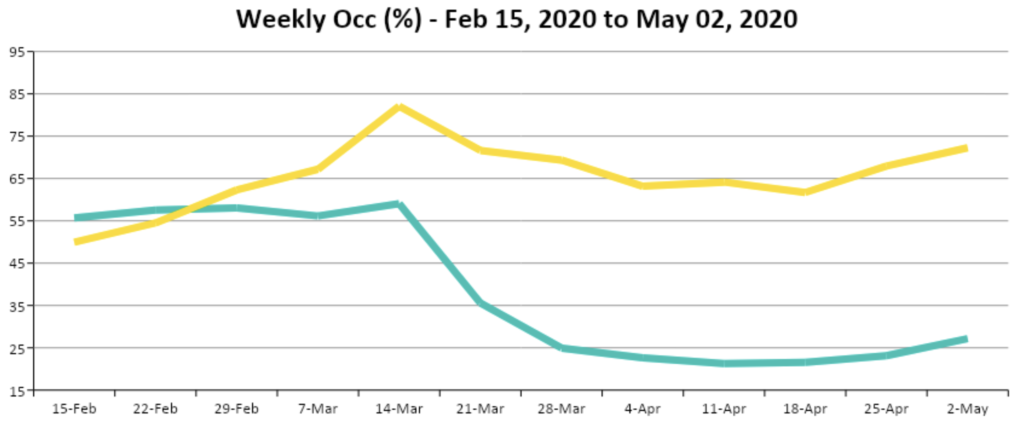 With occupancy at 27.2 percent, hotel statistics for April 26-May 2 showed a slight increase over previous weeks, great news considering stay-at-home restrictions had not yet been eased. That indicates the impact of the pandemic on the hotel industry has bottomed out.
For that week compared to the same period last year, occupancy was down 62.4%, the average daily rate was down 31.5 percent, demand was down 61.3 percent and revenue was down 73.5 percent.
With local businesses beginning to reopen May 4, the statistics for this week should look even better, and an upward trend will begin as people begin moving about and traveling more. Most of those travelers are in the city for business because all group business has been canceled or postponed at area hotels and leisure travelers are being cautious.
The good news is the planners of many group events that were postponed are now attempting to rebook for later in the year and we should see a surge of business we don't usually see in late summer and fall, and perhaps even into winter.
As we wait for things to improve, we encourage you to check out our National Travel & Tourism activities. Along with providing informative social media posts about the value of the travel industry to the local economy, we have several giveaways underway along with an auction of tourism items. Proceeds from the auction will go to the Mother's Industry Support Fund to help leisure and hospitality workers who are unemployed due to the pandemic.