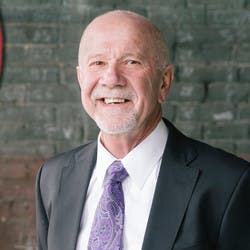 After 35 years at the helm of the Springfield, Missouri, Convention & Visitors Bureau, Tracy Kimberlin is retiring at the end of 2022.
The CVB board of directors has selected a committee that will work with a recruiting company to conduct a nationwide search to fill the role of president and CEO of the nonprofit marketing organization. The CVB's mission is to improve the local economy through growth in overnight travel to the area. 
More information about the hiring process will be released at a later date. No applications or inquiries will be accepted until a selection process is announced. 
Kimberlin has been the top executive at the CVB since 1987 and the organization has grown steadily under his leadership. In 1988, the bureau's budget was $435,000 and the CVB employed five people. This year, the budget is more than $4 million and the CVB employs 17 full-time and two part-time staff members. The CVB also manages the Springfield Sports Commission. 
Kimberlin serves on the board of the Missouri Association of Convention & Visitor Bureaus and as treasurer of the Greater Springfield Area Sports Commission. He also serves on the boards of the Springfield Hotel Lodging Assoc. and the Downtown Council of Champions.