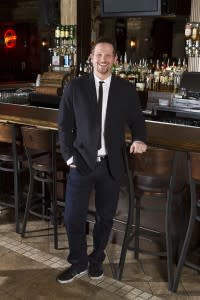 Restaurateur and entrepreneur Paul Sundy will be the recipient of the 2013 Excellence in Business Award, to be presented by Ozarks Technical Community College Friday, April 12. The award ceremony will be held from 7:30-9 a.m. at the White River Conference Center, 600 West Sunshine Street in Springfield.
The event will include "A Conversation with Paul Sundy," led by Jim Anderson, president of the Springfield Area Chamber of Commerce. Reservations are $25; visit www.otc.edu/excellenceinbusiness or call (417) 447-2651 to reserve your seat. Past recipients of the award include John Q. Hammons, members of the O'Reilly family, SRC's Jack Stack, Great Southern's Bill Turner, real estate icon Carol Jones, business owner and attorney Sam Hamra, and Jack and Peter Herschend of Herschend Family Entertainment.
Paul Sundy started his entrepreneurial career in 2003 in downtown Springfield, and has opened and operated 16 different eating/drinking establishments over the last 10 years. His businesses have included Big Whiskey's American Bar & Grill, Parlor 88 Lounge & Eatery, Opus Cigar Bar, and Dublin's Pass Irish Pub & Restaurant. In addition, Sundy brought the Whole Hog BBQ and Einstein Bros. Bagels franchises to Springfield, and opened locations in Little Rock, Ark., and Chicago, Ill. Sundy has also been involved in the creation of downtown Springfield's Oktoberfest Village and Craft Beer Bash, and now holds a management role at the historic Gillioz Theatre.
Sundy is a member of the OTC Foundation Board of Directors and the board of the Springfield Convention & Visitors Bureau, and has also been involved with the City of Springfield's Hospitality Resource Panel and the Good Samaritan Boys Ranch. In addition, Sundy received the Distinguished Alumni Award from Ozarks Technical Community College in 2010.
Recipients of the Excellence in Business Award are selected based on the following criteria: leader of an Ozarks regional business, entrepreneurial success, innovative business growth, ability to overcome challenges with integrity, supporter of educational development, customer-driven quality, and community achievement. The 2013 event is presented in cooperation with the Springfield News-Leader and the Springfield Area Chamber of Commerce.
About Ozarks Technical Community College The Ozarks Technical Community College system offers associate degrees and certificates in a variety of technical, allied health, and two-year transfer degree programs, as well as workforce development opportunities and community enrichment courses. Classes are available at six locations throughout southwest Missouri, including the option to earn a complete associate degree online.