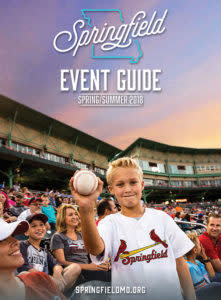 The Convention & Visitors Bureau is now publishing an Event Guide twice annually.
The 12-page magazine-style guide is a marketing tool that will be used to encourage travel to the city.
The bureau mailed 15,000 copies of the inaugural spring/summer issue to consumers and 5,000 copies are available at the CVB offices, 815 E. St. Louis St.
The guide features events that are of interest to visitors. To submit events for consideration for the guide and for the CVB website go to https://www.springfieldmo.org/submit-an-event.
To be considered, events should:
be located within the Springfield metropolitan area

be non-partisan and non-political

provide entertainment, food or other attractions to a diverse population

promote the economic benefits of tourism or enhance the quality of life of the community

be open to the general public (for free or cost)
If you need assistance submitting events, contact Tonia Castaneda at tcastaneda@springfieldmo.org.
For information about advertising in the guide, contact Jane Rips at 881-5300, ext. 104, or jrips@springfieldmo.org or Celine Roberts at ext. 117 or croberts@springfieldmo.org.