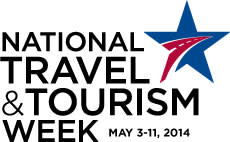 Restaurants, hotels, attractions and retailers will see a boost in sales as National Travel & Tourism Week is underway and the 2014 travel season shifts into high gear.
Thanks to the efforts of the group sales department at the Convention & Visitors Bureau and teamwork with area hotels and venues, plenty of large group events are making their way to Springfield in the next few weeks.
The sales department works year round to bring events to the city, a process that can take years from beginning to end.
"We work closely with our hotels and venues on putting a bid package together that will meet the needs of a group," Dana said.
The sales process begins with leads generated from attending trade shows, scouring databases and conducting sales blitzes. Sales staff follow up on those leads, determining first if Springfield has the meeting and venue space to accommodate the group and if hotel rooms are available.
When it's a good fit, the CVB bids on a group with information about hotel and venue rates and other incentives that will make Springfield appealing to event planners.
Once Springfield is selected, the sale doesn't stop there. The CVB works to ensure the event is successful so the city gets good reviews and is considered for future events.
The bureau works closely with event planners to provide a variety of convention services from providing information packets about the city to shuttle services. Information about the services provided - many of them at no cost - are available at http://springfieldmo.org/meetings/convention-services.
For more information about how the CVB attracts groups to the city, call 417-881-5300 and visit http://springfieldmo.org/meetings. The CVB is a nonprofit organization dedicated to boosting the local economy by promoting travel and tourism to Springfield.
National Travel & Tourism Week is May 3-11. Destinations throughout the country participate in a variety of activities to showcase the importance of travel and tourism to the nation's economy.
The list below represents groups attracted to Springfield by CVB sales efforts and groups receiving convention services from the CVB. Not all groups were booked by the CVB. In many cases, meeting planners work directly with hotels to book their events and utilize convention services provided by the CVB.
May
May 7-10, National Christian Homeschool Championships, Spring Nationals, Attendance: 1,600

May 9-11, Trek Con Springfield, Attendance: 4,000

May 19-20, Missouri State High School Activities Association, State Golf Championships-Boys, Attendance: 400

May 23-25, National Street Rod Association, Mid-America Street Rod Nationals, Attendance: 7,000

May 27-June 1, American Truck Historical Society, Annual Antique Truck Show, Attendance: 5,000
June
June 1-3, National Association of Retired Federal Employees, 61st Missouri Federation Convention, Attendance: 250

June 2-6, Missouri Rural Letter Carriers Association Annual Convention, Attendance: 200

June 5-9, United Methodist Church, The Missouri Conference of the United Methodist Church, Attendance: 1,500

June 5-7, Bikes, Blues & Hot Cars, Attendance: 600

June 5-7 Central States Synod of the Evangelical Lutheran Church of America, Central States Synod Assembly,

June 11-15, Veterans of Foreign War/Missouri VFW, State Convention, Attendance: 400

June 18-20, Public Relations Society of America, Midwest District Conference, Attendance: 200

June 20-22, PEO Sisterhood, Missouri Convention, Attendance: 600

June 21-25, Assemblies of God, Chaplaincy Training Conference, Attendance: 350

June 25-29, Airflow Club of America, National Meet, Attendance: 120

June 26-29, Harley Owners Group, Missouri State H.O.G. Rally, Attendance: 1,000