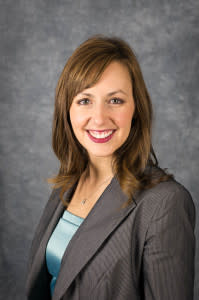 Laura Whisler, Vice President
Laura Whisler, vice president for the Convention & Visitors Bureau, was among 32 people accepted into the 2015-16 Signature Class 31 of Leadership Springfield.
The session kicked off with a retreat Sept. 10-11 in Branson and will include seven program days and a spring closing retreat covering topics such as the Springfield Community, Criminal Justice and Public Safety, Civic Awareness, Communications & Technology, Education, Health & Medical Services and Arts & Quality of Life.
Leadership Springfield is the premiere program for leadership development in the Ozarks. Leadership Springfield's programs are designed to give participants a deeper understanding of the community and themselves. For three decades, the program has helped emerging and established leaders take commitment to their community to a new level. More than 1,000 graduates have been connected with local opportunities, needs, problems and resources during that time.
Learn more about Leadership Springfield, an affiliate organization of the Springfield Area Chamber of Commerce, at http://leadershipspringfield.org/.