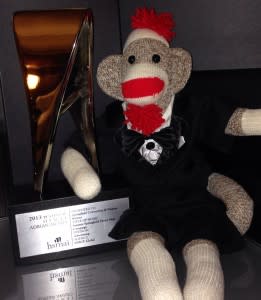 The Springfield, Mo., Convention & Visitors Bureau received an international advertising award this week for a 2013 marketing campaign featuring a sock monkey.
A Platinum Adrian Award was presented by Hospitality Sales & Marketing Association International at the 57th Annual Adrian Awards Feb. 24 in New York City. The CVB is a nonprofit organization dedicated to boosting the local economy through marketing programs that increase tourism.
The multi-tiered campaign for which the bureau received the award featured Sammie Springfield as the city's "spokesmonkey." Nearly 400 meeting planners received a high-quality oversized coffee table book featuring Sammie enjoying the sites, hotels and meeting facilities in the city. The book directed planners to visit www.SammieSpringfield.com to learn more about Sammie. A couple weeks later, the same planners received their very own Sammie Springfield, a sock monkey with a Springfield logo on its chest. A select group of meeting planners were then invited to visit Springfield on a familiarization tour hosted by Sammie.
The goal of the campaign is to generate interest in Springfield as a convention and event destination and was a partnership between the CVB, Ramada Plaza Hotel & Oasis Convention Center, University Plaza Hotel & Convention Center and MMGY Global.
Nearly 900 attendees were present at the gala in New York as HSMAI honored the year's most exceptional campaigns and leaders in hospitality, travel and tourism.
HSMAI received more than 1,200 submissions for the Adrian Awards this year. From the entries, HSMAI presented 46 Gold Adrian Awards in Advertising, 87 in Digital Marketing and 130 in Public Relations. Platinum winners were selected from the most outstanding Gold Award entries, and the show's highest merit winners, Best of Show, were chosen from the Platinum frontrunners.
Other Platinum Award winners included the Missouri Division of Tourism, Las Vegas Convention and Visitors Authority, Visit Seattle and others. For a complete list, visit http://www.hsmai.org/News/PRDetail.cfm?ItemNumber=12384.
The Adrian Awards began in 1957 and consider entries from every segment of the travel and hospitality marketing industry, including hotels, airlines, cruise lines, car rental companies, destinations and credit card companies, among others. Winners are selected from a field of entries by senior industry and media experts. For more information, visit www.adrianawards.com.
For more information about the Springfield CVB, call 417-881-5300 or 800-678-8767 or visit www.SpringfieldMO.org