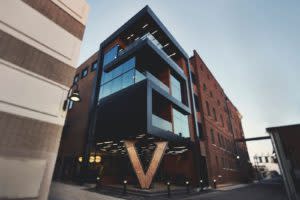 Congratulations to Hotel Vandivort for being named the 2016 Boutique Hotel of the Year by the Boutique & Lifestyle Lodging Association.
The owners of the upscale boutique hotel and restaurant - John and Billy McQueary - were honored to be recognized for this national award signifying the highest quality of amenities and guest dining and lodging experience within the hotel industry.
"We are thrilled to have Springfield and Hotel Vandivort recognized on this prestigious national stage," said co-owner Billy McQueary. "It's an honor that our passion project can be a point of pride for our city, and hopefully, an inspiration for the continued revitalization and development of downtown's cultural renaissance.
JP Roberts, general manager at Hotel Vandivort, said the award wouldn't have been received if not for dedicated staff and visionary owners.
"On behalf of Hotel Vandivort, we are truly grateful for being recognized at the BLLA conference with the 2016 Boutique Hotel of the Year designation," Roberts said. "Given the distinguished competition that was up for this award, we are beyond humbled that we are able to bring this back to Springfield, Missouri.
"We would be remiss if we didn't thank all of our extremely talented, dedicated associates that share our passion and vision when they come into work day in and day out and give it everything they have. This award is truly a result of what can be achieved, regardless of location, when you have passionate visionaries for owners, and an incredibly talented, dedicate group of associates."
The BLLA awards recognize innovators in the hospitality industry who are moving the boutique lodging niche forward. The organization is the world's leader in independent boutique and lifestyle hotels and has over 750 members from around the world.