As a loon glides across the calm water of Table Rock Lake, Brian Thompson flashes a carefree grin and points it out to his clients. The beautiful creature is one of many things that will make him - and his guests - beam on this warm summer morning.
Guiding his Ranger bass boat to one of his favorite fishing holes, Thompson explains the goal for the day is to make sure his companions spend the morning with smiles on their faces, too, because they're landing lunkers.
Chances are good they'll do exactly that thanks to Thompson's years of fishing in bass tournaments; selling "experienced" fishing gear at his resale store, The Outdoor Xperienced; and operating Captain B's licensed and insured fishing guide service.
He knows where the fish are and what it takes to catch them, and he loves sharing the know-how with people who may be fishing for the very first time or expert anglers who let him do the work while they relax, cast their lines and reel in the fish.
"It's a really neat deal to take people out and share special moments with them," Thompson said.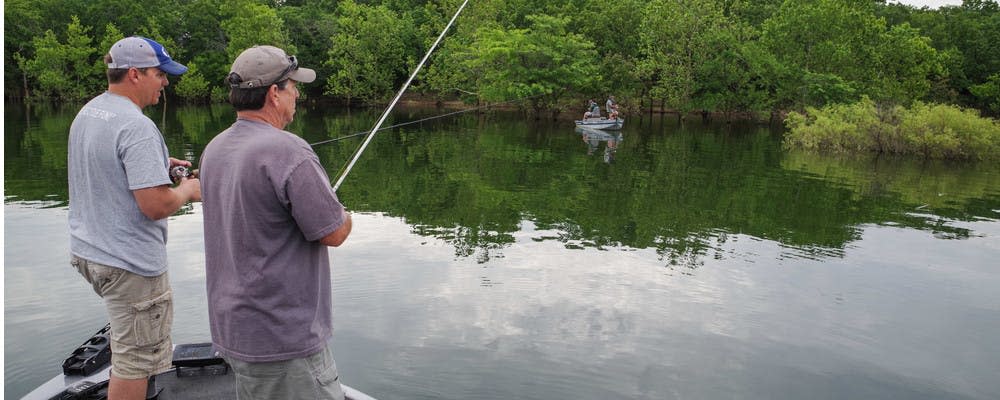 Brian Thompson and a client fish on Table Rock Lake near Springfield, Missouri.
Along with his knowledge, Thompson provides everything anglers need, including the boat, gear, lures, snacks, drinks and an uncanny ability to unsnag a hook stuck on an underwater obstacle. He'll even pick up out-of-town guests at their hotel and give them a ride to the lake that has the fish they want to catch that day.
The objective is usually bass but could be any number of other species abundant in the pristine lakes, rivers and streams surrounding Springfield.
Bass fishing is usually catch and release, Thompson explained, but crappie, walleye and trout are headed for the dinner plate, so he cleans and packages the keepers for his clients.
"I throw the fun in for free," he said, jerking his rod and failing to set the hook in what surely was a big one.
Even a miss makes him smile, albeit ruefully. He knows he'll catch one soon enough.
Besides, he has plenty of reasons to be happy. He's living his childhood dream of being a professional angler and spends his days year round doing something he absolutely loves on the lakes and streams of southwest Missouri.
"I'm blessed," he said. "Even when I'm not fishing, I'm at the store hearing fishing and hunting stories."
Where to Fish
Southwest Missouri is blessed with abundant recreational water resources for boating, canoeing, kayaking and fishing.
Here's a sample of places to fish near Springfield. There are many others within 50 miles of the city. Some fishing areas are handicap accessible.
Within 20 miles:
Valley Water Mill Lake
James River
Lake Springfield
Fellows Lake
Finley River
20 to 50 miles:
Pomme De Terre River
Stockton Lake
Niangua River
Gasconade River
Lake Taneycomo
Bull Shoals Lake
Pomme De Terre Lake
Table Rock Lake
Bennett Spring State Park
Find more places to fish at Missouri Department of Conservation.
Smartphone users can download the Missouri Department of Conservation's free app, MO Fishing.