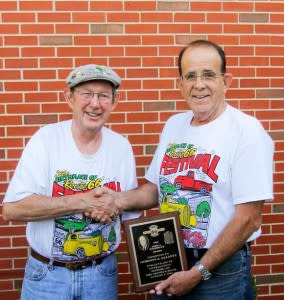 Congratulations to Gordon Elliott, who was named the 2014 recipient of the John T. Woodruff Award at the Birthplace of Route 66 Festival Aug. 9 in downtown Springfield.
The award recognizes individuals who have shown outstanding support of Route 66. Appreciation plaques were also presented to Amber Neal, car show coordinator and Jack Stinson, Friday night cruise coordinator.
The John T. Woodruff Award is named for the Springfield businessman, who built the Colonial Hotel, the Kentwood Arms Motor Hotel, The Sansone Hotel and the Frisco Building. He helped number the historic Route 66 highway and was the first president of the U.S. Highway 66 Association. He was also instrumental in bringing the Federal Medical Center to Springfield, State Teachers College (now Missouri State University), O'Reilly Military Hospital and the Frisco Maintenance Shops.
Elliott operates several hotels in Springfield under the umbrella company Elliott Lodging. Those properties include the Best Western Route 66 Rail Haven, a hotel that was built during the heydey of Route 66. Under Elliott's ownership, the hotel has been maintained well and themed with Route 66 memorabilia. Thousands of visitors seek out the Rail Haven for a genuine experience of staying in an historic Route 66 motel.
As a major contributor to the reconstruction and dedication of the Red's Giant Hamburg sign in the Birthplace of Route 66 Roadside Park and encouraging business owners to locate along the historic highway, Elliott announced at the festival that he had purchased the historic Rock Fountain Court and was going to restore it as a photo opportunity for Route 66 travelers. He said he would like to see a Red's Giant Hamburg-like restaurant built next door someday.
Elliott has been a sponsor of the Birthplace of Route 66 Festival since it began in 2010 and has been the title sponsor in 2013 and 2014.
About 200 cars participated in a cruise-in event Friday night from the Best Western Route 66 Rail Haven Motel to the city's new Birthplace of Route 66 Roadside Park. An estimated 415 people celebrated the completion of the park's first phase and the dedication of a replica of the Red's Giant Hamburg sign that stood in front of the famed burger joint. About 250 people enjoyed a "drive-in" movie at the Expo Center, hosted by the Springfield-Greene County Park Board. An estimated 300 cars participated in Saturday's car show, which in turn drew in about 4,000 spectators.
The festival concluded with a sold-out concert at the Gillioz Theatre featuring Mark Bilyeu and Cindy Woolf, Powder Mill and headlining act the Ozark Mountain Daredevils. The concert was simulcast into Park Central Square for nearly 2500 people.
For more information, contact David J. Eslick, co-chairman, Birthplace of Route 66 festival committee, at 417-350-5708.