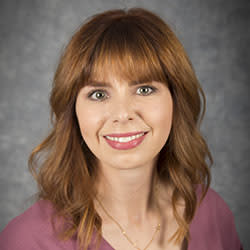 Please extend a welcome to the CVB's new partner development manager, Ashley Clair.
Ashley is responsible for advertising sales in the CVB's printed materials, website and displays in the Route 66 Springfield Tourist Information Center. She also leads the partner development team, which consists of Jane Rips and Lori Casey. 
Jane, the former partner development manager, has semi-retired and will continue working with partners and selling advertising for the CVB as an advertising sales specialist on a part-time basis. Lori, also an advertising sales specialist, moved from the group sales department into the marketing department.
Ashley is looking forward to meeting CVB partners and helping them take advantage of all the CVB offers.
"I approach advertising sales with a marketing and Springfield mindset," she said. "I want to market our partners in a way that is mutually beneficial for their businesses as well as local tourism."
Prior to joining the CVB, Ashley was the communications director for Leadership Springfield, community development manager for the American Cancer Society and advertising account executive for the Springfield Business Journal.
Ashley holds a marketing degree from Missouri State University. She and her husband, Michael have a two-year-old daughter and two Goldendoodles.