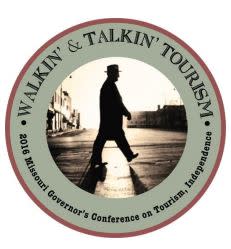 The Missouri Division of Tourism is accepting nominations for its annual awards. If you know of a community or person who has developed an outstanding marketing campaign, increased visitation to Missouri or contributed to the tourism industry in other ways, show your appreciation by nominating them for one of the following awards.
Induction into the Missouri Tourism Hall of Fame - recognizes individuals whose long-term (minimum of 10 years) contributions have positively affected the tourism industry. Inductees have a demonstrated commitment to the industry and have made lasting impressions on the economy and welfare of the state.

Marketing Campaign Award - recognizes achievement in effective, integrated marketing campaigns run through one or more channels.

Navigator Media Award - highlights media outlets that turn the spotlight on Missouri tourism and the importance it plays in our state's economy. Broadcast, print and electronic media are eligible.

Spotlight Award – is presented to an individual, business or organization not usually considered part of the tourism industry, for noteworthy contributions in promoting Missouri tourism.

Pathfinder Award - recognizes marketers aiming for niche markets (ethnic, cultural and tour and travel) and hitting the target.

Ambassador Award - is presented to an individual who supports the state's tourism efforts in addition to their own local efforts.

Innovator Award - pays tribute to those smaller tourism entities that have achieved great results with small budgets.

Emory Melton Legislative Award - recognizes those legislators and tourism industry members who work closely with the legislative process in support of the tourism industry.
Winners will be recognized during the annual awards banquet at the Missouri Governor's Conference on Tourism Oct. 4-6 at Stoney Creek Hotel & Conference Center in Independence.
Click here for additional information and a nomination form. All nominations must be received or postmarked by April 18 to be considered.
Contact Mary Oberreither at 573-751-1908 or Mary.Oberreither@ded.mo.gov for assistance.