Website Earns Award
The CVB's website has received a 2011 W³ Award from the International Academy of the Visual Arts. The W³ Awards honor outstanding websites, web marketing, web video and mobile apps. More than 3,000 entries were submitted worldwide.
The site received a silver award for "visual appeal." The site, launched in March, was developed by Kansas City based-MMG Worldwide.
Laura Whisler, CVB marketing director, said the visual appeal is partly due to the great photos provided by businesses that advertise on the website. The variety and quality of images adds to the visual experience website users have when seeking information about Springfield and provides a glimpse into Springfield's attractions, restaurants, hotels, etc. that can't be conveyed with text.
The bureau is constantly updating the site and adding new images to keep it fresh. A photo shoot at several Springfield locations was recently completed, in fact, and even more images will be added to the site soon.
"We are so pleased with our new website and know it presents a positive impression of Springfield as a travel destination," Whisler said. "Having an outside organization give us an award for the site is an honor."
This marks the second W³ Award for the CVB, which received a silver award in 2010 for its mobile application for smart phones available at www.VisitSpringfield.mobi.
For more information about the W³ Awards, visit www.w3award.com.
Photo Shoot a Success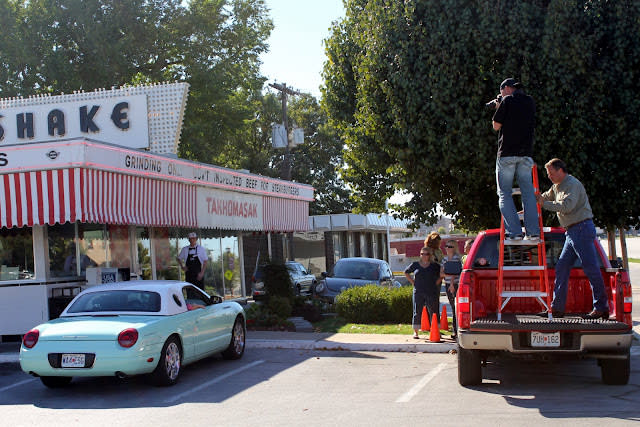 The CVB conducted a photo shoot Oct. 1-2 to update our image library. The result is dozens of high-quality images that will be used for printed materials, the bureau's website, media requests, etc.
Thanks to all the models who donated their time and talent to the CVB for the photo shoot and the businesses, individuals and organizations that assisted. We appreciate your help and are sure you will be pleased with the photos.
After you check out the professional photos, enjoy the images here shot by the CVB staff during the photo shoot. As you can see, we had a great time!
Welcome New Partners and Advertisers!
Did you know more than 3 million overnight visitors come to Springfield annually and the number of day trip visitors is even greater? One way to tap into that pool of potential customers is through CVB marketing opportunities targeting visitors.
We welcome those that recently made the decision to utilize CVB marketing opportunities to promote their businesses to tourists.
American College of Forensic Examiners
Bangkok City
BiBi Ya
Boca Mocha
Classic Rock Coffee Company
DiVentures
Indoor Swap Meet & Paint Games Plus
Mud House
MudLounge
Ozark Treasures
Springfield Pasta Company
Staxx
The Roost Bar and Grill
Urban Market
WineStyles Wine & Gifts
Businesses outside Springfield city limits also can be promoted through the bureau's Marketing Partnership Program. New partners are:
Antique Emporium, Ozark
Creation Museum, Strafford
Martin's Antiques & Collectibles, Ozark
Starlite Theatre, Branson
The Feathered Nest, Ozark
For information about advertising opportunities or the Marketing Partnership Program, call 417-881-5300 and ask for Partner Development Managers Jane Rips (attraction and retail accounts) or Dustin Burke (hotel and restaurant accounts). Information also is available at www.SpringfieldMO.org.
CVB Selected as a Choice Employer
The CVB was named one of the Springfield Business Journal's Choice Employers in Springfield and southwest Missouri. The bureau and others selected as Choice Employers will be recognized at a special event Nov. 10.
SBJ will have a special section featuring the Choice Employers in its Nov. 14 issue. Companies were rated in the areas of incentives, family friendly, people development and corporate culture. Companies are divided into four categories based on the number of employees.
They are:
1. 5-24 Employees - GHN Architects Engineers, Pension Consultants Inc. and the CVB 2. 25-100 Employees - Kirkpatrick, Phillips & Miller CPAs PC; UMB Bank; and The Whitlock Co. 3. 101-300 Employees - College of the Ozarks, Commerce Bank and The Track 4. 301+ Employees - CoxHealth, Drury University and Kraft Foods Inc.
Congratulations to all!
Facebook Page Users Increasing
The CVB's Facebook page, I Love Springfield, MO!, now has more than 6,800 people who "like" us!
A recent 22 percent increase in likes is partly due to a Facebook advertising campaign that launched in September and ended mid-October. We also like to think it's because of the great information we're posting about things to see and do in Springfield!
Check out the page at www.facebook.com/SpringfieldMissouri and like us today to help keep the numbers growing!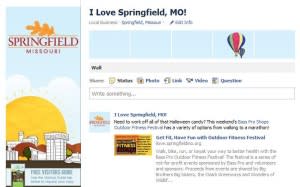 TV Shows Visit the Area
The Travel Channel and the Pursuit Channel were in Springfield in October filming shows.
The Travel Channel filmed a program called "Legends of the Ozarks" featuring ghost stories and other legends at several locations in the region, including Wilson's Creek National Battlefield.
The Pursuit Channel filmed a show called "Women of the Wild Outdoors." Each show features three segments: hunting, fishing and general outdoor activity.
One segment featured three women participating in a defensive shooting class by Canovi & Associates, a local defense training company. The women were Barbara Baird, publisher of Women's Outdoor News and bloggers Marti Davis and Tammy Ballewand. Another segment was with the Missouri University of Science & Technology Women's Mucking Team, which demonstrated mining techniques. The program also featured Sara Parker Pauley, director of the Missouri Department of Natural Resources, fishing with her husband.
Air dates for the programs have not been announced.
The CVB in Action
Melissa Evans and Lance Kettering will attend the Destination Marketing Association International Sales Academy in November in Charlotte, NC.
The CVB provided convention services to 19 groups totaling more than 6,900 delegates and 4,500 room nights in September.
Board Action in October
The CVB Board of Directors in October:
Heard and approved the Springfield Regional Arts Council's quarterly report.
Reviewed the Springfield Sports Commission's new website.
Heard a report on bids for Missouri State High School Activities Association basketball and soccer.
Heard a status report on the economic impact study under way as a finale to the competitive assessment conducted earlier this year to help the city determine a course of action for the vacant lot adjacent to the Expo Center.
And the Winners Are...
Congratulations to Jodi Albers and Amanda Brown of Springfield!
Jodie won the Be Frank with Us Contest and received two tickets to see "Young Frankenstein" at Juanita K. Hammons Hall for the Performing Arts and a one-night stay at the Greenstay Hotel & Suites.
Jodi's name was randomly drawn from all entries received. Here's what she told us about her favorite haunt in Springfield: "One of my favorite places to go in Springfield is Nathanael Greene Park. It is a great place for the whole family and especially beautiful at this time of year. You can take a walk and enjoy the view, feed the ducks or play on several different play grounds. You can also go to the butterfly house or the recently opened Botanical Center."
Thanks to Greenstay Hotel & Suites and Hammons Hall for providing the prizes! Keep an eye on our blog and Facebook page for upcoming contests and giveaways!
Congratulations also go to Amanda who won two tickets to the Quixotic performance at The Gillioz on Oct. 31. Amanda's name was randomly drawn from those who submitted their favorite show in the Pick a Fave, Win a Treat! contest.
Here's her entry: "I have been to shows before and love theatre, however, my husband and I have never had the pleasure of seeing a show at the Gillioz. He recently returned home from a 13 month deployment and expressed an interest in seeing a show. I would love to surprise him with tickets!"
If you want to provide prizes for future giveaways, contact Susan Wade at 881-5300, Ext. 101, or swade@springfieldmo.org. If you want to win a prize, keep an eye on our blog!
November Meetings
Attractions Council, 11:30am Nov. 9, CVB Offices
Springfield Hotel Lodging Association, 11:30am Nov. 16, OTC Information Commons West Room 108
CVB Board of Directors, 8am Nov. 17, CVB Offices
CVB Sales Awareness Committee (SAC meeting), 10am November 18, Holiday Inn Express & Suites Medical District (former Comfort Suites Medical District)
The Sports Commission Board of Directors will not meet in November. The next meeting is at 11:30am Dec. 21 at the Springfield Area Chamber of Commerce.
Groups Booked Recently by the CVB:
CALLERLAB - International Square Dance Caller Association, March 2013, 426 room nights
55th OCS military reunion, March 2013, 125 room nights
Firebase Ripcord military reunion, October 2016, 295 room nights
Veterans of Foreign Wars military reunion, June 2013, 515 room nights
Insurance Association of the Ozarks, November 2011, 20 room nights
Springfield Travel Statistics
| | Sept. 2011 | YTD 2011 | YTD 2010 |
| --- | --- | --- | --- |
| Information Centers Visits | 3,158 | 25,748 | 34,623 |
| Tourist Inquiries | 2,919 | 56,148 | 72,644 |
| Website Unique Visitors | 42,593 | 333,386 | *See Below |
| Total Contacts | 415,282 | 570,937 | *See Below |
| Airline Passengers | 64,367 | 545,031 | 602,194 |
*The CVB is using a new analytics program to track website traffic. Because of differences in how the new program works compared to the old program, statistical comparisons with previous years are not possible.
Springfield Hotel Statistics
| | August 2011 | YTD 2011 | YTD 2010 |
| --- | --- | --- | --- |
| Room Supply | 186,837 | 1,482,364 | 1,479,309 |
| Room Demand | 108,744 | 796,616 | 757,634 |
| Percent of Occupancy | 58.2% | 53.7% | 51.2% |
| Average Daily Rate | $66.43 | $68.00 | $65.87 |
| Revenue Per Available Room | $38.66 | $36.54 | $33.74 |
| Room Sales | $7,223,895 | $54,171,411 | $49,909,023 |