Dining in Springfield doesn't have to be the traditional sit-down experience. Whether you want to dine and wine with an amazing view you can't get just anywhere, or stray away from the traditional bar and grill experience, check out these restaurants in Springfield that give some amazing views from your table.
Hemingway's Blue Water Cafe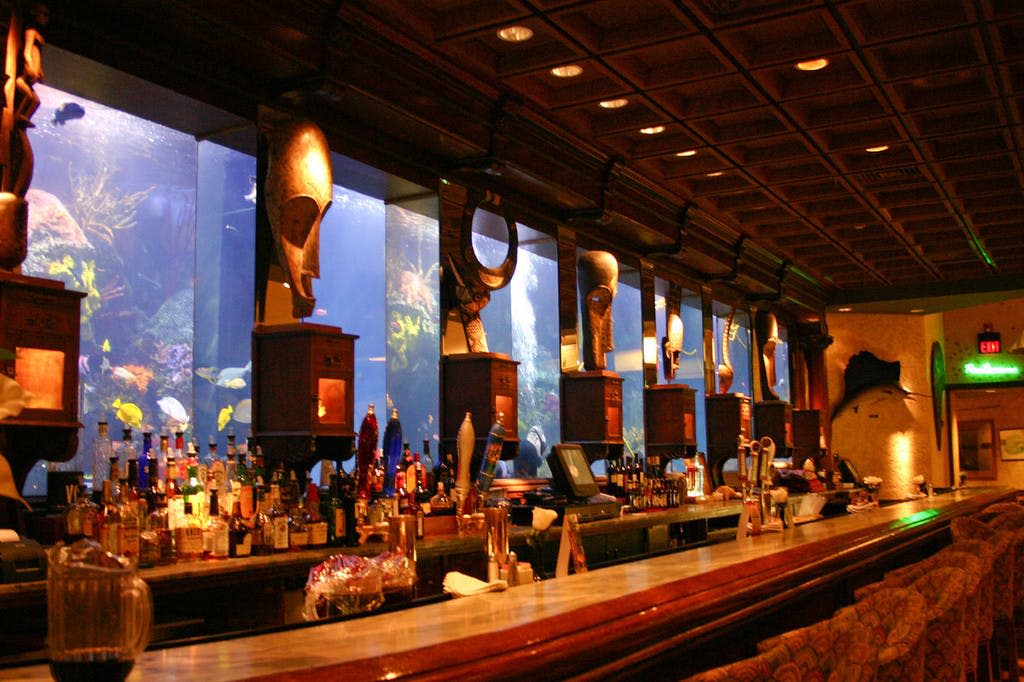 Hemingway's Blue Water Cafe
Dine under the sea at Hemingway's Blue Water Cafe inside Bass Pro Shops. Although it never made it to live TV, the aquariums behind the bar inside the Hemingway's Blue Water Cafe were designed by the aquarium gurus from the show Tanked. Get a view of the saltwater fish inside the table side aquarium as you dine on seafood dishes and southern cuisine.
Address: 1935 S. Campbell Ave., Springfield, MO 65807
Bawi Korean BBQ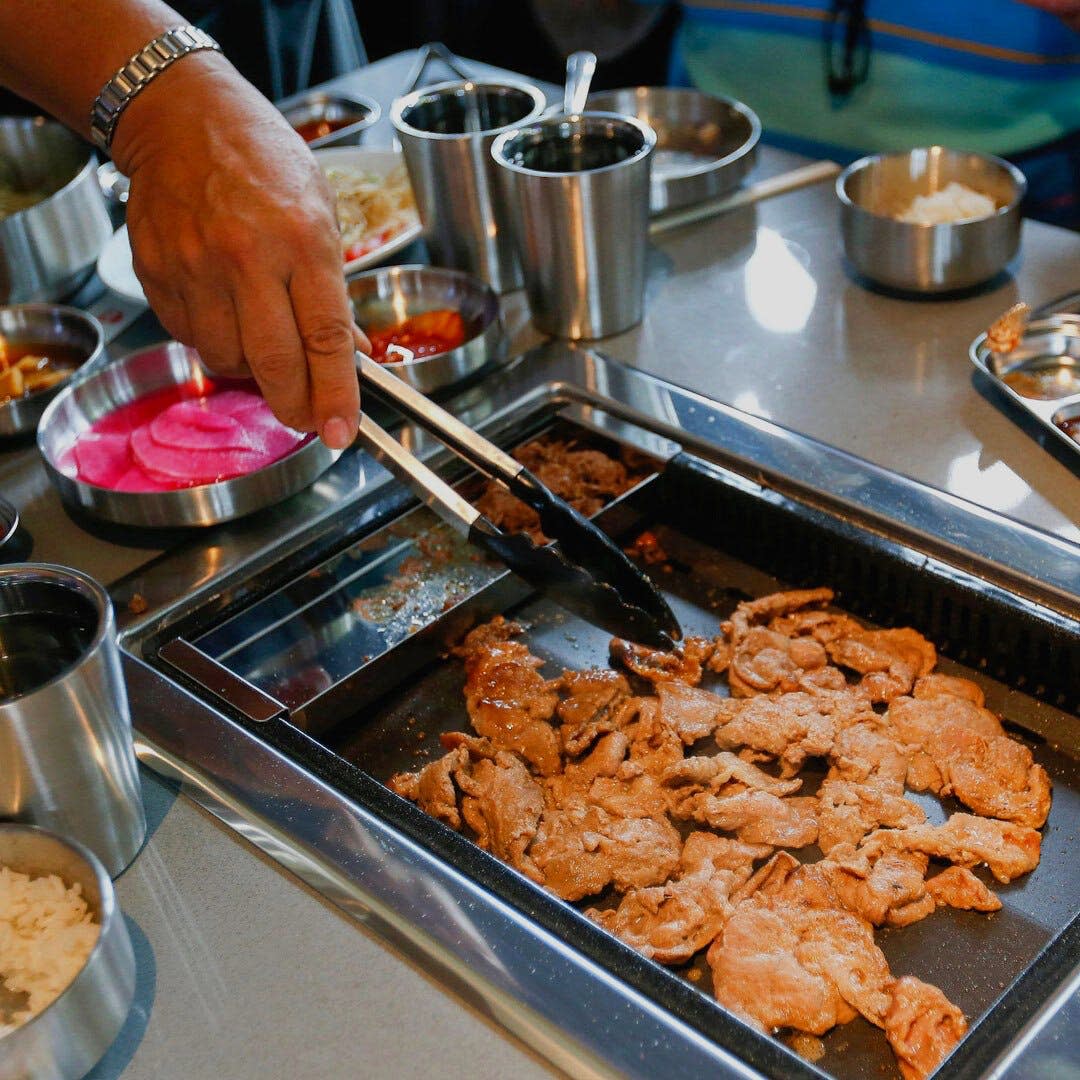 Bawi Korean BBQ, photo courtesy of Bawi Korean BBQ
Change the way you do BBQ at Bawi Korean BBQ. Become the pitmaster at your own table by grilling different meats such as beef, chicken, pork and seafood. Meats are unlimited for two hours, as are the side dishes and sauces. The meal also includes a salad, steamed rice, and a house soup. 
Address: 4121 S. National Ave., Springfield, MO 65810
Lambert's Cafe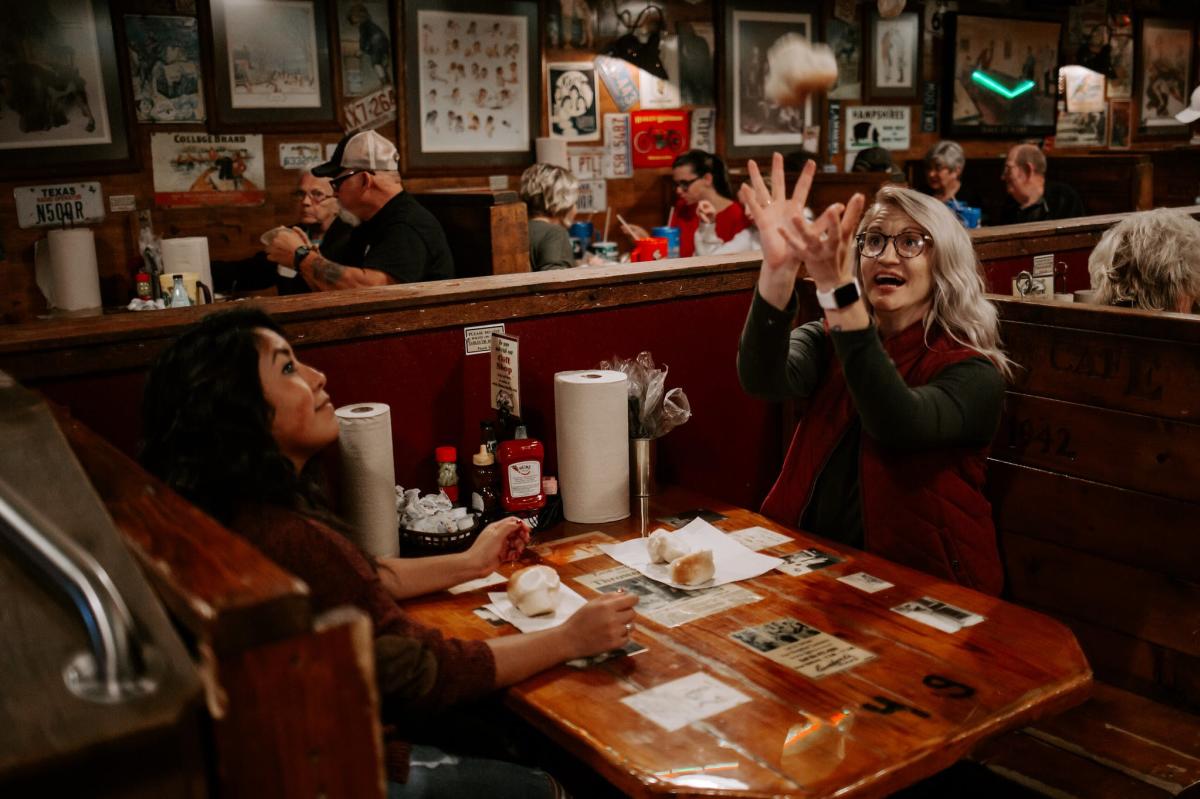 Lambert's Cafe
Another popular dining experience is found just south of Springfield at Lambert's Cafe. Known as the "home of throwed rolls," Lambert's serves a full menu of country cookin' and each table gets "pass-arounds" that are served tableside, such as fried taters and onions, black-eyed peas and fried okra.
Best of all, though, are the dinner rolls. Besides tasting like the rolls grandma used to make, the bread is tossed to diners eager to try their hand at catching the buttery, fluffy rolls before devouring them with the rest of their meal. 
Address: 1800 W. State Hwy J, Ozark, MO 65721
Fire & Ice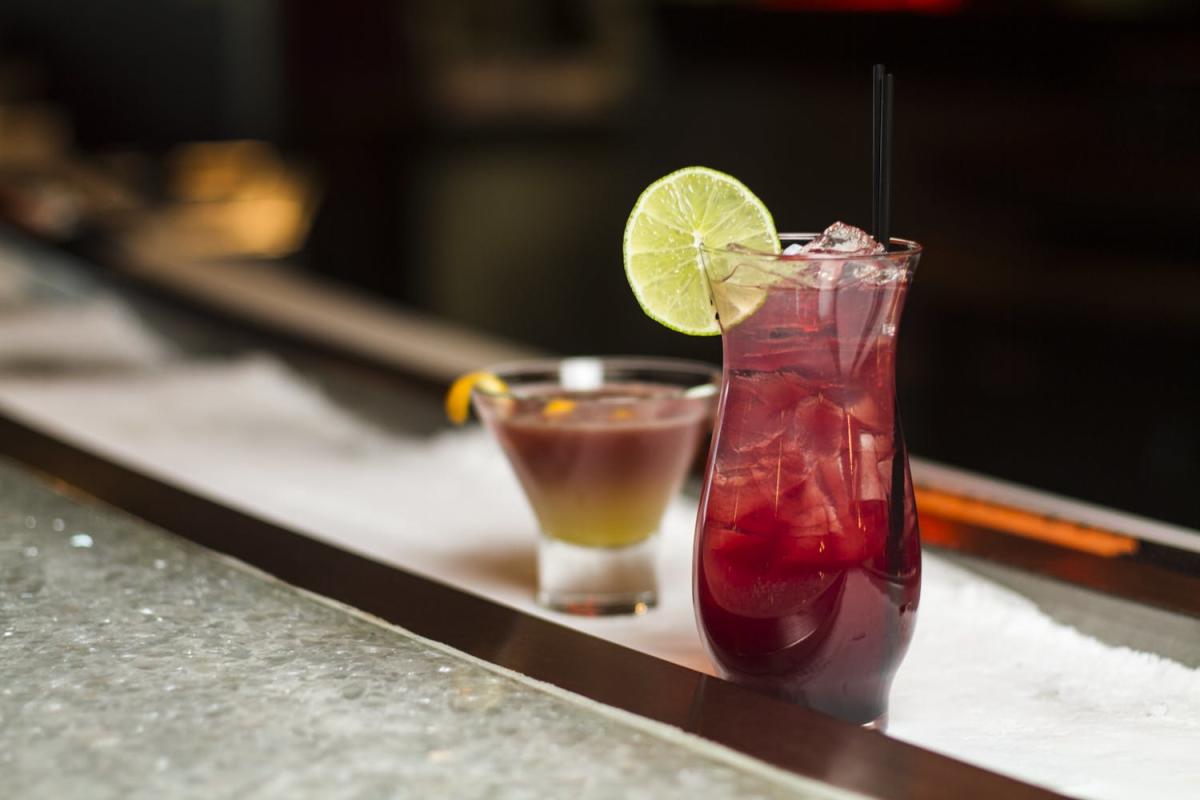 Fire & Ice, photo courtesy of Fire & Ice Restaurant & Bar
Chill out at Fire & Ice Restaurant & Bar featuring Springfield's only Ice Bar. A front-row seat at the bar allows you to see the culinary masters at work with the open floor plan while keeping your drink cool on ice. Made of pure ice, you won't find a bar top like this anywhere in the Ozarks. Keep your drink chilled on a bed of ice as you watch the flames of the kitchen, giving you the full experience from kitchen to plate.
With an extensive wine and cocktail list and food menu, enjoy the cool oasis with cocktails such as 2 Degrees Below Manhattan, Midnight Oasis, and frozen drinks like the Frozé. 
Address: 2546 N. Glenstone Ave., Springfield, MO 65803
Nakato
Nakato Japanese Steakhouse and Sushi Bar is a true Japanese experience with authentic hibachi grills and a sushi bar.
Enjoy Americanized sushi, such as classic California rolls, to traditional Asian delicacies, including tako (octopus) nigiri. One of the best parts of eating at the sushi bar is getting to see everything made right in front of you.
Address: 2615 S. Glenstone Ave., Springfield, MO 65804
Vantage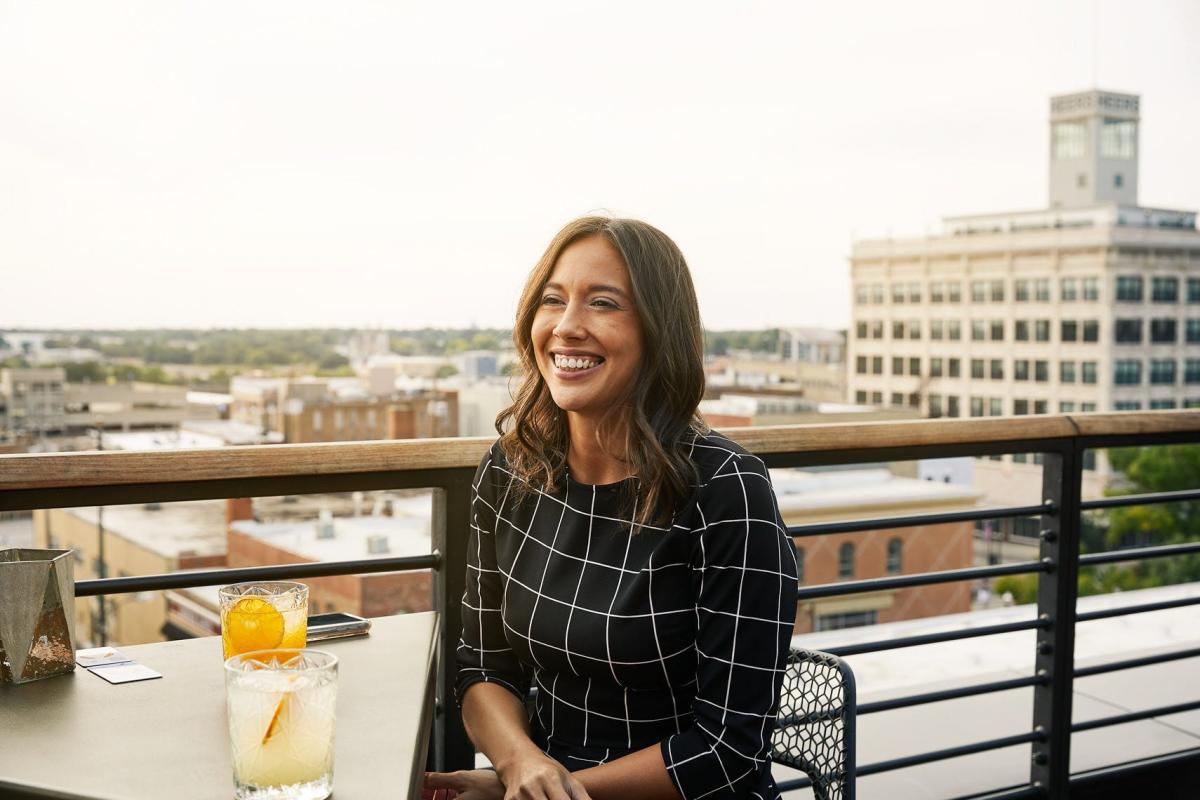 Vantage Rooftop Lounge
For an elegant night on the town, Vantage Rooftop Lounge & Conservatory is Springfield's newest rooftop bar. Opened in 2019, it offers a spectacular view of downtown from atop V2, the expansion of Hotel Vandivort. With beautiful European Art Deco style and live greenery inside and a mix of soft seating outside, including private cabanas, the Vantage is sure to become a favorite for locals and travelers alike.
Address: 260 E. McDaniel St., Springfield, MO 65806
Seasonal
Harvest Restaurant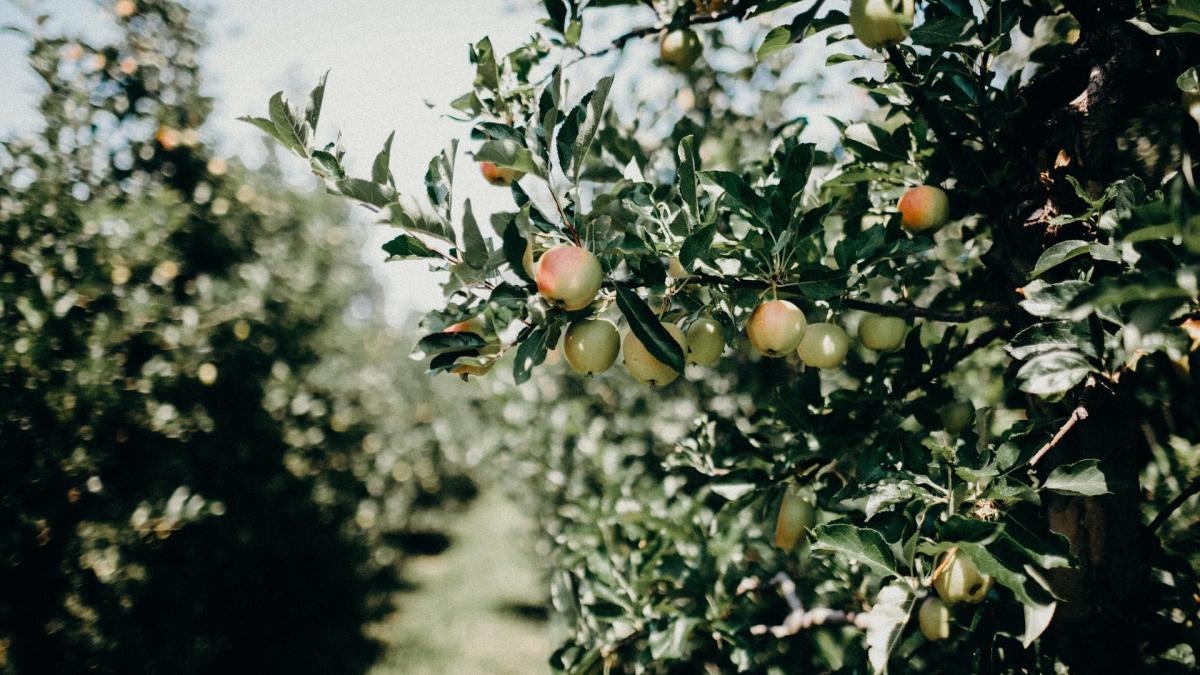 Apple Orchard
Dine at the orchard at Harvest Restaurant from September-October for a five-course dinner surrounded by apple trees.
Each dinner begins with appetizers on the Harvest Patio followed by a four-course dinner among the apple trees. Price includes reception, four-course meal and wine pairings. Visit the Harvest Restaurant Facebook page for upcoming dates.
Address: 8011 E. State Hwy Ad, Rogersville, MO 65742
Millsap Farm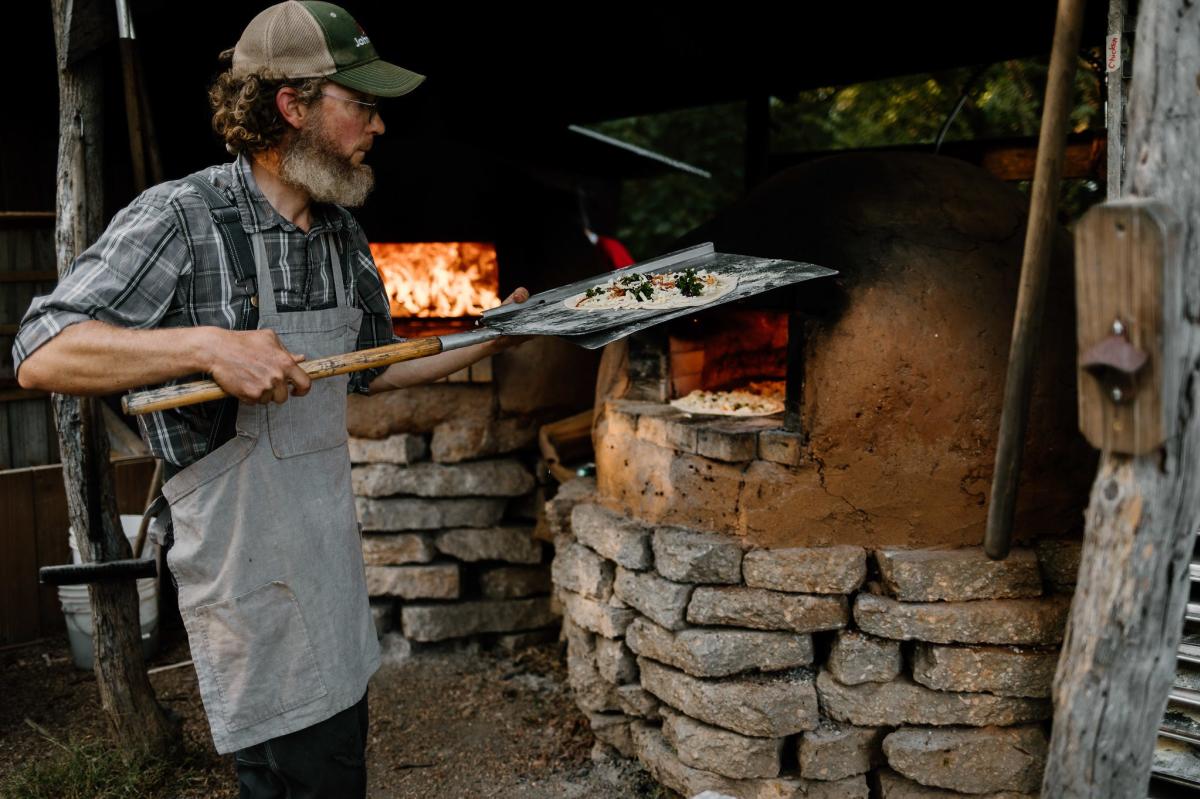 Millsap Farm Pizza Night
Summer is best enjoyed outdoors. If you love farm-to-table dishes, Millsap Farm north of Springfield is serving up wood-fired pizzas.
Every Thursday night around 6 p.m. from May through October, the farm invites pizza club members to the farm for handmade pizza. The delicious wood-fired pizzas are cooked in the handmade New Mexico-style horno wood-fired earthen oven at 800 degrees taking less than two minutes to cook. The pizzas are served buffet style. Four types of pizza are offered each week; three topped with seasonal produce, plus a cheese option. 
Each week, the owners harvest seasonal fresh organically raised produce and create different kinds of pizzas that also feature local meats, cheeses, sauces and vegetables. 
Grab some pizza slices, set up a picnic blanket and relax under the trees while listening to some live music.
Address: 6593 Emu Lane, Springfield, MO 65803
Lavender Falls Farm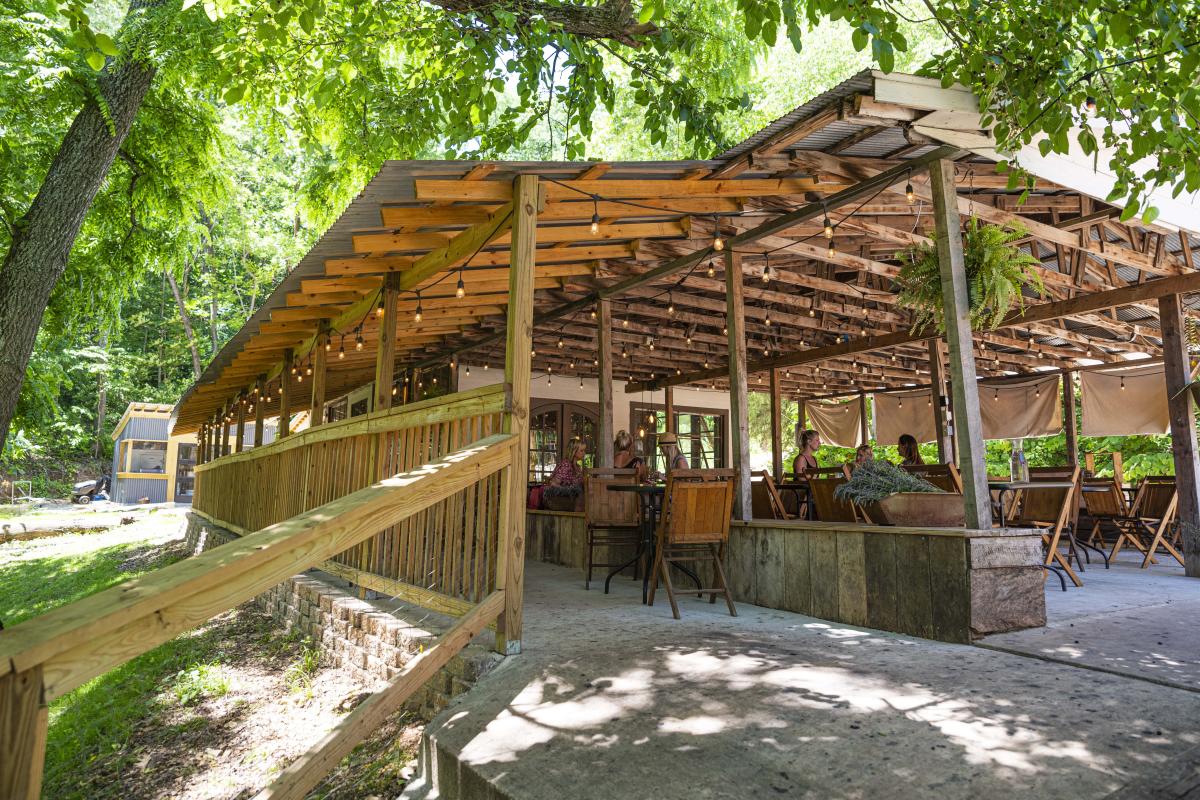 Lavender Falls Farm
South of Springfield, Lavender Falls Farm is open from the beginning of May until the end of June. The restaurant is open Wednesday-Saturday from 5 pm to 10 pm with award-winning dinners and live music. Explore the grounds and smell the fields of lavender just a few yards away.
Fresh lavender bundles can be purchased in the gift shop along with other infused lavender products from perfumes to soaps and more. Reservations for dinner are required and must be on their website.
Address: 3016 State Hwy M, Clever, MO 65631
Beyond Springfield
Dogwood Canyon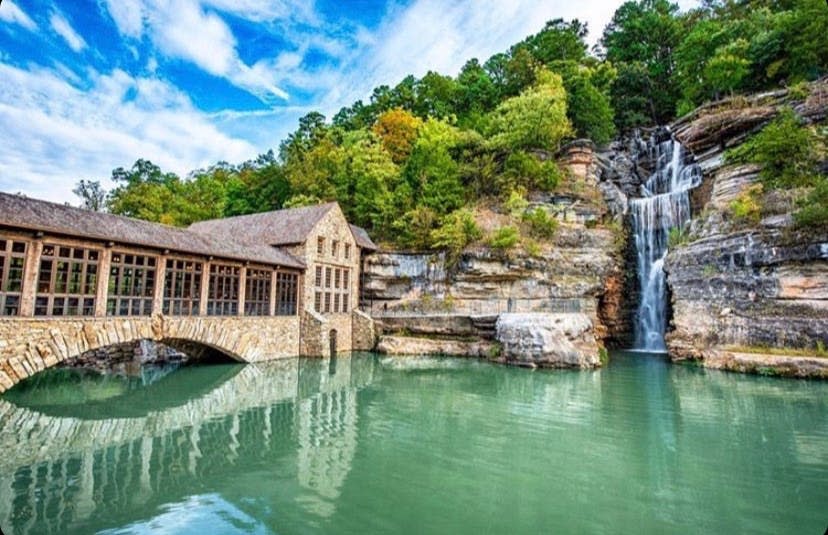 Dogwood Canyon, photo courtesy of Dogwood Canyon
Dogwood Canyon's Mill and Canyon Grill Restaurant is an unparalleled experience with floor-to-ceiling glass windows that overlook Little Indian Creek and the 120-foot waterfall. Take in nature's beautiful surroundings while you enjoy favorites like bison and elk burgers, trout cake BLT and elk bratwursts. This rustic and elegant space is ideal for a meal while visiting the park.
Address: 2038 State Hwy 86, Lampe, MO 65681
Osage Restaurant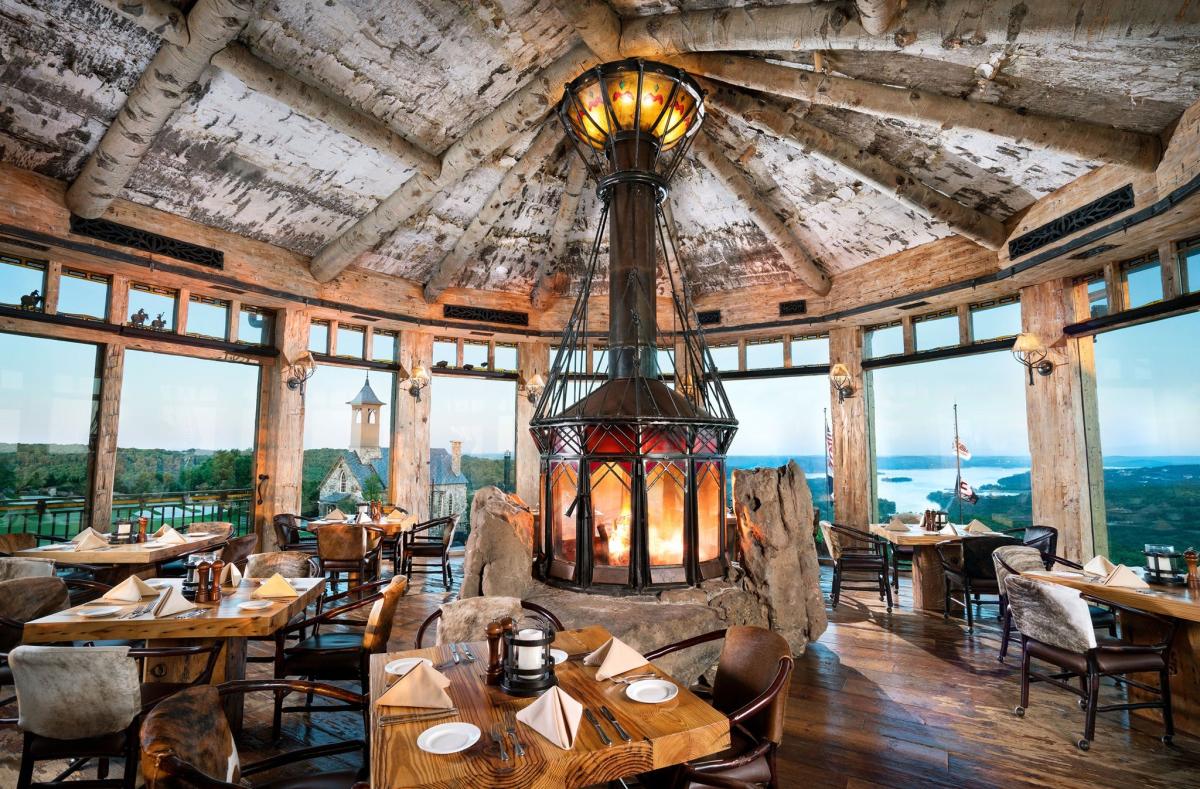 Osage Restaurant at Top of the Rock, photo courtesy of Top of the Rock
View the beautiful Ozark mountains at Osage Restaurant at Top of the Rock. Enjoy high-end American cuisine in a lofty, lodge-like space with sweeping lake and mountain views perfect for a day trip.