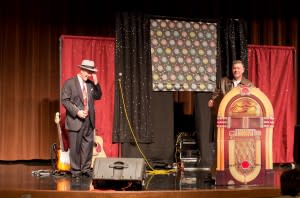 Last night we presented the 2013 Salute to Travel & Tourism Awards at the Ramada Oasis Convention Center. It was an incredible experience and one we won't soon forget. Thank you to everyone involved, especially our sponsors. Without you, this night couldn't have happened.
For those who don't know, the Pinnacle Award was given to our President, Tracy Kimberlin for his more than 25 years of service to the Springfield travel and tourism industry.  We've posted the award video to banquet.springfieldmo.org along with a place for you to leave a personal note.
Again, thank you all and we'll see you next year!
- The Springfield Convention & Visitors Bureau
Salute to Travel & Tourism
Platinum Sponsors
History Museum on the Square
Ramada Oasis Convention Center
Gold Sponsors:
DoubleTree Hotel
Elliot Lodging
John Q. Hammons Hotels & Resorts
Silver Sponsors:
Bass Print Solutions
Kingery Printing Company
Bronze Sponsors:
7C's Winery
Baum's Promotions
Downhome Productions
Gary Ellison Productions
Gerry Averett Photography
Linda's Flowers
Missouri Meetings & Events Magazine
OOVVDA Winery
Rock, Roll & Reminisce
Springfield-Branson National Airport