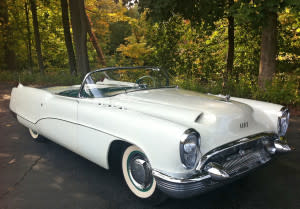 1953 Buick Wildcat I. Photo courtesy of Bortz Auto Collection Archives.
People in Springfield will get a chance to see a one-of-a-kind Buick when the Buick Club of America National Meet is in the city June 10-13.
The Buick Wildcat I was built in 1953 as a show car for General Motors and will be on display during the event that will also showcase more than 300 classic Buicks of all shapes and sizes.
The public can view the Wildcat and other cars in the Show Field from noon-5 p.m. June 11, 9 a.m.-5 p.m. June 12 and 9 a.m.-2 p.m. June 13 in the Maui Room at the Ramada Plaza Hotel & Oasis Convention Center. There is no admission to view the automobiles.
The car, owned by collector Joe Bortz, is the only Wildcat I ever built. Bortz explains the car was a one-off show car handmade by world-renowned designer Harley Earl to show off futuristic designs and was never supposed to have left General Motors.
"It was supposed to be destroyed after it served its show purposes in 1953," Bortz said.
The car, however, was "slipped out of inventory" and in the 1980s became the property of Bortz, who restored it and added it to his collection.
The car has been displayed in museums and at other events but it hasn't been shown for about 10 years and this marks the first time it will be showcased during the Buick Club of America National Meet.
Bortz said he expects people will come from far and wide to view the automobile.
"It's kind of like having the head jewel from King Tut's tomb," Bortz said. "This car has always been the kingpin for all shows."
For more information about the Buick Club of America, visit www.buickclub.org or call 614-472-3939. Buick Club of America is a non-profit membership organization dedicated to the preservation and restoration of vehicles built by the Buick Motor Division of the General Motors Corp.
The is one of many group events brought to Springfield by the Convention & Visitors Bureau, a nonprofit organization dedicated to boosting the local economy through growth in travel and tourism.
For more information about the CVB and how to get an event to Springfield, call 417-881-5300 or visit www.SpringfieldMO.org/meetings.