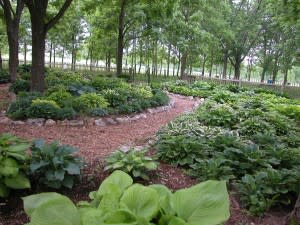 Congratulations to the Springfield Botanical Gardens on receiving received national and international recognition for three of its gardens in Nathanael Greene/Close Memorial Park.
"I am happy and pleased, but not surprised, that three of our gardens have been propelled to the national stage," said Katie Steinhoff, coordinator of the Botanical Center. "Our hard-working and enthusiastic volunteer gardeners are the reason."
The Hosta Garden, south of the Springfield-Greene County Botanical Center, was certified by the American Hosta Society as a listed national display garden, one of 18 to receive this recognition.
The garden, featuring more than 300 hosta varieties and showcasing the diversity of size, leaf color and variegation of this popular perennial foliage plant, is maintained by the Greater Ozarks Hosta Society. President Tom Lakowske was instrumental in applying for the recognition.
"Your society knocked it out of the park, very thorough application. Nicely done," said Don Dean, president of the American Hosta Society National Display Garden committee. The announcement was made at the group's national convention in Milwaukee, Wisconsin.
The Mizumoto Japanese Stroll Garden, more than seven acres of lush, mature landscaping, waterfalls, winding paths, meditation areas, ponds, bonsai shelter, tea house and pagodas, was accepted as a member of the North American Japanese Garden Association. The nonprofit group of more than 250 U.S. and Canadian Japanese Gardens is supported by the Japan Foundation's Center for Global Partnership.
"Much of the credit for this recent accolade goes to Don and Nancy Schmidt who steer our Japanese Stroll Garden committee along with the volunteers and Park Board staff," said Peter Longley, the Botanical Center's horticultural interpreter.
The Stroll Garden, named in honor of Yuriko Mizumoto Scott, the first Japanese war bride to come to the U.S. after World War II, is located northeast of the Botanical Center.
The Daylily Garden, faithfully tended by the volunteers in the Ozark Daylily Society, was certified by the National Daylily Society acknowledging its collection of more than 850 varieties as one of the top display gardens in the nation. The Daylily Garden was also certified by the American Hemerocallis Society as a display garden. In addition, Bed 9 was designated as an Historic Daylily Bed because all the daylilies were hybridized in 1980 or before, according to the society's president, Frieda Alexander.
The Daylily Garden, located southeast of the Botanical Center in the 114-acre public park at 2400 S. Scenic Ave., is a favorite visitor destination because of its breathtaking spectrum of colors, hues and patterns.
The Friends of the Garden serves as the umbrella group for the volunteer organizations that create and maintain the more than 20 outdoor display gardens and attractions, 15 special plant collections and five natural areas. Tax-deductible $25 annual memberships can be purchased at the Botanical Center gift shop. For more information, go to FriendsoftheGarden.org.