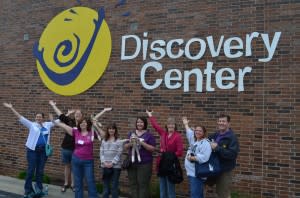 The CVB Sales Department conducted a familiarization tour of Springfield for a dozen meeting planners in early May.
Along with touring hotels, meeting facilities and attractions, the group participated a history tour of the city and a downtown scavenger hunt with Sammie Springfield. Sammie Springfield is a sock monkey toy that serves as Springfield's "spokesmonkey."
Other Sales Department activity includes:
Sales manager Lisa Perez will attend the Society of Government Meeting Planners 20th Celebration in June at Lake of the Ozarks.
Convention services were provided to 12 groups totaling more than 9,500 delegates and 5,200 room nights in April.
Groups recently booked by the CVB include:
Simian Society of America, October 2013, 104 room nights
Assemblies of God 100th Year Celebration, August 2014, 4,658 room nights
Missouri Child Support Enforcement Association, May 2013, 20 room nights
Gifted Association of Missouri, October 2013, 175 room nights
Missouri State Committee for Psychologists, June 2013, 21 room nights
Mary Kay Conference, October 2013, 50 room nights